SHOW OF HANDS:
River Haven residents take a vote on an issue. Rules of conduct for the tent city, established last fall, were hashed out by its founders first thing. Among the guidelines: No fighting. No littering. No loud music. Respect one another.
(Stephen Osman / LAT)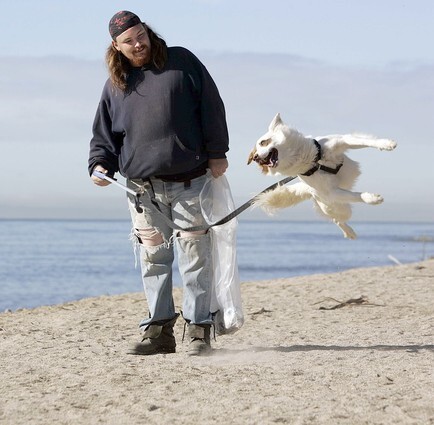 CLEANUP:
Andrew Schreier, a River Haven founder, plays with his dog, Tarrin, while picking up trash along the beach in Ventura.
(Stephen Osman / LAT)
NEIGHBORS:
Mark Single, right, and Andrew Schreier chat in a lantern's glow. "We wanted a safe place," Schreier says of the camp.
(Stephen Osman / LAT)
HEARTH MONITOR:
Leonard Biga is an elected leader of the River Haven tent city in Ventura. Residents pay $200 per month in rent to the campground, which is near the banks of the Santa Clara River.
(Stephen Osman / LAT)