6 Images
Holding Her Ground
la-resistor1-iu2y8hnc
NOT LEAVING:
Pauline Whitesinger is one of the last Navajo remaining on this land after Congress drew a boundary through a 1.8 million acre area between the Hopi and Navajo tribe in 1974.
(Gail Fisher / LAT)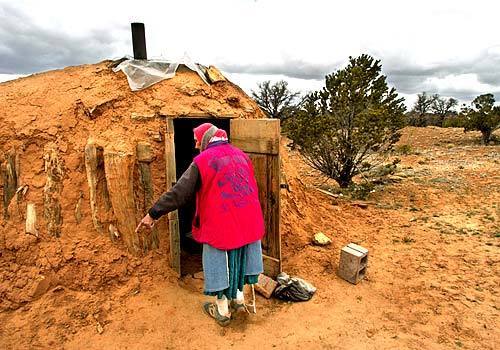 la-resistor2-iu2y9tnc
'RESISTER':
Whitesinger is among eight Navajo families — with 22 adults — that remain on this land in Arizona after one of the largest forced migrations in the U.S. since the internment of Japanese Americans during World War II.
(Gail Fisher / LAT)
la-resistor3-iu2y9dnc
AS HER ANCESTORS LIVED:
Pauline Whitesinger lives in a hogan with no electricity or running water on the Hopi reservation in Arizona. "I know if I relocate, I will die of loneliness," she says.
(Gail Fisher / LAT)
la-resistor4-iu2y92nc
LIVING OFF THE LAND:
Pauline Whitesinger believes that land cannot belong to one person. Instead, a person belongs to the land on which they were born.
(Gail Fisher / LAT)
la-resistor5-iu2yabnc
THREE DECADES LATER:
Whitesinger, who has resisted relocation since 1974, says: "It is like floating down a river. Each year passes by, and it's just another season of winter, and time goes on."
(Gail Fisher / LAT)
la-resistor6-iu2yapnc
DEEP ROOTS:
The U.S. has forced 12,000 Navajos from land that was returned to the Hopis in 1974, but Pauline Whitesinger won't go.
(Gail Fisher / LAT)