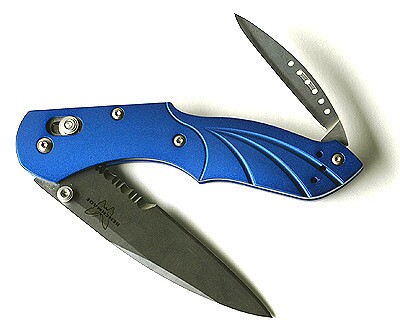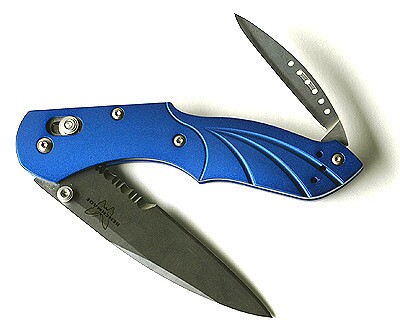 Sleek folding knives fit in a pocket and are ready on the spur of the slice-of-life moment.

BENCHMADE SWITCHBACK
Large blade is made of S30V, a new, super-hard stainless steel. Rear blade is 440C steel, second to S30V in edge retention. Anodized aluminum handle in blue or black. A tad under 8 inches open. A mere 2.9 ounces. Removable pocket clip. A super-excellent product. $190. (800) 800-7427, www.benchmade.com.
(Text by Scott Doggett / LAT
Photos by Bryan Chan / LAT)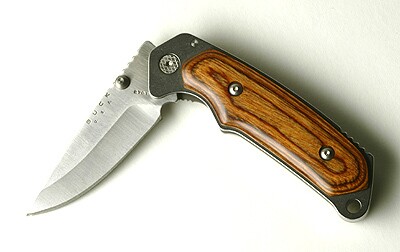 BUCK FOLDING ALPHA HUNTER
Blade of ATS-34 stainless steel, a baby step down from S30V in edge retention. Shown with walnut handle; harder rosewood is available. 8 1/8 inches open. Best feel of four, and spineless back permits easy cleaning, but a heifer at 8 ounces. No pocket clip. $94. (800) 326-2825, www.buckknives.com.
()
SOG FLASH II
Spring-fed blade zips open switchblade-like; lock nips accidents. AUS8 blade offers a good balance of toughness, edge preservation and stain resistance. Other handles, titanium blade optional for more bucks. Removable clip. 8 inches, 3 ounces. $60. (888) 571-4327, www.absoluteknives.com.
()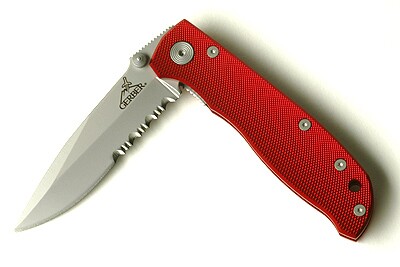 GERBER HARSEY AIR RANGER
Beautifully crafted lightweight folder that's easy to clean and easy on the wallet. Superior blade of 400 series steel in serrated (shown) or fine edge, checkered aluminum handles in red, blue and green. Nearly 7 1/2 inches open, and just 2.6 ounces. Removable pocket clip. An excellent folder that's also a terrific value. $55. (800) 426-4840, www.rei.com.
()