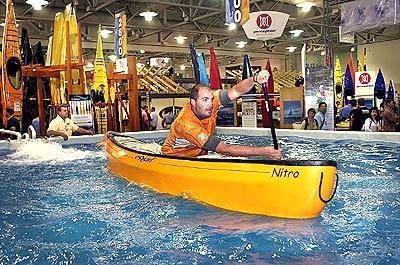 21 Images
Innovative items that are in the works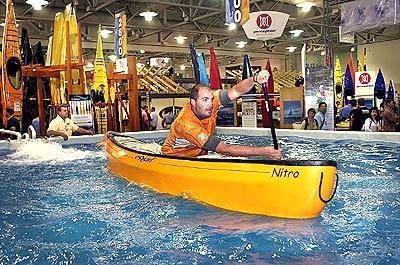 Manufacturers debuted tens of thousands of products at the Outdoor Retailer Summer Market. Following is a look at a few of the innovative outdoors items that will appear in stores in coming months.
Not everyone attending the trade show was there to do business. At right, professional canoeist Matt Looze demonstrates the Esquif Nitro Canoe in a paddle tank.
(Grayson West / For the Times)
PETZL MYO XP

A single 3-watt LED diode offers a blinding 20-second boost mode and long burn time (due in February; $80).
(Grayson West / For the Times)
ASOLO ENDURO CHANNEL
This lightweight trekking shoe is sized for women and features shock-absorbers designed for women (due in the spring; $109 to $135).
(Grayson West / For the Times)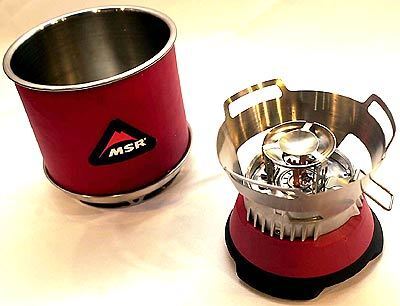 MSR
The still-to-be-named liquid-fuel stove is lightweight, quick to boil, as easy to use as a canister stove
and
it requires minimal maintenance (due next summer; $170).
(Grayson West / For the Times)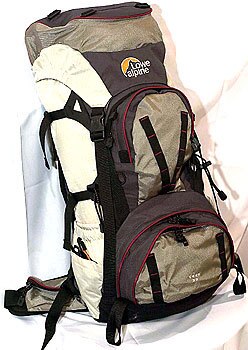 LOWE ALPINE VEGA
This pack was designed specifically for a woman's use. It differs from a man's pack in load concentration, overall fit, color combination and in other ways (due out in spring; $149 to $249).
(Grayson West / For the Times)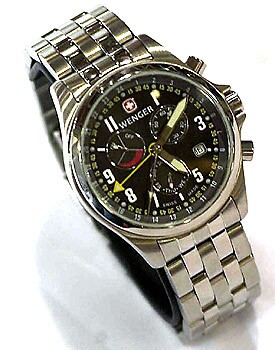 WENGER TERRAGRAPH

Yes, it has an alarm. Yes, it's water-resistant to 300+ feet. But now Wegner is offering a watch with a power reserve (an industry first) and a battery-life subdial. (Due in October; $350.)
(Grayson West / For the Times)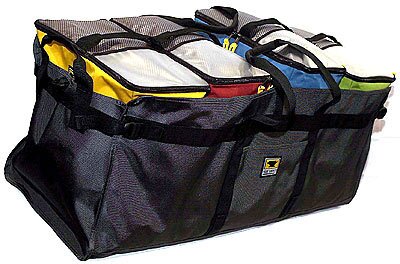 MOUNTAINSMITH ROAD TRIPPIN'
It's a modular system that allows users to organize their gear efficiently and transport it smartly. Each cube is itself a stand-alone tote. (Due out in October; many combos available, $80 as shown.)
(Grayson West / For the Times)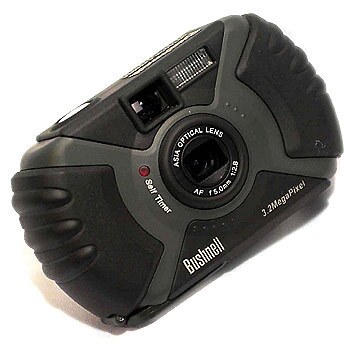 BUSHNELL OUTDOOR CAMERA
This rugged and highly water-resistant 3.2-megapixel digital camera with 4x digital zoom and oversize buttons for easy operation is no cute toy. Will run on two double-A batteries. (Release and price not determined, but price expected to be around $200.)
(Grayson West / For the Times)
DANA DESIGN HYDROCITY
A 100% waterproof pack that currently weighs 2 1/2 pounds and that is being nipped here and there for a targeted weight of less than 2 pounds. (Due out next summer; $180).
(Grayson West / For the Times)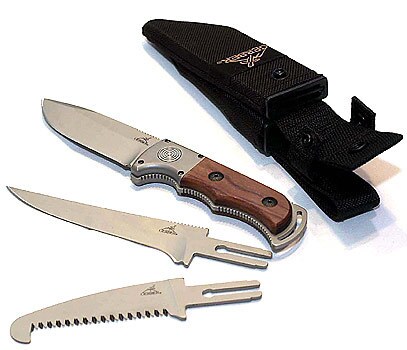 GERBER FREEMAN EXCHANGE-A-BLADE
Designed by and for hunters, the lacquered pear wood handle accepts three interchangeable tools (a surgical stainless steel blade, a saw and a gut hook, all of which are included, as is the case) with the push of a button. (Due in September; around $90.)
(Grayson West / For the Times)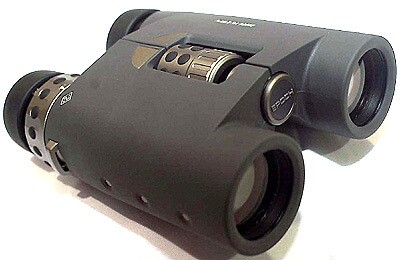 BRUNTON EPOCH ZOOM
The new Epoch permits the user to choose from numerous magnifications, 8 power
through
15 power x35 rather than simply one or two choices (a vast improvement). Uses high-grade SF Prism glass throughout and it's waterproof. (Due in September; MSRP is $1899.)
(Grayson West / For the Times)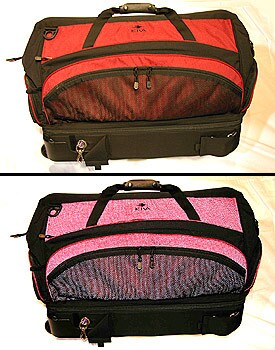 KIVA'S illumiNITE LINE
Kiva, the inventor of Big Mouth bags and luggage, takes a step closer to perfection with a new line that combines safety and style smartly. The photo at top left shows a 26-inch rolling bag with a rack lash system in natural light; below is the same item shot with flash to demonstrate its reflective properties. When crossing a street at night, the illumiNITE fabric is a real car stopper. (Due out in January; $169.)
(Scott Doggett / LAT)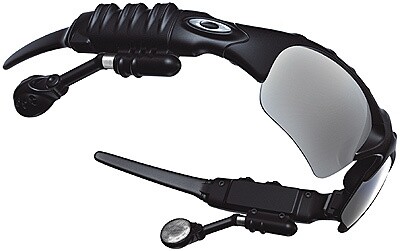 OAKLEY THUMP
Sunglasses and music player. MP3, WMA and WAV file formats. File transfer via drag and drop in Microsoft Windows and Apple OS X operating systems via USB 2.0 connection that is compatible with USB 1.1. (Due out in December exclusively in Circuit City stores; $395 for 128MB and $495 for 256MB memory.)
()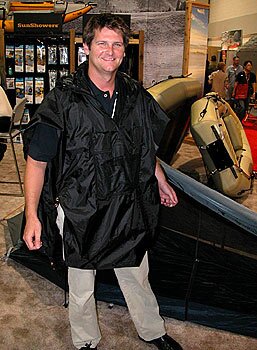 STEARNS DELTA SHELTER
Stephen J. Yardan models a poncho that is also a one-person tent. Yes, you read that right: The Delta Shelter (one is on him, another is in tent mode behind him) can be a structure one minute and a garment next. As a tent, it's roomy enough to accommodate an NBA center. As a poncho, it's ready for anything. (Due in January; a bargain at $130.)
(Scott Doggett / LAT)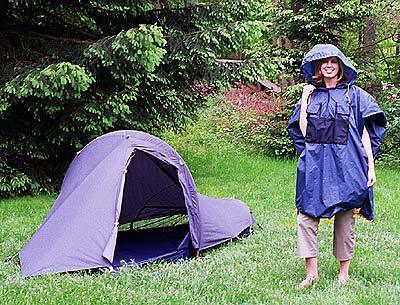 STEARNS DELTA SHELTER (con'd)
A photo of the Shelter as a tent and a poncho, supplied by Stephen J. Yardan, the Branford, Conn., industrial designer who created it. The two long pockets on the front of the poncho hold the tent's poles. The pocket in the center could easily hold a large sandwich and a couple Power Bars. The Shelter can be folded up into itself (its hood, specifically) and compressed to football size.
()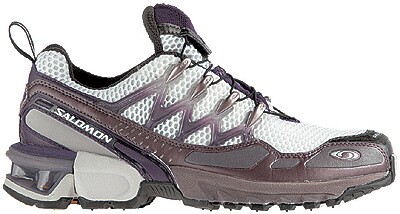 SALOMON GCS COMP
Salomon's new GCS Pro (men's) and GCS Comp (women's, shown) adventure running shoes introduce a radically new chassis/suspension technology developed in partnership with Adidas. The Ground Control System comprises a top plate to cradle the foot and a bottom plate that moves freely in all directions, guaranteeing that the shoe remains securely planted -- on any trail, at any angle. (Due out in spring '05; $130)
()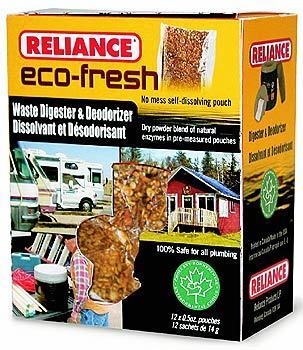 ECO-FRESH
Reliance Products will bring this all-natural waste digester and deodorizer to market "soon." Eco-Fresh comes in no-mess, pre-measured packages. All you do is drop a pouch into your portable toilet or holding tank after each use. The biodegradable contents dissolve in the water and go to work, leaving things clean and smelling fresh. ($6.99, contains 12 packages.)
()
MYSTERY RANCH 3-ZIP
The guys at Mystery Ranch have come up with a zipper configuration that is revolutionary. At left, one of three packs that the Montana company will take to market with the Y-shaped opening. Go to next page.
(Scott Doggett / LAT)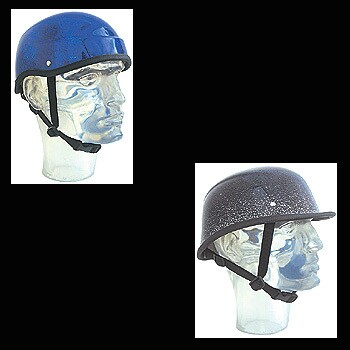 GRATEFUL HEADS
This company manufactures only one product -- helmets -- and it's doing some interesting things. The white-water helmets at left feature a state-of-the-art head-protecting shell, inside of which is dual-density foam -- the denser layer adheres to the plastic, the softer layer rings you skull for comfort. Eight new helmets in all. (Due out next year; $135 or $165 with facemask.)
()
NRS HUSTLE
Designed for whitewater and general use, this type-III vest features a soft, smooth Mystery Material that's pleasant to the skin, water-shedding and doesn't cramp your style or range of motion. (Due out in '05; $130.)
()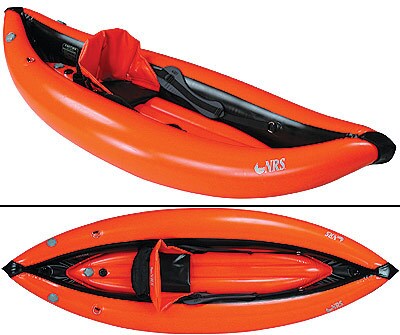 NRS BANDIT INFLATABLE KAYAK
Hot, hot, hot! This environmentally friendly, PVC-free, high-performance kayak weighs a mere 17 pounds. Made of durable 840-denier base fabric with a urethane coating, the drum-tight Bandit is a serious river cruiser that's extremely portable. (Due out in '05; $699 for one-person boat, $849 for two.)
()