4 Images
Firefighting Aircraft
Super scooper
A super scooper air tanker drops water on a hillside in la Canada Flintridge in December, 1999.
(KEVORK DJANSEZIAN/AP)
Air tanker
A U.S. Dept. of Forestry tanker drops fire retardant in the Cleveland National Forest near Corona in September of 2001.
(DON KELSEN/LAT)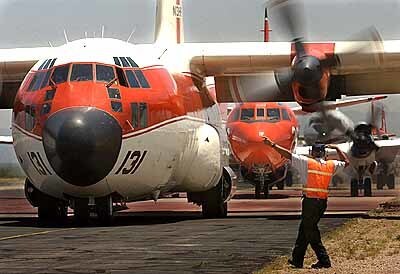 Tankers at Libby base.
Planes prepare to leave Libby Air Tranker Base at Fort Huachuca, Arizona to fight the Bullock Fire near Tuscon in late May, 2002.
(AP/Arizona Daily Star)
Oregon
An air tanker pilot watches as his plane is loaded with fire retardant in July, 2000, at Kingsley Field in Klamath Falls, Oregon.
(GARY THAIN/AP)