9 Images
XM Satellite Radio
Although some cars are being produced with radios that include FM, AM and XM bands, regular car radios can connect to an XM adapter and receive the satellite band through an unused FM station. The radios, which are manufatured by Alpine, Pioneer and Sony, cost several hundred dollars. Service costs about $10 a month.
(MARK HAFER/ Los Angeles Times)
A new XM subscription radio car unit by Pioneer, which delivers service via satellite. This unit retails for about $250.
(BOB CHAMBERLIN / Los Angeles Times)
The Pioneer GEX-FM903XM operates in conjunction with the installed AM/FM radio.
(BOB CHAMBERLIN / Los Angeles Times)
In addition to sending audio information, the XM signal also transmits text. When on, the radio displays the channel name and number, the song and artist playing and the time and date. It might also be used to display lyrics, sports scores and stock quotes.
(MARK HAFER/ Los Angeles Times)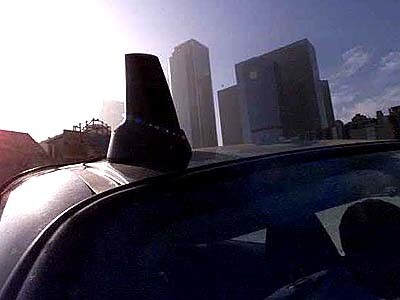 The radio car unit receives the satellite signals through a short, stubby antenna that attaches magnetically to the car roof.
(BOB CHAMBERLIN / Los Angeles Times)
Emma Wilson gets excited during her "Babble On" forum with a range of youth guests on a special program for XM Satellite Radio. Wilson hosts XM's youth talk program on channel 167.
(XM Satellite Radio)
XM's president and CEO, Hugh Panero, likens the launch of his satellite radio stations to MTV's beginnings 20 years ago.
(XM Satellite Radio)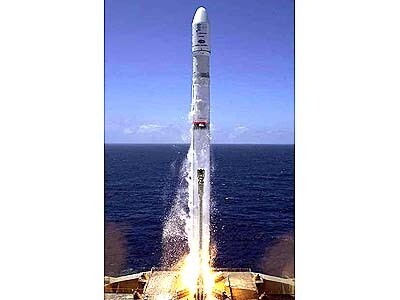 A powerful satellite, known as "the Roll" is launched from a converted oil platform in international waters near Kiribati in May. The Roll, which was fired by Sea Launch Ltd, helps provide the United States with digital satellite radio.
(AFP)
The digital information sent to XM radio is encoded, preventing nonsubscribers from receiving a signal. A silicon chip inside the device decodes the signal, dedicating each of the 100 packets of information to a single channel on the XM dial.
(MARK HAFER/Los Angeles Times)