8 Images
Putin's First Term
President Clinton, left, and Putin speak after signing agreements at the Kremlin in June, 2000. Clinton and Putin conceded remaining differences on a missile defense programs after summit talks, but pledged to work to bridge them.
(AP)
President Vladimir Putin speaks in a rare large news conference at the Kremlin in Moscow in July of 2001. In a multi-topic news conference at the Kremlin, Putin said Russia does not view NATO as an enemy but sees no justification for its existence.
(AP)
Moscow residents comment as they watch Putin on a large screen at Moscow's Pushkin Square, Monday, in December, 2001. Putin answered a slew of questions in a live, two-and-a-half hour session broadcast over Russian state television and designed to make him less aloof.
(AP)
Putin speaks during a gathering on the eve of the Defender of the Fatherland Day in the State Kremlin Palace in February, 2002. Putin honored the Russian military on the eve of its holiday by praising past exploits and promising better conditions for the armed forces.
(AP)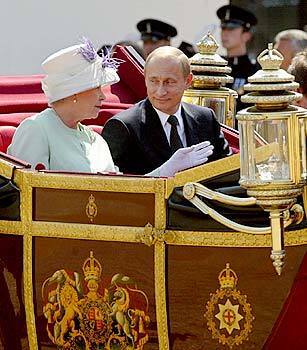 Britain's Queen Elizabeth II and Putin sit in a carriage heading for Buckingham Palace in London in June of 2003. It was the first state visit to Great Britain by a Russian leader in more than a century.
(AP)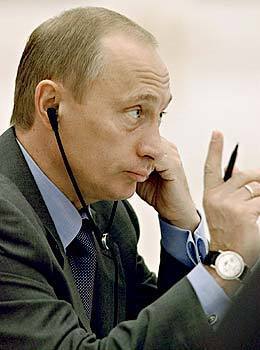 Putin speaks during a roundtable with Russian and European businessmen in December, 2003. Putin said that Europe's tough requirements were blocking Russia's accession to the World Trade Organization.
(EPA / Vladimir Rodionov)
Russian President Vladimir Putin watches in Februrary the launch of the spacecraft Molnia an observation point of the Artic cosmodrome in Plesetsk. The craft was carrying a military spy satelite on board.
(AFP)
Putin sits down with his Cabinet in Moscow's Kremlin earlier this month. He surprised observers by changing several key ministers.
(AFP / Getty Images)