It doesn't get much quieter than this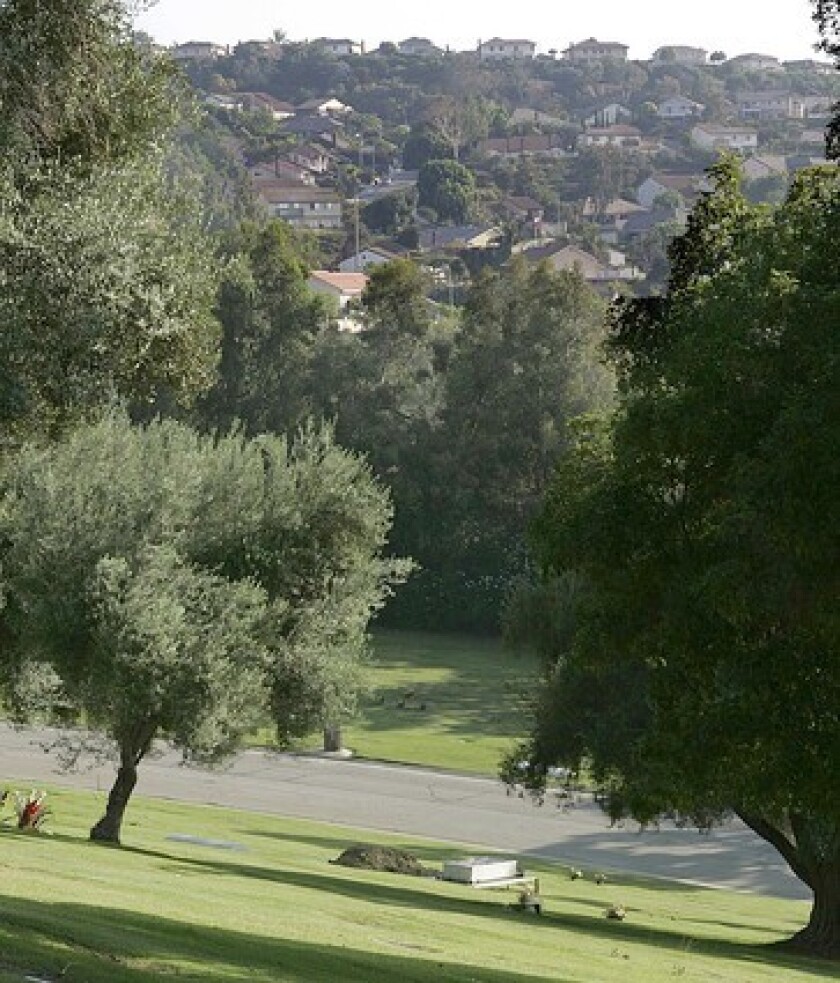 Special to The Times
Surrounded by one of the world's largest cemeteries, Spyglass Hills Estates in Whittier has rolling hills, panoramic views of downtown Los Angeles and, without question, the most peaceful neighbors around.

Beginnings

The Rose Hills Memorial Park & Mortuary was established in 1914 and by the 1960s had expanded its land holdings to its present size of about 2,500 acres — intended to meet the future burial needs of the growing populations of Los Angeles and Orange counties.

Then, in the 1960s, a developer came along and transformed the rugged hills adjacent to the cemetery into a planned housing development. Only 40 homes were built before slope failures halted work. Construction was dormant until the late 1970s, when another builder stepped in. Spyglass Hills Estates was completed by the mid-1980s.

Muggee Management Co. maintains the neighborhood's pumping wells and water table monitoring systems to promote hillside stability. The cemetery land surrounding the neighborhood is maintained by Rose Hills, with undeveloped regions reserved for future burial sites.

Insiders' view

Spyglass residents probably have heard every joke that comes with living next to one of the world's largest graveyards.

Still, it's hard to resist the temptation — even for them. Take Gina Singh, who said, "I have the best neighbors. They're quiet and they never cause trouble." She's lived there for 11 years, and her backyard has a direct view of Rose Hills graves.

"Once you've entered the Spyglass Hills Estates, it's like you're a world away from things," said Steve La Roche, a Spyglass resident and real estate agent with Century 21 Masters. No, he doesn't mean it like that. "It has a nice country feel," he explained.

Since moving to the Spyglass Hills Estates two years ago, La Roche and his wife, Terry, enjoy the neighborhood's seclusion, its rolling hills and nearby wildlife.

But one person's bucolic is another's downright creepy.

What it's about

People who live here commute to jobs in other parts of Los Angeles and to Orange County. Century 21 Beachside Realtor James Bangar describes the views as "outstanding." But, he adds, it's the location that is the big draw.

And then there is the neighborhood's tranquillity, the kind of peaceful quiet that only 1,400 acres of graves and 1,100 acres of undeveloped land can provide.

Housing stock

Homes in Spyglass Hills Estates are contemporary in design. Single-story houses have three to four bedrooms and are 1,800 to 2,000 square feet. Two-story homes have three to five bedrooms and are 2,000 to 3,200 square feet. Average lot sizes are less than a quarter acre, with most properties built on sloping land.

Homeowner association dues of $60 a month are used to maintain the neighborhood's roads, common-area trees and sidewalks.

On the market now is a two-story, 2,174-square-foot home built in 1980. It has four bedrooms, three bathrooms and a swimming pool and is listed at $699,000.

A two-story, 2,698-square-foot home with five bedrooms, three baths and an outdoor barbecue is listed at $959,900.

Historical values

Single-family home resales:

Year...Median Price

1990...$380,000

1995...$273,500

2000...$354,500

2005...$745,000

*2006...$806,750

*Year to date

Report card

The community is served by the Whittier City School District and the Whittier Unified High School District. Children from kindergarten through the fifth grade attend Mill Elementary School, which scored 707 out of a possible 1,000 on the 2005 Academic Performance Index Base Report. Dexter Middle School and Whittier High School scored 703 and 682, respectively.
---
Sources: DataQuick Information Systems; James Bangar of Century 21 Beachside; Steve and Terry La Roche of Century 21 Masters; https://www.realtor.com ; https://www.whittierch.org ; https://www.cde.ca.gov ; https://www.rosehills.com .
---