ON CAPITOL HILL:
Supreme Court nominee John G. Roberts Jr., right, meets with Sen. George Allen (R-Va.). Roberts told senators he has handled two pro bono cases personally: one for a man penalized in criminal and civil court for fraud, and one on behalf of welfare recipients in Washington.
(Alex Wong / Getty Images)
Former Sen. Fred Thompson, left, arrives at Capitol Hill with John G. Roberts Jr. In previous testimony, Roberts has said that it is wrong "to infer a lawyer's personal views from the positions that lawyers may advocate on behalf of a client in litigation."
(Win McNamee / Getty Images)
Supreme Court nominee John G. Roberts Jr., second from right, is shown in a photo of the 1972-73 student activities committee at La Lumiere School in La Porte, Ind.
(La Lumiere School)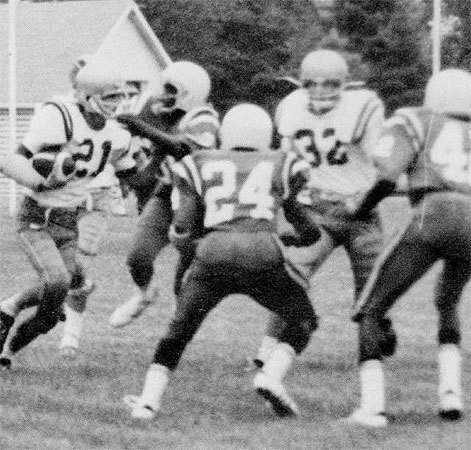 ON THE FIELD:
Roberts carries the ball at a high school game in 1972. The gridiron gave Roberts another way to stand out.
(La Lumiere School)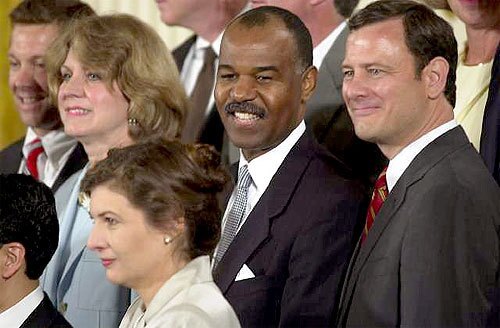 WITH HIS COLLEAGUES:
Roberts, right, beside Roger Gregory and other federal court nominees in the White House East Room in May 2001, after they were named by President Bush.
(Clement Britt / Richmond Times-Dispatch)
President Bush talks with Supreme Court nominee John G. Roberts Jr. over coffee at the White House. Afterward, the two of them briefly met with reporters. Bush said he had told the judge that "things were off to a very good start for his nomination," and he urged a "dignified, civil" confirmation process.
(Eric Draper / White House)
Wife Jane, 4-year-old son Jack and 5-year-old daughter Josie attend the White House announcement of John G. Roberts Jr.'s Supreme Court nomination.
(AP)
PROUD DAY:
John G. Roberts Jr., 50, argued conservative positions on issues before the Supreme Court during his years as a lawyer for Republican administrations.
(Shawn Thew / EPA)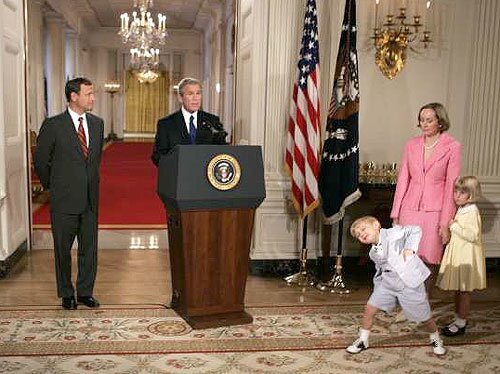 NEARLY UPSTAGED:
As President Bush formally announces his nomination of John G. Roberts Jr. for the Supreme Court, Roberts' wife, Jane, and daughter, Josie, 5, stand by while 4-year-old Jack makes his own exuberant statement.
(Charles Dharapak / AP)
REACTION:
The Revs. Patrick Mahoney, center, and Rob Schenck lead a prayer in front of the Supreme Court at the same time President Bush was announcing the nomination of John G. Roberts Jr.
(Joe Raedle / Getty Images)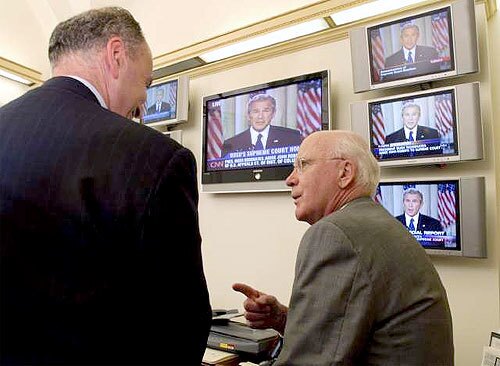 EARLY IMPRESSIONS:
Sen. Patrick J. Leahy (D-Vt.), right, with Sen. Charles E. Schumer (D-N.Y.) during President Bush's announcement. Both are on the Judiciary Committee that will debate John G. Roberts Jr.'s nomination to the Supreme Court.
(Yuri Gripas / AP)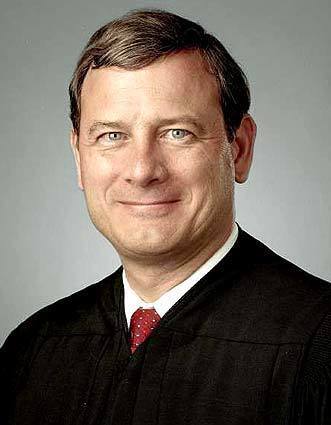 President Bush has nominated Judge John G. Roberts Jr. to succeed Justice William H. Rehnquist as Chief Justice of the U.S. Supreme Court.
(AP)