7 Images
Tragedy in Colombia
A Colombian soldier observes a ceremony commemorating the third anniversary of the deaths of 18 people in Santo Domingo. In back, a boy with his face painted white hangs a sign protesting the attack.
(ZOE SELSKY / LAT)
Demonstrators march through the town of Tame, Colombia in December on the third anniversary of the bombing of Santo Domingo. About 1,500 people from Tame, Santo Domingo and other nearby communities took part in the march. The sign reads, "the impunity."
(ZOE SELSKY / LAT)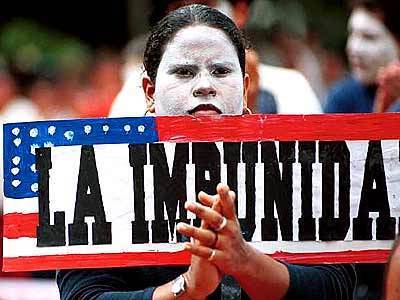 A young woman claps during ceremonies held in Tame to mark the third anniversary of the bombing. The flight crew involved says it targeted a jungle area 1,200 meters north of Santo Domingo. But there is only an open field there now.
(ZOE SELSKY / LAT)
With faces painted white, a group of children and teenagers listen to the playing of Colombia's national anthem. The head of the Colombian Air Force continued to deny that a cluster bomb was used in the attack, even after subordinates in the field duly reported its use to superiors at Air Force headquarters. The Air Force head today says the bombing was the result of a guerrilla car bombing gone awry.
(ZOE SELSKY / LAT)
Residents of the town of Santo Domingo, Colombia, relax on a Sunday afternoon in December. Three years ago the Colombian military allegedly bombed this small town, killing 18 civilans, including seven children.
(ZOE SELSKY / LAT)
The death toll in the bombing of Santo Domingo three years ago included the brother of these three children visiting a memorial. The Colombian military found that the explosion was caused by a car bomb set up by anti-government guerrillas in the area. After much wrangling, the investigation is back in the hands of the military.
(ZOE SELSKY / LAT)
Children in Santo Domingo have depicted the December 13, 1998 attack on their town in a poster. It includes photos of the seven children killed. Its caption reads "A crime against humanity committed by airplanes donated by the U.S., supposedly to fight drugs." The head of the Colombian Air Force, Gen. Hector Fabio Velasco, threatened to sue the human rights groups that produced the poster, but never followed up on the threat.
(ZOE SELSKY / LAT)