5 Images
Angels Opening Day
Fan frenzy
Los Angeles Angels fan Reshae Calderon stands in front of Angel Stadium as she waits to enter for opening day.
(Mark J. Terrill / AP)
Garret Anderson
Angel Garret Anderson waits for batting practice before the first game of the season against the Rangers in Anaheim Tuesday.
(Wally Skalij / LAT)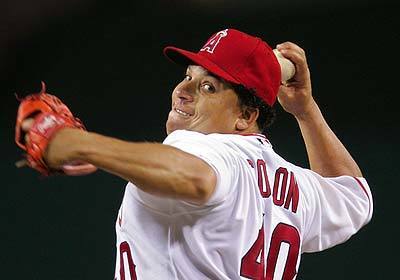 Sharp opener
SHARP OPENER:
Bartolo Colon of the Angels delivers on his way to 6 2/3 strong innings in a 3-2 victory over the Texas Rangers.
(Mark J. Terrill / AP)
Winner
WINNER:
Vladimir Guerrero connects for a run-scoring double in the sixth inning that proved to be the difference for the Angels.
(Wally Skalij / LAT)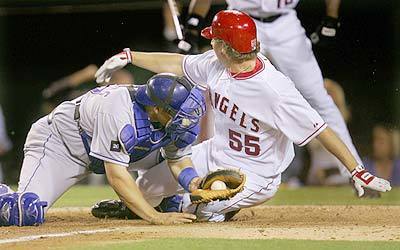 DaVanon scores
Angel Jeff DaVanon beats the tag of Rangers catcher Rod Barajas to score the go-ahead run in the 6th inning at Anaheim Stadium.
(Wally Skalij / LAT)