7 Images
Daytona 500, Feb. 19
Jimmie Johnson lifts the trophy while surrounded by his crew after winning the Dayonta 500 on Sunday.
(Gary W. Green / Orlando Sentinel)
Seven-time Cy Young Award winner Roger Clemens, left, talks with NASCAR Daytona 500 honorary starter James Caan, right, and honorary pace-car driver Jay Leno before the start of the Daytona 500 on Sunday.
(John Raoux / AP)
Eventual winner Jimmie Johnson in his No. 48 Lowe's Chevrolet, battles for position with Jeff Gordon, driver of the No. 24 DuPont Chevrolet, in turn four at Daytona International Speedway on Sunday.
(Doug Benc / Getty Images)
Carl Edwards (No. 99) collides with Kyle Petty (No. 45) in the turn 3 while Jeff Green (No. 66) spins after hitting Joe Nemechek (No. 01) and J.J. Yeley (No. 18) during the Daytona 500.
(Joe Ranze / AP)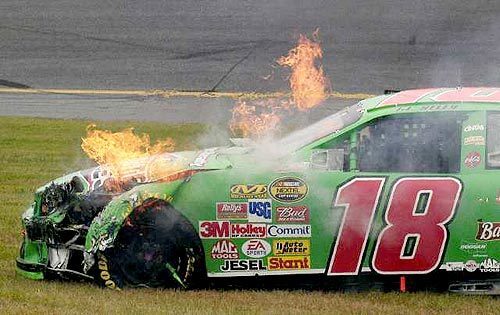 J.J. Yeley bring his car to a fiery stop after a collision in the third turn during the Daytona 500. Yeley escaped the car without injury.
(Rob Sweeten / AP)
Members of Ryan Newman's crew watch the Daytona 500 from along pit row Sunday.
(John Raoux / AP)
Jimmie Johnson carries the checkered flag around the track in front of the grandstands after winning the Daytona 500.
(Rick Wilson / Florida Times-Union)