One of the ugliest Dodgers-Giants confrontations ever was when the Giants' Juan Marichal attacked catcher John Roseboro with a bat during a game at Candlestick Park. Marichal accused Roseboro of throwing a ball too close to his head. Sandy Koufax, the pitcher that day, came to his catcher's defense.
(Robert H. Houston / Associated Press)
Emotions can boil over whenever a California rival plays the L.A. team. Or whenever a batter whose team is leading, 10-2, gets hit by a pitch. That's what happened during a day game at Jack Murphy Stadium in 1993: the Padres' Gary Sheffield charged the mound after getting plunked by Dodgers' reliever Rick Trlicek. It wound up with Trlicek on the bottom of the pile, Sheffield on top of Trlicek, Eric Karros tugging at Sheffield, catcher Carlos Hernandez pulling at Karros, and other Dodgers and Padres moving in on the fray. San Diego ultimately won the game, 14-2.
(Lenny Ignelzi / Associated Press)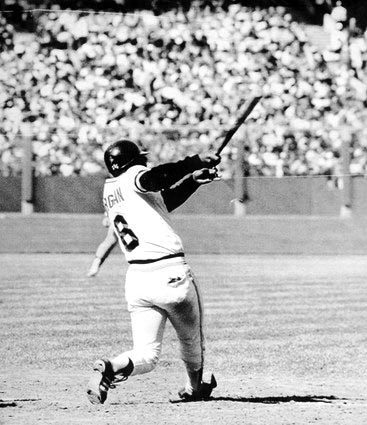 The Giants haven't won a World Series since moving to San Francisco, but their fans will always have the memory of Joe Morgan slugging a homer that wrecked the Dodgers' playoff hopes in 1982.
(Los Angeles Times)
Occasionally the fights didn't even involve an opposing team. Pitcher Pedro Astacio, top right, had to be restrained by Coach Joe Amalfitano and others after being removed from a game after the fourth inning. Astacio was angry at Manager Bill Russell; catcher Mike Piazza looks on in bewilderment.
(Genaro Molina / Los Angeles Times)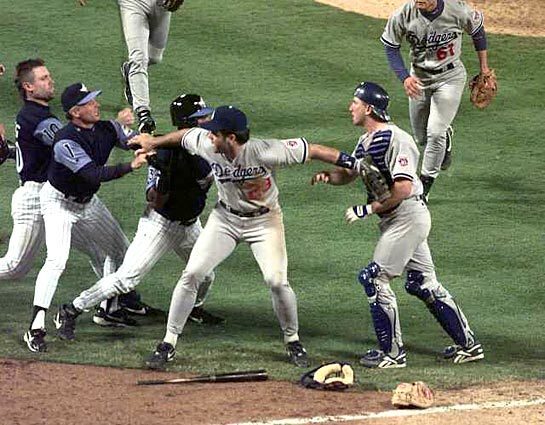 Eric Karros tries to separate catcher Tom Prince and the Angels' Tony Phillips during a dispute at Anaheim Stadium. Phillips was upset about a high fastball thrown by pitcher Chan Ho Park; although the benches cleared, no punches were thrown. And Karros won the game with a ninth-inning homer off Troy Percival.
(Alex Gallardo / Los Angeles Times)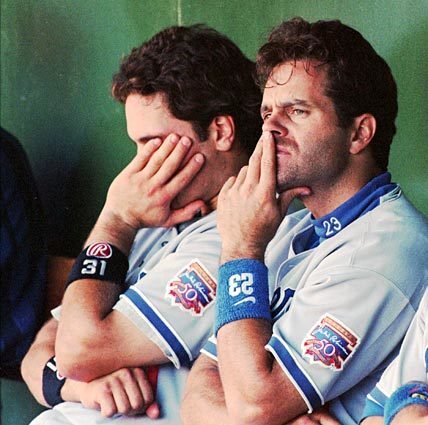 Mike Piazza and Eric Karros show their frustration after the Dodgers wasted a bases-loaded situation in the 10th inning of a game in San Francisco against the Giants. The Giants won the game in 12 innings, drawing them back into a tie with L.A. atop the National League West. Ultimately, the Giants won the division by two games.
(Susan Ragan / Associated Press)
Chan Ho Park didn't like the way the Angels' Tim Belcher tagged him after a sacrifice bunt; that led to words, which led to shoves, which led to Park trying to kick Belcher while falling over. Park was ejected; but Belcher wasn't, and that turned out to be a good thing for the Dodgers. Devon White hit a grand slam off Belcher in the sixth inning, and the Dodgers won, 7-4, at Dodger Stadium.
(Reed Saxon / Associated Press)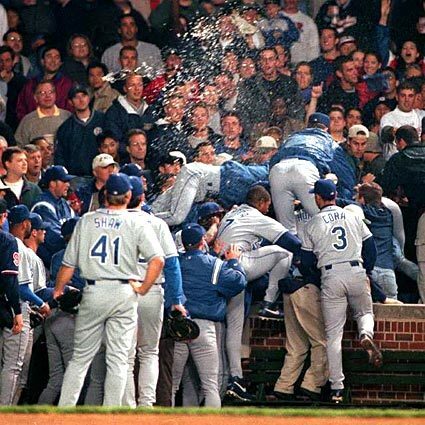 Memo to players: You make a lot of money, so even if a Cubs fan steals your hat during a game at Wrigley Field, just buy another one. Don't go into the stands after the guy who allegedly took it. If only Chad Kreuter and other Dodgers had followed that advice, they would have saved themselves lots of money in fines and many games missed to suspensions.
(Tom Cruze / Chicago Sun-Times)
No parade of Dodger lowlights would be complete without a mention of Milton Bradley, the outfielder with the temper of a lit firecracker. He dropped a fly ball late in a game at Dodger Stadium, and a fan threw a plastic bottle at him. Bradley later grabbed the bottle, slammed it into the seats behind the right-field corner, got thrown out the game by an umpire, then stormed toward the Dodger dugout and ripped his jersey off.
(Gina Ferazzi / Los Angeles Times)