2 Images
Dodgers vs. Giants - 10/01/04
Los Angeles Dodgers right fielder Shawn Green leaps but he is unable to catch a solo home run by San Francisco Giants J.T. Snow during the eight inning.
(Kevork Djansezian / AP)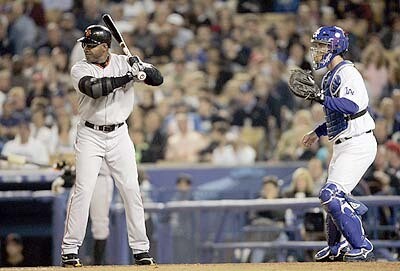 Dodgers David Ross prepares to catch an outside pitch in an intentional walk to San Francisco Giants' Barry Bonds for the second time in the game in the 6th inning at Dodger Stadium.
(Gina Ferazzi / LAT)