Mikki dunks
Los Angeles Clippers' Mikki Moore, left, dunks over Los Angeles Lakers' Caron Butler.
(Matt Sayles / AP)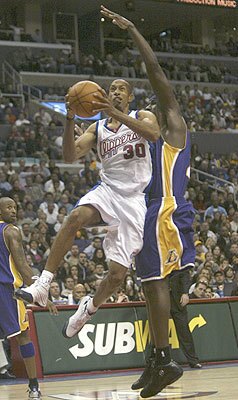 Kerry Kittles
Los Angeles Lakers' forward Jumaine Jones towers over Los Angeles Clippers' guard Kerry Kittles during the second half of thier game at the Staples Center in Los Angeles.
(Brendan McDermid / EPA)
Kobe Bryant
Los Angeles Lakers' Kobe Bryant dunks against the Los Angeles Clippers in the second half in Los Angeles. Lakers' Chris Mihm is at left.
(Matt Sayles / AP)
Bobby Simmons
Clippers Bobby Simmons shoots over Lakers Lamar Odom during the game at Staples Center.
(Lori Shepler / LAT)
Corey Maggette
Clippers' Corey Maggette has the ball stolen by Lakers' Chucky Atkins.
(Lori Shepler / LAT)