CHUCKY'S NOT LUCKY:
Laker point guard Chucky Atkins can't spin in this fourth-quarter shot against Washington's Michael Ruffin, left, and Kwame Brown. Atkins scored 23 points.
(Lori Shepler / Los Angeles Times)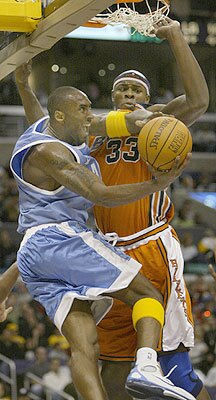 Lakers' Kobe Bryant is stopped by Wizards' Brendan Haywood.
(Lori Shepler / LAT)
Washington Wizards' Anthony Peeler, left, celebrates with teammate Larry Hughes after Peeler made a 3-pointer in the waning seconds of overtime against the Los Angeles Lakers.
(Chris Pizzello / AP)