6 Images
Lakers vs. Timberwolves
UP IN ARMS:
Minnesota's Kevin Garnett isn't happy about being hit on the wrist by Lamar Odom, who was called for a personal foul, then a technical foul for arguing, in the second quarter.
(Alex Gallardo / LAT)
WHO GETS IT?
Minnesota's Ervin Johnson, left, battles Lakers' Caron Butler in the first quarter.
(Alex Gallardo / LAT)
Laker Sasha Vujacic waits for a rebound to come down as Minnesota Timberwolves' John Thomas tries to defend.
(Alex Gallardo / LAT)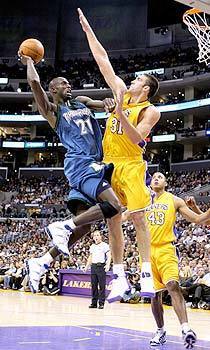 Minnesota all-star Kevin Garnett goes up for a shot against Laker center Chris Mihm during the game at Staples Center.
(Lisa Blumenfeld / Getty Images)
Laker guard Chucky Atkins scores as Minnesota defenders look on. Atkins ended the night with 25 points as the Lakers won 93-90.
(Alexander Gallardo / LAT)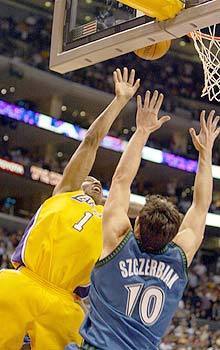 Laker Caron Butler hits the game winning shot over Wally Szczerbiak at the Staples Center.
(Alex Gallardo / LAT)