Vlade's back
Los Angeles Lakers center Vlade Divac prepares to pass the ball as Milwaukee Bucks forward Zaza Pachulia defends him in the first half. It was Divac's first time playing for the Lakers this season after acquiring him as a free agent from the Sacramento Kings.
(Danny Moloshok / AP)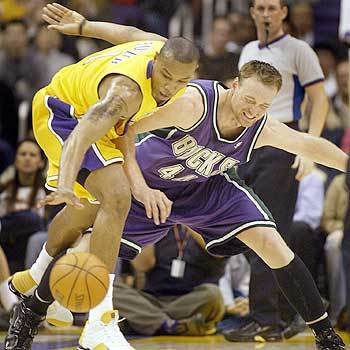 Caron Butler
Lakers' Caron Butler steals the ball from the Milwaukee Bucks' Keith Van Horn.
(Lori Shepler / LAT)
Desmond Mason
Milwaukee Bucks' Desmond Mason drives past the defense of Laker forward Jumaine Jones.
(Danny Moloshok / AP)
Lamar Odom
Lakers' Lamar Odom drives to the basket and commits a offensive foul against Milwaukee Bucks' Marcus Fizer.
(Danny Moloshok / AP)
Kobe Bryant
Lakers' Kobe Bryant makes a shot over the Milwaukee Bucks' Erick Strickland at the Staples Center.
(Lori Shepler / LAT)