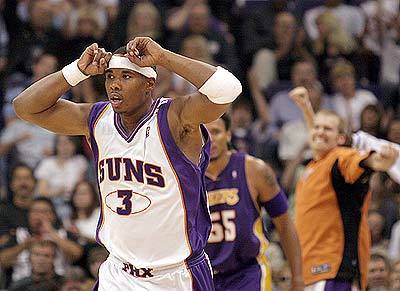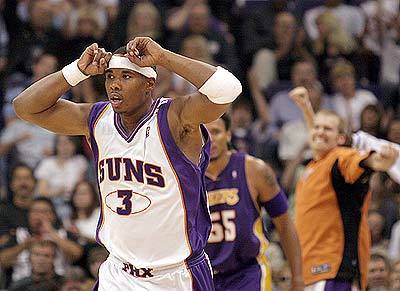 Quentin Richardson
Phoenix Suns guard Quentin Richardson, left, celebrates hitting a three-point field goal in front of Los Angeles Lakers center Brian Grant, center, and teammate Jake Voskuhl, right, Tuesday, April 5, 2005, in Phoenix. Richardson made six three-point field goals in the first half.
(Paul Connors / AP)
Divac's back
Phoenix Suns guard Leandro Barbosa, right, hits a three-point basket over the out-stretched arms of Los Angeles Lakers center Vlade Divac.
(Paul Connors / AP)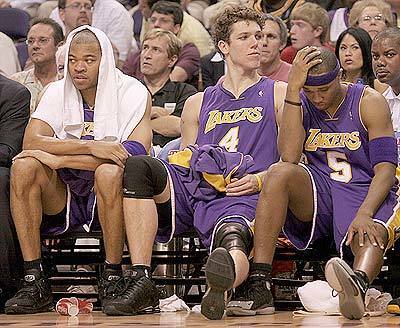 No joy in Lakerville
NO JOY IN LAKERVILLE:
From left, Devean George, Luke Walton and Tierre Brown sit out the final moments against the Suns.
(Paul Connors / AP)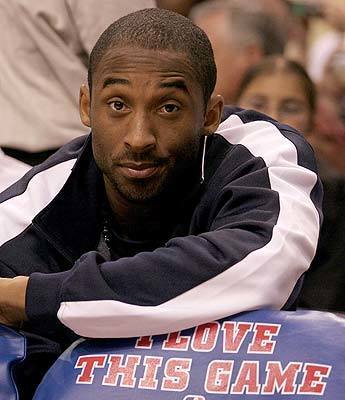 Kobe Bryant
Injured Los Angeles Lakers guard Kobe Bryant, right, sits leans on the team bench during a timeout against the Phoenix Suns.
(Paul Connors / AP)