7 Images
Lakers vs. Hornets
Kobe Bryant of the Los Angeles Lakers drives around Kirk Snyder of the New Orleans/Oklahoma City Hornets.
(Chris Graythen / Getty Images)
New Orleans Hornets Chris Paul goes to the basket as Los Angeles Lakers Brian Cook defends.
(Alex Brandon / AP)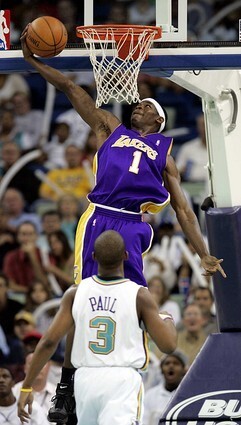 Lakers' Smush Parker goes for a dunk in front of New Orleans Hornets' Chris Paul during an NBA basketball game in New Orleans.
(Alex Brandon / AP)
Hornets fans hold up signs to welcome the team home during their game against the Los Angeles Lakers.
(Alex Brandon / AP)
Lakers guard Kobe Bryant scrambles for a loose ball with New Orleans Hornets guard Speedy Claxton and Lakers guard Smush Parker.
(Alex Brandon / AP)
New Orleans Mayor Ray Nagin kisses Louisiana Gov. Kathleen Blanco on the cheek at the end of the Laker-Hornet game.
(Alex Brandon / AP)
Los Angeles Lakers' Lamar Odom grabs a rebound over Lakers' Luke Walton and New Orleans Hornets' Aaron Williams and Desmond Mason, right, during the second half of an NBA basketball game.
(Andrew Cohoon / AP)