USC receiver Mike Williams catches a touchdown pass from quaterback Matt Leinart against Auburn.
(Wally Skalij / LAT)
USC running back Hershel Dennis fights through the Auburn line against Dontarrious Thomas and Derrick Graves.
(AP)
USC tight end Dominique Byrd is stopped by Auburn's Karlos Dansby and Carlos Rogers.
(AP)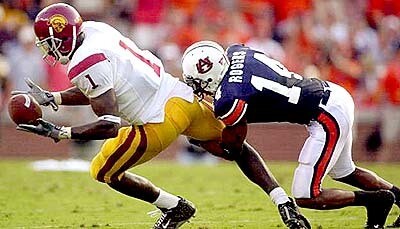 USC receiver Mike Williams bobbles and eventually drops a pass as Auburn's Carlos Rogers defends in the second quarter.
(AP)