5 Images
WNBA Championship
Connecticut Sun defender Nykesha Sales, left, tries to hold off Sacramento Monarchs center Yolanda Griffith during the first half of game four of the WNBA Finals in Sacramento, Calif.
(Steve Yeater / AP)
Sacramento Monarchs guard Ticha Penicheiro (21) and Connecticut Sun guard Katie Douglas, right, scramble after the ball. Also seen are Monarchs forward Nicole Powell, left, and Suns forward Brooke Wykoff, second from right.
(Rich Pedroncelli / AP)
Connecticut Sun guard Lindsay Whalen is fouled as she goes up for the shot by Sacramento Monarchs guard Chelsea Newton.
(Rich Pedroncelli / AP)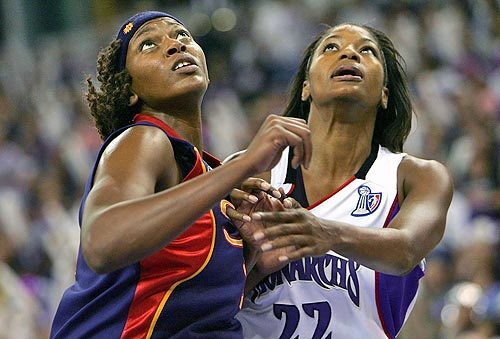 The Sun's Asjha Jones and the Monarch's DeMaya Walker battle for a rebound during Game 4 of the WNBA Finals
(Jed Jacobsohn / Getty Images)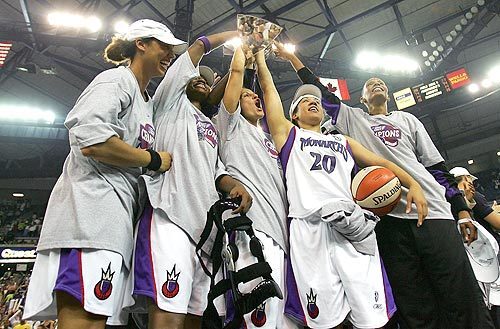 Members of the Sacramento Monarchs celebrate after defeating the Connecticut Sun during Game 4 of the WNBA Finals at Arco Arena in Sacramento. The Monarchs defeated the Sun 62-59 to win the WNBA Championship.
(Jed Jacobson / Getty Images)