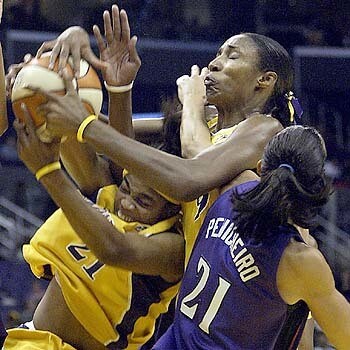 4 Images
Los Angeles Sparks vs. Sacramento Monarchs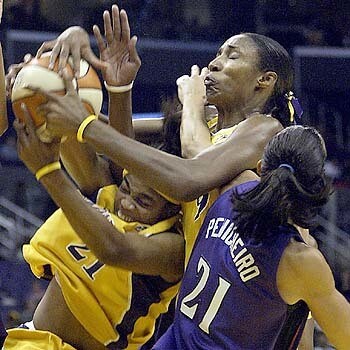 The Sparks' Tamecka Dixon (left), Lisa Leslie (right) and Sacramento Monarchs' Ticha Penicheiro go after a rebound in the second half. The Sparks lost 73-58.
(Myung J. Chun / LAT)
The Sparks' Mwadi Mabika goes up for a layup against Sacramento Monarchs' defender Edna Campbell.
(Myung J. Chun / LAT)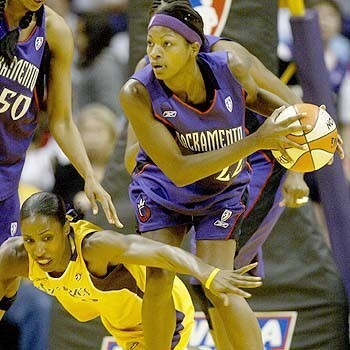 Sacramento Monarchs forward DeMya Walker, right, keeps a defensive rebound away from Los Angeles Sparks center Lisa Leslie during the first half of Game 3 of their Western Conference semifinal series in Los Angeles.
(Danny Moloshok / AP)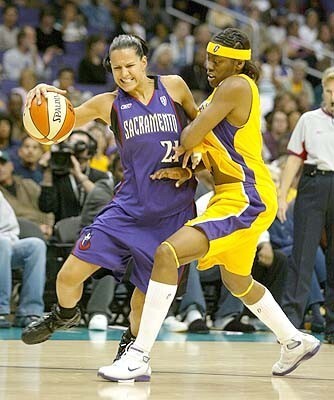 Sacramento Monarchs guard Ticha Penicheiro, left, muscles her way around Los Angeles Sparks guard Nikki Teasley in the first half.
(Danny Moloshok / AP)