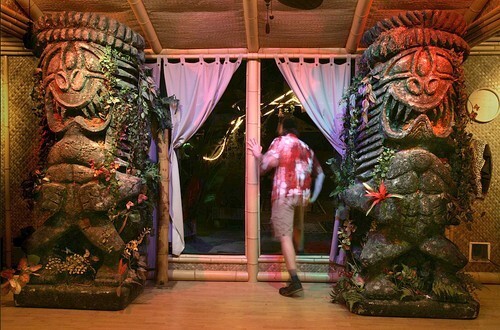 6 Images
Polynesian Playground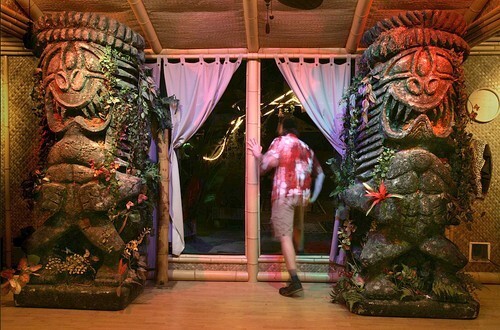 TIKI LIFE:
Jeff "Biff" Butler enjoys the Tiki life to its fullest in his Westminster home. In his bedroom, Biff has two 8-foot tiki heads guarding the doorway to the backyard.
(Mark Boster / LAT)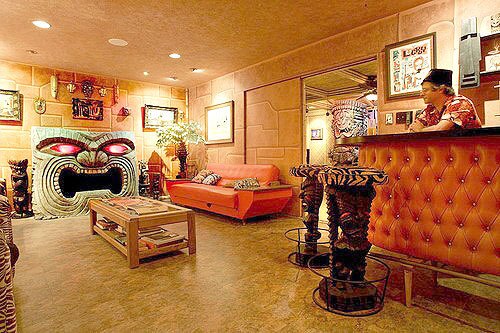 NOSTALGIC:
The centerpiece of Butler's fanciful living room is a giant Tiki head with glowing eyes that doubles as a fireplace. A red leather streamliner sofa, animal-print bar stools, a vintage cocktail bar, masks and primitive carvings complete the look in his Westminster home. "I guess I was looking for a place that would blow your mind, where I could entertain my friends. I'm also an artist, so I just let it go," Butler says.
(Mark Boster / LAT)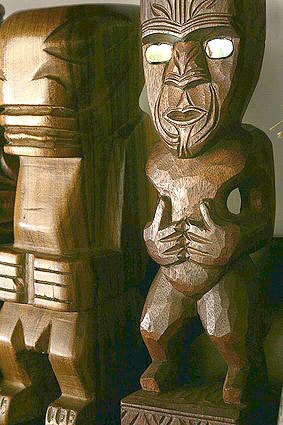 TIKI HEAD:
A carved wood statue is one of many figurines in Kevin and Debbie Bullat's collection in their Huntington Beach home.
(Mark Boster / LAT)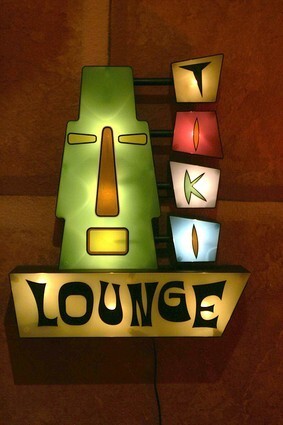 LIGHTING THE WAY:
A lamp in Butler's home lights the way to a Polynesian fantasy.
(Mark Boster / LAT)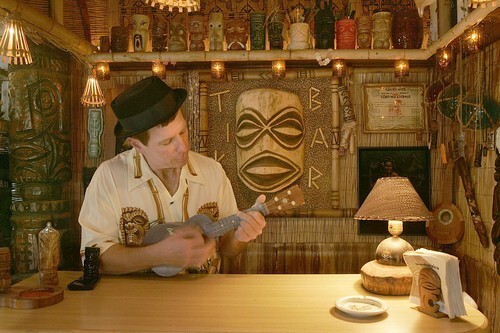 HAVEN:
Kevin Bullat plays in his garage turned Tiki bar, which is filled with totems, masks and mugs. "It's kind of like an addiction, it builds on itself," he says.
(Mark Boster / LAT)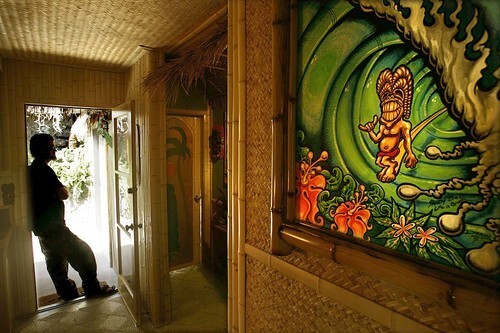 A WORLD AWAY:
Beyond the threshold of Ben Bassham's, aka Bamboo Ben's, Huntington Beach home is a tropical wonderland of woven sea grass-mat floors, thatched and bamboo-trimmed walls and Tiki art and furniture. Bassham, aka Bamboo Ben, a Tiki decorator, is the grandson of Eli Hedley, who was a seminal figure in what was then called the California beachcomber style. "My motto?" Bamboo Ben says. "No white walls."
(Mark Boster / LAT)