8 Images
This week in Travel - Jan. 15, 2006
No-show boat?
The Columbia Queen riverboat is not expected to sail Feb. 17.
(Great American Journeys)
Ready, set
Bruce Norman prepares for a run during a recent luge fantasy camp held in Lake Placid, N.Y.
(Jon Lundin / USA Luge)
'27 gem
The Ahwahnee was built to lure wealthy visitors.
(Anacleto Rapping / LAT)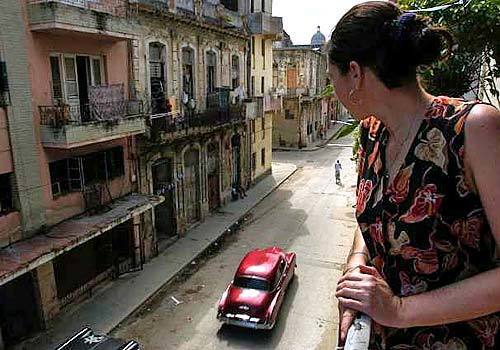 Colonial quarter
Buildings in Havana's central district show decades of neglect. The densely populated neighborhood is filled with shops, theaters, bars and cafes but devoid of green areas.
(Gail Fisher / LAT)
In Italy
A 14-day tour visits the gardens of Villa Taranto in the Lake District.
(John Bradfield)
The ascent
Much of a backcountry skier's day is spent climbing uphill, using synthetic "fur" to grip the snow.
(Christopher Solomon)
Breather
Ski tourers relax at a hut on the flanks of the Finsteraarhorn.
(Christopher Solomon)
Perspectives in motion
Perspectives in motion
On the final day of the 2004 Tour de France, Dr. Leslie H. Stevens, an L.A. plastic surgeon, got to stop pedaling and watch. He had just finished one of famed coach Chris Carmichael's cycling camps through the Pyrenees. For the final day of the race, the amateurs got VIP seats. He used a slow shutter on his Olympus digital SLR to photograph the final laps along the Champs-Élysées in Paris.
Why we chose this photo
I haven't seen another travel photo that so captures speed. You can barely make out the cyclists and their wheels, but of course the giant screen in the upper part of the frame makes it clear that this is the final stage of the Tour de France.
()