13 Images
This week in Travel
Vine country
Chardonnay, Pinot Noir and Pinot Meunier grapes for Champagne are grown on the rolling hills outside Reims.
(Susan Spano / LAT)
Know the rules
A tourist walks past the Parthenon in Athens. A student was arrested nearby on a charge of theft after she picked up a piece of marble. She said she never intended to take it.
(Louisa Gouliamaki / Getty Images)
High-flier
JetBlue, which flies out of Long Beach Airport, is rated tops in airline quality.
(Luis Sinco / LAT)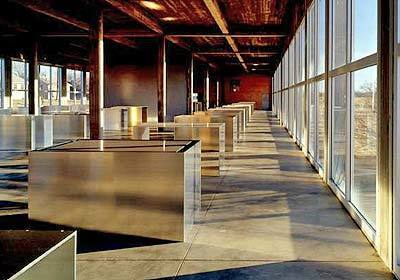 Space, cubed
Donald Judd's 100 untitled works in mill aluminum are installed in what was an artillery shed at Ft. D.A. Russell.
(Florian Holzherr / Judd Foundation)
Star attraction
Hotel Paisano, a National Historic site and upscale accommodation, served as home base for Rock Hudson, Elizabeth Taylor and James Dean during the filming of the quintessential Texas movie "Giant."
(Hotel Paisano)
Color spectrum
Windows take on rainbow hues at the McDonald Observatory, where visitors learn about the spectra of different suns.
(Norman Li)
My best shot
Harvest time in Amish country
While on an August drive through Pennsylvania's Amish country, Matt Buguy of Los Angeles came upon this family harvesting corn on its Lancaster County farm. The mother and children were following along in a horse-drawn wagon as the husband cut the stalks and loaded the bounty. "The look of determination on the mother's face is palpable," Buguy said. "And the expression is mirrored in her daughter's face."
(Matt Buguy)
Real-life lessons
During an Eastern Europe study-abroad program, students will spend a week in Prague, seeing such sights as Old Town Square.
(Zafer Kizilkaya / Atlas Geographic)
Little Greenwich Village
Westside Cellar Cafe & Lounge offers small tasting plates with wine, in addition to a full menu.
(Spencer Weiner / Los Angeles Times)
Downtown shopping
Bank of Books, on Main Street in Ventura, is a nice place to drop in and leaf through the selection.
(Spencer Weiner / Los Angeles Times)
In the Village
The Westside Cellar Cafe & Lounge looks as if it could fit in nicely in yuppie Greenwich Village.
(Spencer Weiner / Los Angeles Times)
Cheese
Julie Bursek and Sarah Fangman sipped wine and sampled a cheese plate at the Westside Cellar Cafe & Lounge.
(Spencer Weiner / Los Angeles Times)