22 Images
This week in Travel
Island music
A Panama Kuna Indian woman of the San Blas Islands plays a flute.
(Paul Abravaya)
Gone swimmin' in the Grenadines
Gone swimmin' in the Grenadines
Ruth Morgan's kindergarten class was returning from a swim in St. Vincent and the Grenadines when Paul E. Vigil of San Fernando took this shot. Vigil came across the kids on Bequia, just nine miles south of St. Vincent, while island-hopping during a business trip to the Caribbean. "They were as beautiful as the islands themselves," he said. The teacher explained that the swim was a good way to tire the children out before their nap.
(Paul E. Vigil)
Meeting ground
Libyan schoolgirls with a Western tourist at Leptis Magna ruin, included on many cruise itineraries.
(Susan Spano / LAT)
Addicted
A surfer glides down the face of a wind-blown wave at Sunset Beach on the North Shore of the Hawaiian island of Oahu. This less touristy area of Oahu is a longtime mecca for surfers.
(Mark Boster / Los Angeles Times)
Relaxation therapy
When the sun goes down, surfers beach their boards for the night and head to such watering holes as Kainoa's Sports Bar in Haleiwa for a friendly game of pool and to swap tales of memorable rides.
(Mark Boster / LAT)
The scene is serene
At the end of another mellow day, the setting sun entrances a tourist at Haleiwa Beach on Oahu's North Shore, a place of laid-back living and lovely vistas.
(Mark Boster / LAT)
Tasty tidbit
A giant sea turtle surfaces for a moment to snack on a bite of seaweed dangled by a visitor at Chun's Reef on the North Shore.
(Mark Boster / Los Angeles Times)
'Lost' on Oahu
On the
ABC
show, the characters - including Charlie (Dominic Monaghan), left, and Hurley (Jorge Garcia) - are stranded on a remote tropical island. Of course, civilization is just outside camera range.
(Mario Perez / ABC)
Wave rider
Richard Samiley scrapes the wax off a surfboard being prepared for consignment at the Surf 'N Sea shop in Haleiwa. Surfers - the area's biggest subculture - are drawn to the North Shore for the awesome winter waves.
(Mark Boster / LAT)
Nature's bounty
Oahu's Waimea Valley Audubon Center is a nature preserve, but swimming by the falls (as seen on "Lost") is allowed.
(Mark Boster / LAT)
Lost
Huge waves, perfect sunsets and a feeling of isolation go hand-in-hand in an area that is now famous for being the location for the television series "LOST."
()
Turtle Bay Resort
Turtle Bay
Resort is the only high-end hotel property on the North Shore, where slow growth competes with local sentiment ("No Mall at Shark's Cove" signs dotted the highway) and the island's indigenous history.
()
Mecca
The North Shore of Oahu has long been known as the Mecca for surfers around the world.
()
Bandmaster
Michael Nakasone was recently selected to lead the Royal Hawaiian Band, replacing Aaron Mahi.
(Mark Boster / LAT)
History lesson
Dance school students perform traditional Hawaiian songs at the Bishop Museum in Honolulu, which traces the evolution of the music in exhibits.
(Mark Boster / Los Angeles Times)
Local icon
Bassist Aaron Mahi performs around Honolulu, telling stories from Hawaii's past and present with his music.
(Mark Boster / LAT)
Gotcha
From the mouth of a "shark," Legoland looks pretty cool. The park, which has 5,000 Lego models, is tailored to visitors ages 2 to 12.
(Rosemary McClure / LAT)
All aboard
Wagons pulled by vintage tractors haul visitors around the Flower Fields. The Carlsbad landmark is open to the public eight weeks each year.
(Rosemary McClure / LAT)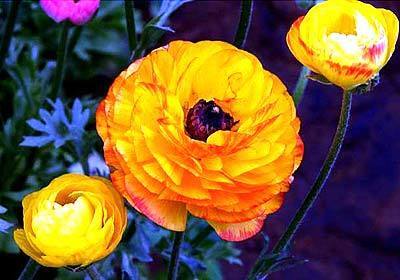 la-tr-escape27mar27-idddahkf
The ranunculus flower is a member of the buttercup family and is native to Asia Minor.
()
la-tr-escape27mar27-iddd9fkf
More than 50 acres of the Flower Fields of Carlsbad Ranch are planted in ranunculas bulbs.
(Rosemary McClure / LAT)
la-tr-escape27mar27-iddd9rkf
An old wheelbarrow adds ambience to a demonstration garden at the Flower Fields of Carlsbad Ranch.
()
Music choices
MP3 programming is now available at seats on Song flights.
(Barbara Alper)