16 Images
Best & Worst 2008: The Weird Wide Web
Web Scout on the Technology blog
Best & Worst 2008: Searching for meaning (top searches)
Best & Worst 2008: Breakout stars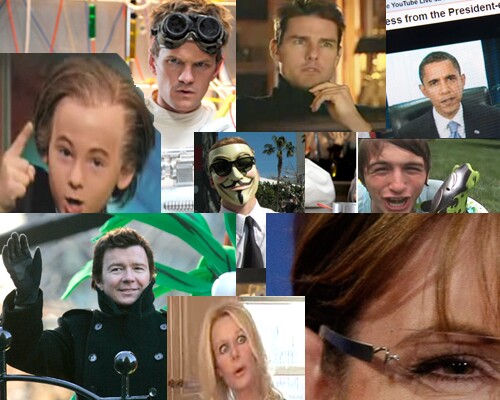 Intro
By David Sarno
The young Web may not yet be a font of high culture, but when it comes to bringing the strangest human activities to the surface, it's nonpareil. The "meme" is a very webby concept: a unit of cultural information that gains notoriety and is often widely imitated. Think "
Chocolate Rain
," (2007), lonelygirl15 (2006), or
Numa Numa
(2004). This year's biggest memes ran the gamut from hilarious to upsetting to just plain bizarre. Here's a month-by-month rundown of the highlights.
()
<b>January:</b> Tom Cruise's leaked Scientology tape hits the Web.
January:
Tom Cruise's leaked Scientology tape hits the Web.
The slickly produced 10-minute tape showed Cruise making a wide variety of overblown-sounding statements about his religion. "Being a Scientologist, when you drive past an accident, it's not like anyone else, it's, you drive past, you know you have to do something about it. You know you are the only one who can really help." The church quickly went on a campaign to eradicate the videos from YouTube, but succeeded only in outraging many online denizens.
()
February: Anonymous takes to the streets
February
: Anonymous takes to the streets. A shadowy group of young rabble-rousers was more than a little unhappy at Scientology's efforts to clean up YouTube. The
movement caught on big time
, and before long, masked young people were demonstrating outside church locations around the world.
(David Sarno / Los Angeles Times)
March: Puppy toss
March:
The "puppy toss" video: Throwing a puppy off a cliff? It would be hard to invent a better metaphor for cruelty. Small wonder that when a video began circulating showing a U.S. Marine apparently doing just that, online communities the Web over
erupted in anger and disgust.
Months later, officials confirmed that the Marine had been
kicked out of the service
for his actions.
()
April: Tricia Walsh-Smith
April:
Tricia Walsh-Smith, YouTube's Divorce Lady.
This wide-eyed playwright made waves when she
announced via YouTube that she was headed for a divorce
from her wealthy husband, Philip J. Smith, a Broadway theater mogul. Occasionally tearing up, she revealed that she was about to be "evicted" from her apartment because of a clause in her ill-advised pre-nup. The video came complete with a bunch of so-called dirt, such as that Smith owned Viagra, dirty magazines and prophylactics. That video won Tricia a measure of Internet fame, which she's continuing to ride today -- just check out her music video,
"I'm going Bonkers."
(YouTube.com)
May: Pork and Beans
May:
Weezer
's "Pork and Beans"
In what must have been the largest-ever assemblage of viral video stars, Weezer and
director Mathew Cullen
created
a brilliant YouTube anthem
as a teaser for the band's June "Weezer" album. With a chorus that goes "I'm gonna do the things that I wanna do/I ain't got a thing to prove to you," the song is a meditation on what's cool and why it's probably not worth doing it to get ahead.
(Jack Green ASC, DGC/Interscope)
June: Fred
June:
Fred
:
YouTube got some grass-roots bragging rights
when "Fred," the fictional 6-year-old invented and played by 14-year-old Nebraskan Lucas Cruikshank, took the site by storm. Fred is a fast-talking tyke with "temper problems," an absentee father and a propensity to screech if things don't go his way, and it wasn't long before his show rose to become
the most subscribed YouTube channel of all time
, an astounding feat for a kid with a video camera. Whether or not you enjoy Fred's videos -- many do and many don't -- you can't argue with his massive success.
(Lucas Cruikshank via YouTube.com)
July: Dr. Horrible
July:
"Dr. Horrible's Sing-Along Blog"
We must have watched 100 new Web-only series this year, but only one of them has stayed with us.
Joss Whedon
's three-part, 45-minute superhero musical — starring
Neil Patrick Harris
, Nathan Fillion and Felicia Day — is inarguably the only great episodic work of Web TV yet.
(Amy Opoka)
August: Hunter/Edwards
August:
The John Edwards/Rielle Hunter affair
The political scandal was the talk of the Web for a week in the late summer. And part of the intrigue was supplied by
a peppy, jagged little 2006 production
called "Inspiring Politics: A Webisode Series Following
John Edwards
," produced by Hunter, which circulated online when the story broke.
(Webcastr.com)
September: Palin
September:
Sarah Palin
's Web Explosion.
When
John McCain
announced his surprise candidate, the governor of
Alaska
, he couldn't have known that he was igniting one of the biggest media frenzies of
the election
. Palin lit up the Web in a way few subjects have, dominating the home pages and popularity lists of just about every news and culture website. The Web seems exceedingly quiet without her.
(J. Scott Applewhite / Associated Press)
October: Lil Bill
October
: Little Bill O'Reilly
One of the year's best bits of political satire came from
Little Bill O'Reilly,
a child version of Fox's pundit who is even sharper-tongued than the original. Little Bill is not to be toyed with. In one toxic rant against the hippie pinhead liberal gay anti-war left, he told his adversaries that "your dirty sex makes God send hurricanes" and to "go drive your electric cars into the ocean -- I hope you hit a whale on the way to France."
(funnyordie.com)
November: Rick Roll
November:
Rickrolling to the top.
The Web is unrivaled in its ability to endow quirky characters with 25 seconds of fame. Just ask Rick Astley, whose career as an '80s pop star was briefly resurrected when "Never Gonna Give You Up" became re-famous among snickering YouTubers earlier this year. (We've got an
interview with him here
.) Astley's second coming reached its apotheosis when he performed on a float in the Macy's
Thanksgiving Day
parade. See you in another 20 years, Rick.
(Frank Franklin II / Associated Press)
December: Politics
December and beyond...
: Connected politics.
Whether or not you agree with the bloviocracy that the Internet "got Obama elected," there's no doubt that the Web made its mark on this year's election. If there wasn't enough dirt on a candidate, the blogosphere was there with a shovel. New stories broke every 20 minutes; new polls came out every 10. And every word a politician spoke was disputed, dissected, spun, celebrated, mocked and posted on YouTube seemingly before he or she had even finished uttering it. For better and worse, but hopefully mostly better, the Web is now a fixture of politics and public life.
(Saul Loeb / AFP/Getty Images)