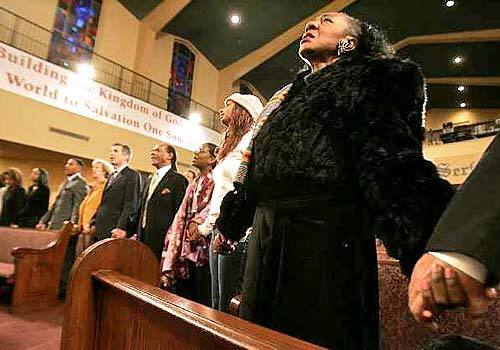 20 Images
The Week in Photos: Jan. 29 - Feb. 4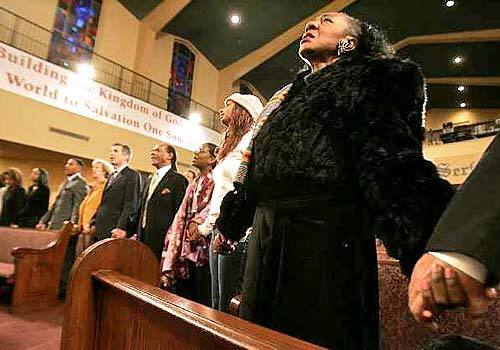 SHOW OF UNITY:
People join hands during a memorial service at First African Methodist Episcopal Church in Los Angeles after this week's death of Coretta Scott King at age 78. "I feel like it is the other half of Martin Luther King that is gone," Diskin Bailey, a 40-year-old Navy veteran, said at the King Center in Atlanta.
(Luis Sinco / LAT)
A LIFE OF STRUGGLE:
Coretta Scott King shared her husband's commitment to social justice. After his death in 1968, she campaigned against South African apartheid.
(John Bazemore / AP)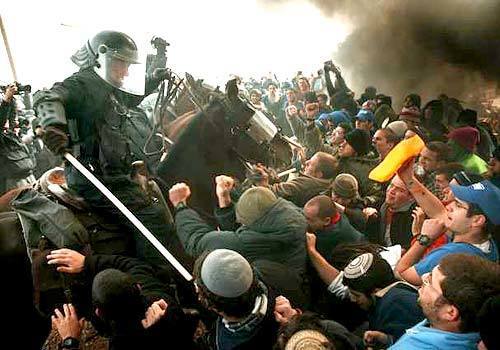 WEST BANK MELEE:
Israeli troops battle protesters at the outpost of Amona on Wednesday. About 6,000 soldiers and police officers were met by an estimated 5,000 people protesting the demolition of illegally built houses. "The era of restraint is over," an Israeli Cabinet minister said.
(Shaul Schwarz / Getty Images)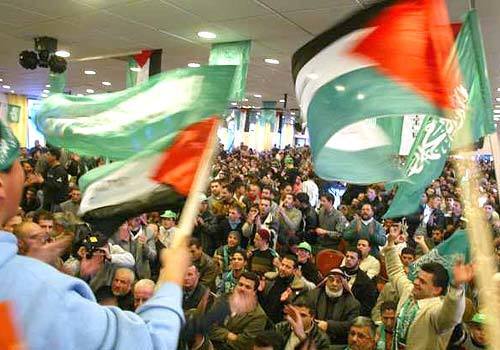 CELEBRATION:
Hamas supporters wave Palestinian and Hamas flags during a festival organized by the radical Islamist movement in the West Bank town of Ramallah. The group won 74 of the 132 parliamentary seats in last week's elections.
(Abbas Momani AFP/Getty Images)
PATH LESS TRAVELED:
Matt Burton-Kelly skis through Lincoln Park during a steady snowfall, Tuesday in Grand Forks, N.D. This January was the warmest January on record, with temperatures above the normal average for the month.
(Eric Hylden / Grand Forks Herald via AP)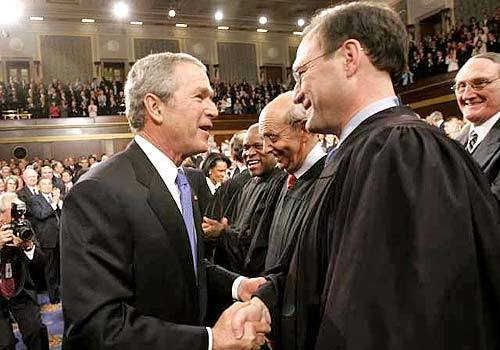 NEWEST JUSTICE:
Before his State of the Union speech Tuesday, President Bush greets Samuel A. Alito Jr., who was approved by the Senate and sworn in as an associate justice on the Supreme Court that day.
(Pablo Martinez Monsivais AFP/Getty Images)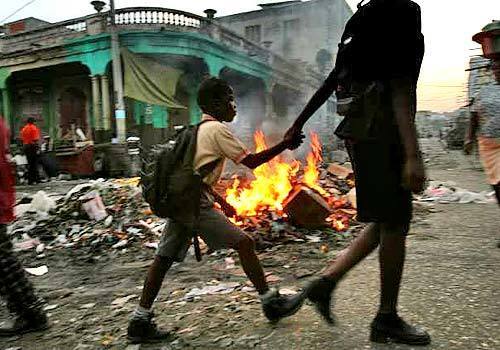 WALKING TO SCHOOL:
A child heads for school walking through the center of Port-au-Prince, Haiti, where trash is burned in the early morning. Despite unrest in some parts of the city, many residents are going about their normal routines.
(Carolyn Cole / LAT)
WOUNDED JOURNALIST:
A person identified by American military personnel as ABC News co-anchor Bob Woodruff is carried to a U.S. military plane in Germany. Woodruff and ABC cameraman Doug Vogt had severe head injuries from a roadside bombing in Iraq.
(Michael Probst / AP)
SWAN LAKE:
A youth feeds swans at the coast near Bulgaria's Black Sea town of Varna, about 280 miles northeast of the Bulgarian capital Sofia, on Wednesday. Every winter hundreds of swans arrive at Varna's coast to find food and warmer weather.
(Petar Petrov / AP)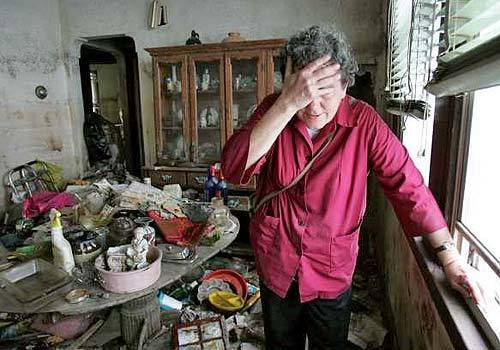 STILL A MESS:
Judith Martin, 57, talks Wednesday about the cleanup she has to do in her home in the Lakeview community of New Orleans. Martin lost her 95-year-old mother in the house when floodwaters filled their home and she had to swim to safety during Hurricane Katrina.
(Mary Ann Chastain / AP)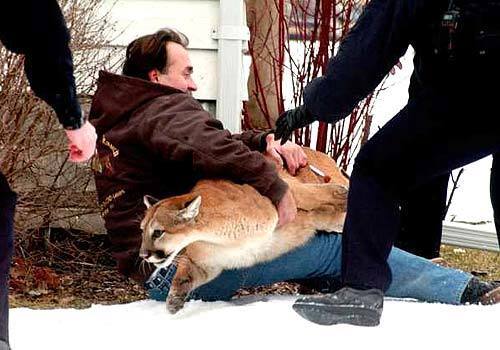 QUICK AS A CAT:
Robert Bolger of New London, Minn., tackles a cougar Tuesday that was roaming a southwest Willmar, Minn. neighborhood. Bolger, experienced with big cats, assisted law enforcement in the capture.
(Bill Zimmer / West Central Tribune via AP)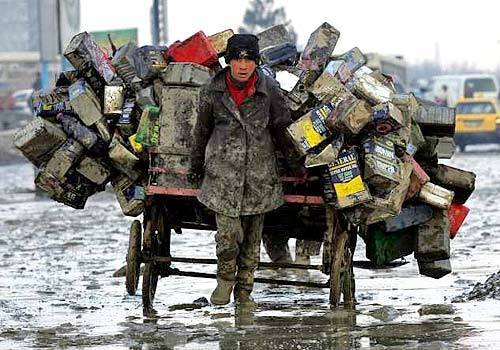 ONE MAN'S JUNK IS …:
A young man pulls a cart loaded with cans through the streets of Kabul in Afghanistan. Amid the poverty, many try to eke out a living by recycling metal. The cans could become satellite dishes, sheeting or instruments.
(Zabi Tamanna / New China News Agency)
PASSAGE TO AMERICA:
A federal agent inspects a 2,400-foot-long tunnel suspected of being used by Mexican drug traffickers. Officials this week gave the media a tour of the passageway, which starts near the Tijuana Airport and ends in Otay Mesa, Calif.
(Don Bartletti / LAT)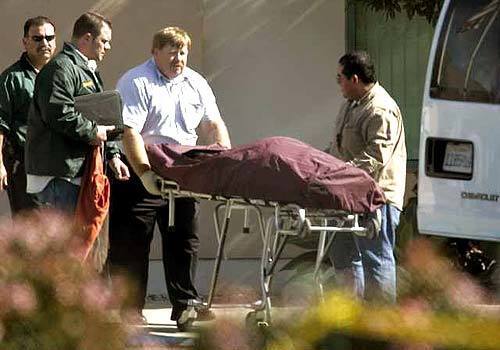 GRIM TASK:
The body of one of the five employees killed at the U.S. Postal Service's distribution center Monday night in Goleta, Calif., is removed from the facility. Jennifer Sanmarco, a former employee at the center who shot the workers, also killed herself. One of those she wounded Monday later died and she is a suspect in another killing that day.
(Stephen Osman / LAT)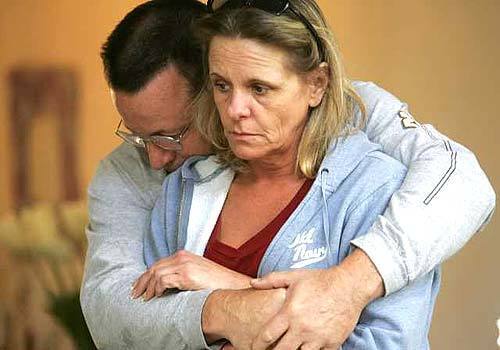 DISBELIEF:
Les Graham, brother of victim Beverly Graham, 54, comforts his wife, Cinda, at Beverly Graham's condominium in Goleta, Calif. Graham's neighbors reported hearing gunshots at the complex between 7:15 and 8:15 Monday evening. Suspect Jennifer Sanmarco used to live in the condo complex.
(Spencer Weiner / LAT)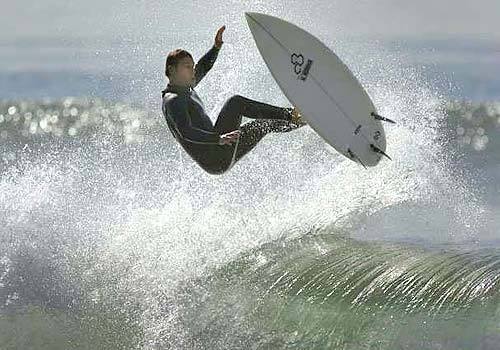 ACCEPTING THE RISK:
Terry Harvey, 41, surfs off Manhattan Beach near the site of the recent sewage spill.
(Allen J. Schaben / LAT)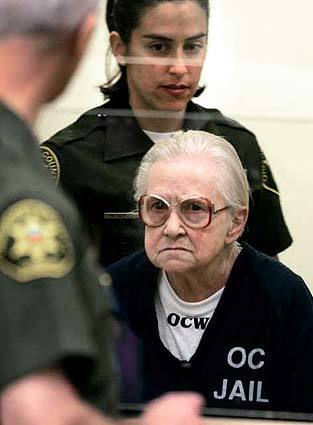 IN COURT:
Jeane E. Allen, 81, sits in Orange County Superior Court on Tuesday. Allen is charged with murder in the death of Alex L. Reyes, 26, her grandaughter's estranged husband. Allen said she feared Reyes was harming her great-grandson; a charge denied by Reyes' family.
(Don Kelsen / LAT)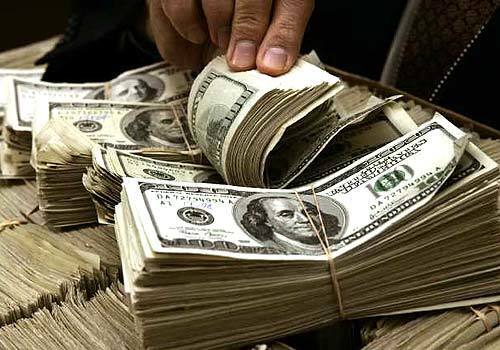 MADE IN MEXICO:
Fifteen people have been indicted in a counterfeit ring involving Mexican printers, a drug cartel and local street gangs.
(Glenn Koenig / LAT)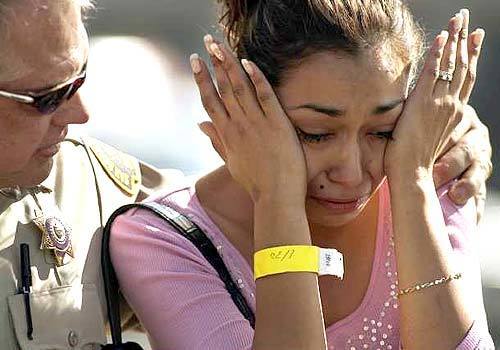 GRIEF-STRICKEN:
Mariela Carrion, whose husband was shot three times after a high-speed chase, is comforted by San Bernardino County Sheriff's Deputy Pat Burns. Elio Carrion, 21, underwent surgery at a hospital in Colton and was listed in good condition.
(Irfan Khan / LAT)
CELEBRATION:
Dressed as a flapper, Maxine Fortune stands in front of a 1936 Packard Standard 8 Phaeton at the opening of the new Packard Lofts. Developers were persuaded by Councilwoman Jan Perry's office to redo the place in a 1920s Packard motif.
(Richard Hartog / LAT)