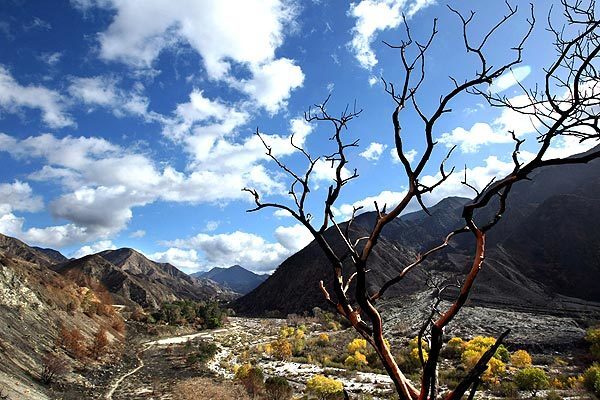 101 Images
The Week in Pictures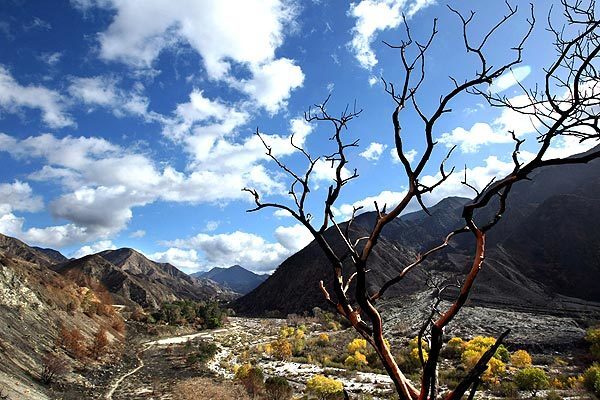 Clouds pass over Big Tujunga Canyon as a charred tree still stands as a remnant of the Station fire along Big Tujunga Road in the Angeles National Forest on Sunday. Big Tujunga Road and the Angeles Crest Highway were closed because of mudslides and debris caused by the recent rain.
(Genaro Molina / Los Angeles Times)
A Russian made-vehicle is seen loaded with sacks of cotton in Mazar-i-Sharif, north of
Kabul
.
(Associated Press)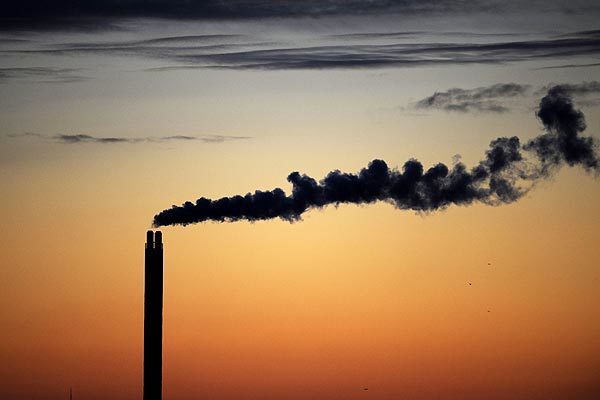 Smoke rises from a chimney as morning breaks in Copenhagen where talks continued on a new climate treaty.
Related story
(Axel Schmidt / AFP / Getty Images)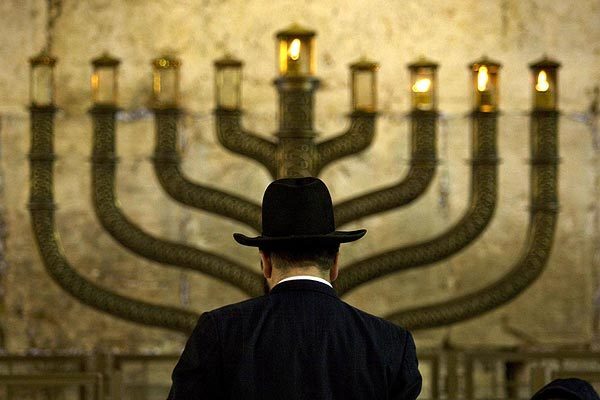 An ultra-Orthodox Jewish man stands in front of a menorah on the third night of
Hanukkah
, at the Western Wall, Judaism's holiest site. The festival of light is an eight-day commemoration of the Jewish uprising in the second century B.C. against the Greek-Syrian kingdom, which had tried to put statues of Greek gods in the Jewish Temple in Jerusalem.
(Sebastian Scheiner / Associated Press)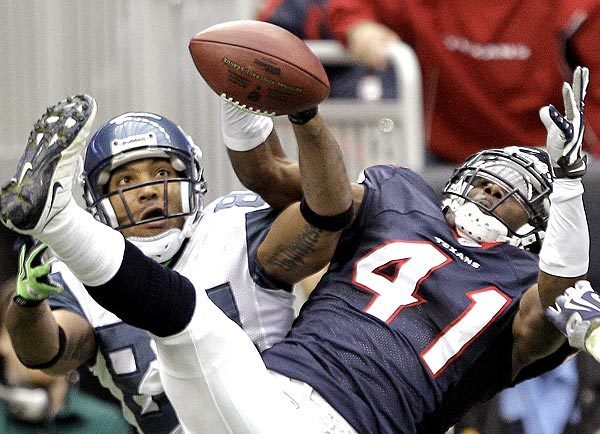 Houston Texans cornerback Brice McCain and Seattle Seahawks receiver T.J. Houshmandzadeh fight for a pass in the fourth quarter on Sunday. The Texans went on to beat the Seahawks, 34-7.
(David J. Phillip / Associated Press)
Pier walkers are reflected in a puddle from recent rain showers at the Seal Beach Pier.
(Allen J. Schaben / Los Angeles Times)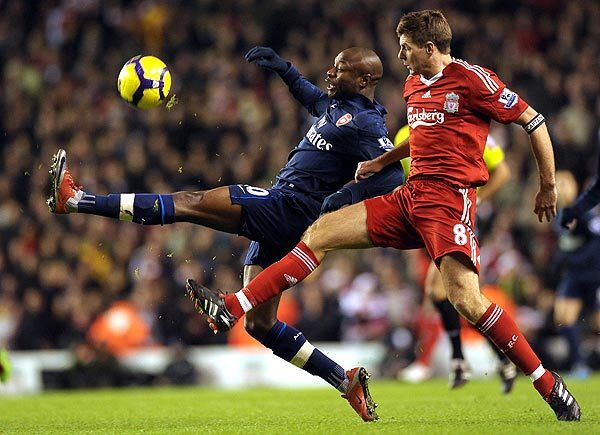 Arsenal defender William Gallas, left, fights with Liverpool midfielder Steven Gerrard in a matchup between the two teams Sunday.
(Paul Ellis / AFP / Getty Images)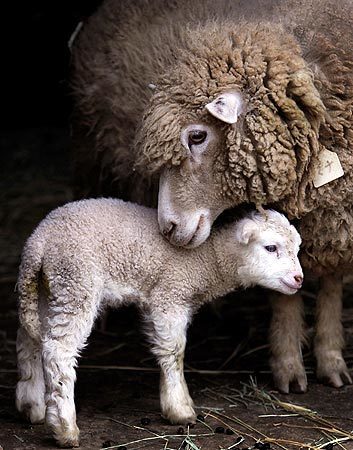 A 6-day-old lamb nuzzles with its mother, named 'Mana, at the Saitama Children's Zoo in Higashi-Matsuyama, near Tokyo.
(Itsuo Inouye / Associated Press)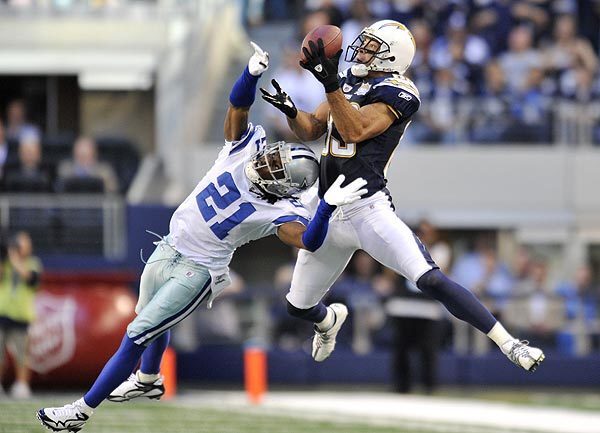 San Diego Chargers receiver Vincent Jackson catches a pass over Dallas Cowboys cornerback Mike Jenkins in the first half Sunday. The Chargers held off the Cowboys, 20-17.
(Michael Thomas / Associated Press)
Dressed in
Santa Claus
outfits, divers feed a turtle at the Coex Aquarium in Seoul. Christmas is one of the biggest holidays in South Korea, where over half of the population is Christian.
(Lee Jin-man / Associated Press)
Navy's Mario Washington, right, can't hang onto a pass as Army's Antuan Aaron defends during the first half of an
NCAA
college football game Saturday. Navy won, 17-3, and eliminated Army from bowl contention.
(Matt Slocum / Associated Press)
Shaun White flies through the air during his first run of the men's halfpipe snowboarding competition at the U.S. Snowboarding Grand Prix on Saturday. White won the men's competition.
(Chris Schneider / Associated Press)
About 20 Chinese drummers wearing T-shirts bearing slogans such as "Save the climate, no time to waste" and "Tck Tck Tck (time to act on climate change) Copenhagen" take part in a Greenpeace event in Beijing.
Related story
(Elizabeth Dalziel / Associated Press)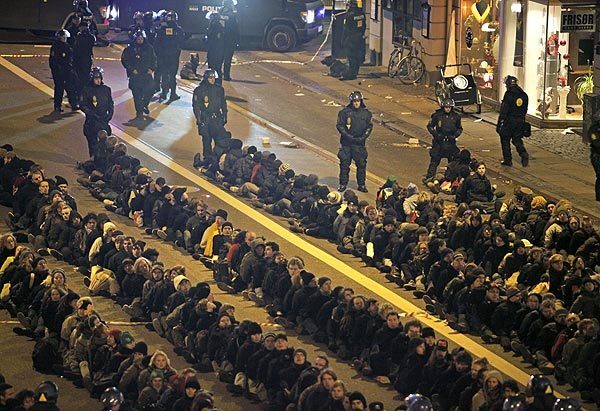 Danish riot police guard detained demonstrators who were lined up on a street in Copenhagen. The largest and most important U.N. climate change conference is underway in Copenhagen, aiming to secure an agreement on how to protect the world from calamitous global warming.
Related story
(Thibault Camus / Associated Press)
Kashmiri women walk down from their hillside home in Muzaffarabad, the capital of the Pakistan-controlled portion of Kashmir.
(Anjum Naveed / Associated Press)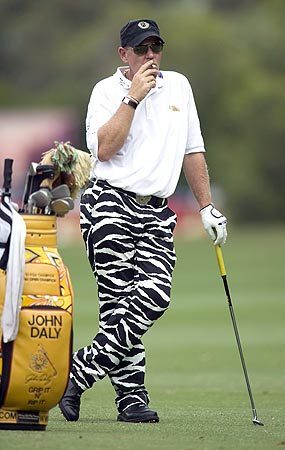 John Daly smokes a cigarette between shots during the third round of the Australian PGA Championships in Coolum, Australia, on Friday.
(Dave Hunt / EPA)
Flamenco dancers in the Carmen Mota Spanish Dance Company make a splash with "Alma Latina" at Casino du Liban, a Lebanese casino.
(Wael Hamzeh / European Pressphoto Agency)
The sun sets behind the Manhattan skyline. High winds and cold temperatures brought a wintry feel to the
New York City
area.
(Don Emmert / AFP/Getty Images)
From under an umbrella, Lilo Haenisch, 73, watches the waves break from the baordwalk at Main Beach in Laguna Beach. "Rain or shine, it's a beautiful place to be," she said.
(Don Bartletti / Los Angeles Times)
Pennsylvania state troopers line up before a memorial service for Lakewood, Wash., police Sgt. Mark Renninger, who was killed in a shooting Nov. 29. Renninger, who was born and raised in Bethlehem, Pa., is laid to rest in his hometown.
Full story
(Rich Schultz / Associated Press)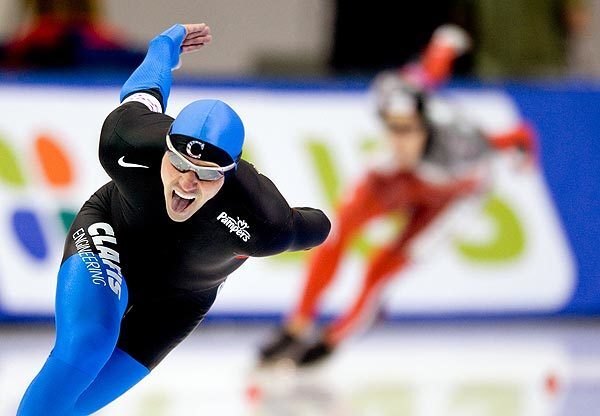 The U.S.'s Chad Hedrick takes a turn in the men's 1,500-meter speedskating race at the Utah Olympic Oval. He finished in second place.
(Douglas C. Pizac / US Presswire)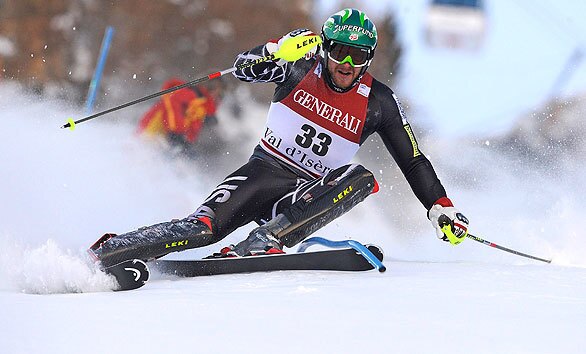 Bode Miller of the United States competes in the men's super-combined at the Audi FIS Alpine Ski World Cup in Val d'Isere, France.
(Alain Grosclaude / Getty Images)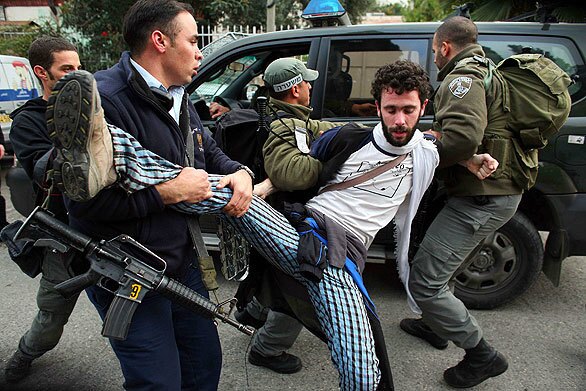 Israeli border policemen drag away an Israeli peace activist during a demonstration against the eviction of the Al-Kurd family from their house in Sheikh Jarrah, a predominately Arab neighborhood in Jerusalem. Twenty-one activists, protesting in solidarity with evicted Palestinian families contending with Jewish nationalists who say the land is theirs, were detained during the demonstration, police said.
(Daniel Bar-On / AFP / Getty Images)
Animal sculptor Mark Coreth sits atop his giant polar bear made of ice in London's Trafalgar Square. Activists who gathered there say the melting bear is a symbol of the threat of climate change and the plight of the Arctic in particular.
(Peter Macdiarmid / Getty Images)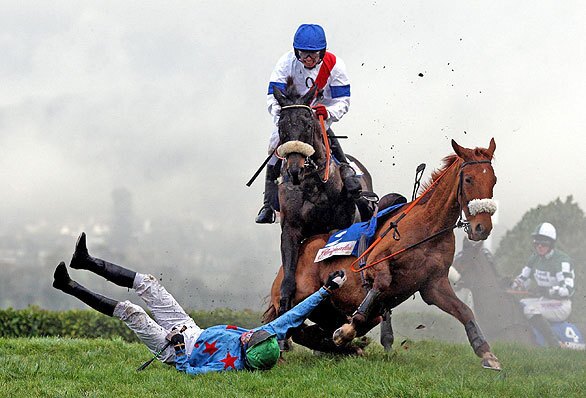 Alan O'Keeffe rides Osolomio as he tries to avoid Ken Whelan and Royal County Star as they fall in the Glenfarclas Cross Country Handicap Steeple Chase during an international meeting at Cheltenham Racecourse in Gloucestershire, England.
(David Davies / Associated Press)
A young Lebanese patient takes a picture with a Santa Claus visiting the Children's Cancer Center of Lebanon in Beirut. The pediactric cancer center is an affiliate of St. Jude Children's Research Hospital in Memphis, Tenn.
(Grace Kassab / Associated Press)
A worker, his hands covered with silver gunpowder materials, makes fireworks in Bocaue, Bulacan, north of Manila. The Philippines, like many Asian nations, will celebrate
New Year's Eve
by welcoming 2010 with fireworks.
(Noel Celis / AFP / Getty Images)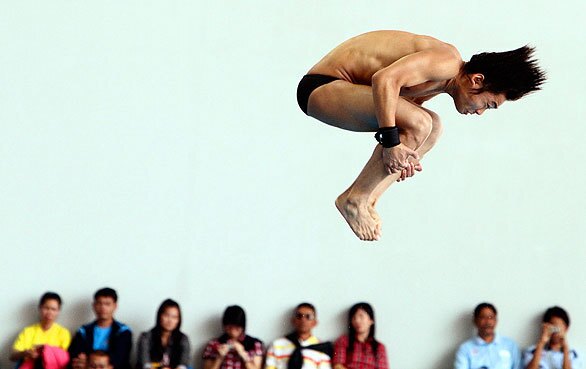 Bryan Nickson Lomas of Malaysia competes in the men's 10-meter platform diving finals at the 25th Southeast Asian Games in Vientiane, Laos.
(Wong Maye-E / Associated Press)
A hot-air balloon is inflated outside St. Paul's Cathedral in London to call attention to the thousands of young and vulnerable homeless people in Britain. The charity venture was launched in an effort to solicit donations to help support those in need during the winter season.
(Anthony Devlin / Associated Press)
A man fishes in Lake Komsomolskoe in a frosty forest region on the outskirts of Minsk. People in Belarus are gearing up for the onset of a long winter.
(Victor Drachev / AFP / Getty Images)
President Obama and First Lady Michelle Obama greet the torch parade from the balcony of the Grand Hotel in Oslo, the Norwegian capital, where he accepted the Nobel Peace Prize.
(Jewel Samad / AFP / Getty Images)
Boys play in smoke rising from an area fumigated by a health worker, unseen, in Mumbai, India. Municipal governments often take up fumigation as a method of pest control, especially to control mosquito related diseases such as malaria and dengue fever.
(Rafiq Maqbool / Associated Press)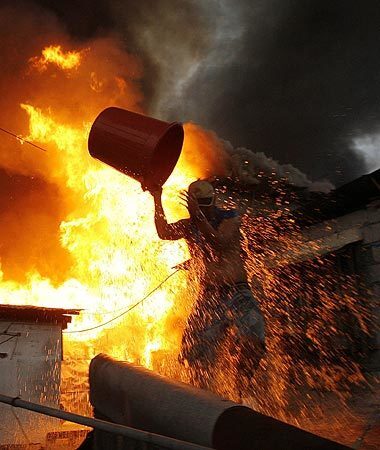 A man douses himself with water to cool down as a fire ripped through a shantytown in
Manila
, the capital of the Philippines. Two children died in the fire in the shantytown on Claro M. Recto Avenue. Police said the fire could have been caused by an electrical short circuit from a jumper wire, or an illegal electrical connection.
(Francis R. Malasig / EPA)
University of Edinburgh staff members view Scotland's oldest surviving book, a pocket-size book of Psalms. The book dates to the 11th century and was produced at the monastery on the Scottish island of Iona. It will be on exhibit for the first time at the University of Edinburgh's Main Library.
(Jeff J. Mitchell / Getty Images)
Tibetan children in traditional costume perform at the Tsuglakhang temple in Dharamsala to mark the 20th anniversary of the
Dalai Lama
receiving the Nobel Peace Prize. The Dalai Lama has lived in India along with a government-in-exile since fleeing Tibet in 1959 after a failed uprising against Chinese rule.
(Ashwini Bhatia / Associated Press)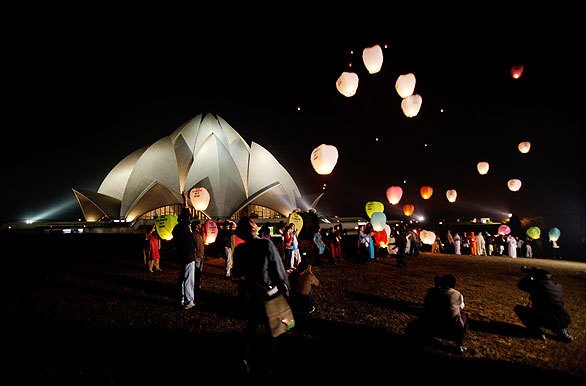 Activists float paper lanterns to express their hope in the ongoing climate conference in
Copenhagen
, with the Lotus temple in background. The function was organized by the protest group Greenpeace, Christian Aid and Oxfam India hoping for a fair, ambitious and binding deal in Copenhagen, according to a joint media statement.
(Manish Swarup / Associated Press)
A wooden house is turned upside-down on the compound of the zoo in Gettorf on Thursday. The fully furnished so-called "crazy house" has a kitchen, a bathroom, a living room and a sleeping room. Visitors will have to pay an entry fee.
(Heribert Proepper / Associated Press)
Israeli soldiers from a paratroop unit take part in a military exercise in the Golan Heights near the northern town of Katzrin on Thursday.
Israel's
parliament gave preliminary approval on Wednesday to a bill that would require a referendum to endorse a peace deal relinquishing Israeli control of land in East Jerusalem or the Golan Heights. Syria demands the return of the Golan Heights, captured by Israel in 1967.
(Oded Balilty / Associated Press)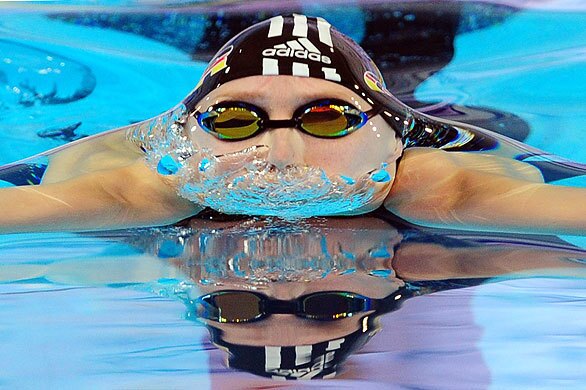 Janne Schaefer of Germany performs in the women's 50-meter breaststroke at the European Short Course Swimming Championship semifinals.
(Mustafa Ozer AFP / Getty Images)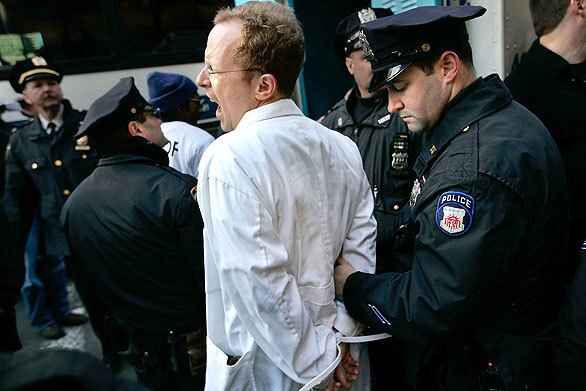 Police arrest a doctor and healthcare activist Thursday who was blocking the front door of the building where U.S. Sen. Charles E. Schumer's office is located. About 10 protesters were advocating for expanded
Medicare
insurance benefits and unhappy with Schumer's recent healthcare stances.
(Chris Hondros / Getty Images)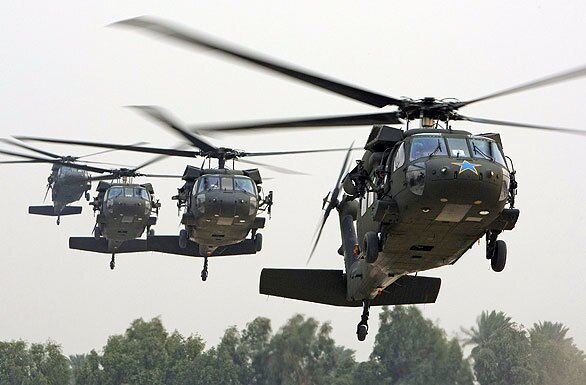 A Blackhawk helicopter, foreground, carrying U.S. Secretary of Defense
Robert Gates
arrives in the Green Zone in Baghdad on Thursday. Gates stopped in Iraq following a two-day trip to
Afghanistan
one week after
President Obama
announced that he will send an additional 30,000 troops to Afghanistan.
(Justin Sullivan / Getty Images)
Los Angeles County firefighters Brett Flowers, left, and Pablo Cruz douse the fire that gutted a section of the Artesia Building Material facility in the 16000 block of Pioneer Boulevard.
(Irfan Khan / Los Angeles Times)
Activists of Jammu Kashmir Liberation Front shout freedom slogans as they carry torches during a protest rally to mark International Human Rights Day. Police on Thursday detained dozens of separatist supporters protesting alleged human rights abuses by government forces in Kashmir, officials said.
(Dar Yasin / Associated Press)
The Dalai Lama addresses a breakfast meeting Thursday organized by the Australia Tibet Council and Amnesty International in Melbourne. The event celebrated the 20th anniversary of the Dalai Lama being awarded the Nobel Peace Prize for his long campaign to end China's domination of his homeland.
(William West / AFP-Getty Images)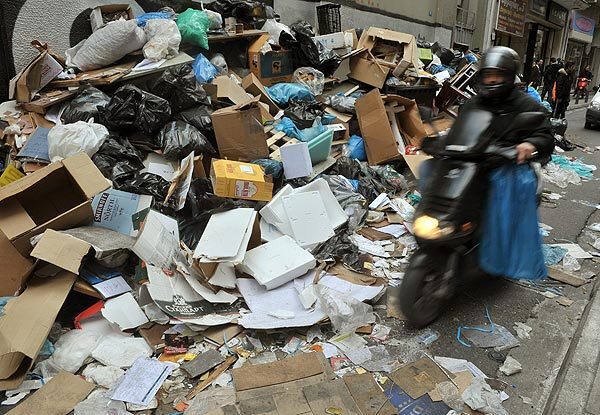 A motorist makes his way through piles of garbage obstructing a street in the center of Athens as a strike of municipal workers went into its second week.
(Louisa Gouliamaki / AFP/Getty Images)
Britain's Prince Charles exits an African hut that is to be shipped to southern Sudan as part of a new school construction effort.
(Arthur Edwards / Associated Press)
Iraqis walk between destroyed cars after a bomb attack in Baghdad. A series of coordinated attacks Tuesday included three car bombs that blew up near government sites.
Full story
(Hadi Mizban / Associated Press)
Internally displaced ethnic Tamils watch Sri Lankan Prime Minister Mahinda Rajapaksa arrive during his visit to the Manik Farm refugee camp. Sri Lanka gave permission last week for nearly 127,000 Tamil refugees to leave squalid and overrun government camps where they have been detained since the country's civil war ended six months ago, an official said.
(Lakruwan Wanniarachchi / Associated Press)
A Brazilian student braces as a line of riot police charge toward him on horseback during a protest against Gov. Jose Roberto Arruda.
(Evaristo Sa / AFP/Getty Images)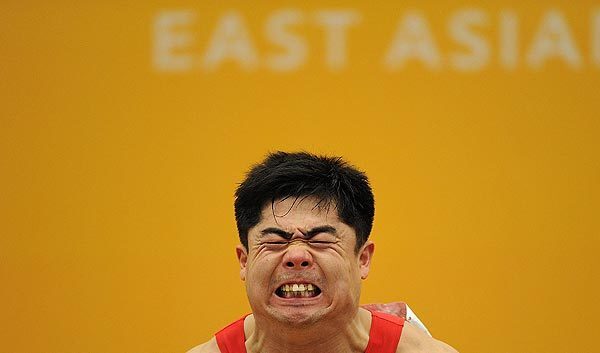 Pang Kum-Chol of North Korea grimaces as he competes in the 77-kilogram category in the men's weightlifting finals at the East Asian Games on Wednesday. South Korea's Kim Kwang-hoon won the gold medal, China's Liao Hui took the silver and Pang won bronze.
(Mike Clarke / AFP / Getty Images)
Zane Cahee and Alex Ketola shovel their neighbor's walkway after a storm dumped nearly 11 inches of snow.
(Theresa Peterson / Daily News)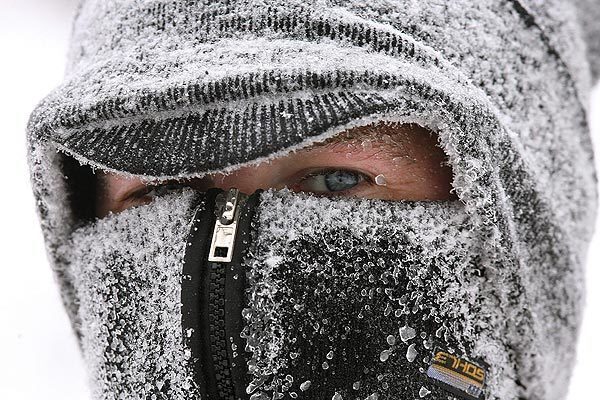 Gary Johnson of Mason City tries to protect himself from the blowing snow while clearing his sidewalk Wednesday. More than 11 inches of snow fell overnight.
(Bryon Houlgrave / Associated Press)
Surfers and beachcombers are enjoying the high waves and sunshine at
Huntington Beach
as one storm leaves the Southern California area and another is set to move in.
(Mark Boster / Los Angeles Times)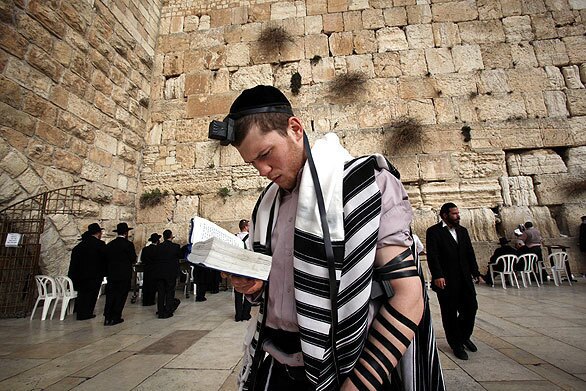 Boxer Dmitriy Salita prays next to the Western Wall, Judaism's holiest site. Salita, a Ukraine-born Orthodox Jew from Brooklyn, N.Y., said he came to Israel to clear his head after his defeat Saturday in a bout with WBA light-welterweight champion Amir Khan in Newcastle, Britain.
(Associated Press)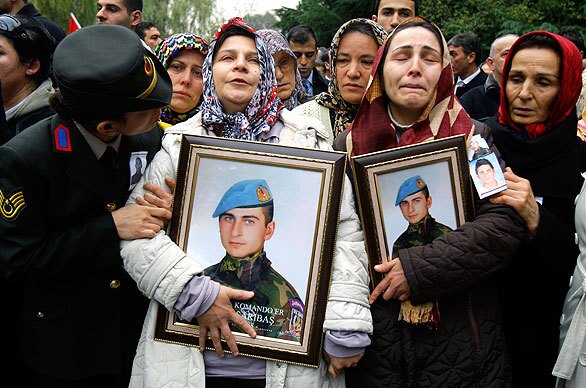 Family members of slain Turkish soldier Cengiz Saribas display his photos after his funeral. Assailants ambushed a military vehicle two days ago, killing seven soldiers in the central province of Tokat.
(Ibrahim Usta / Associated Press)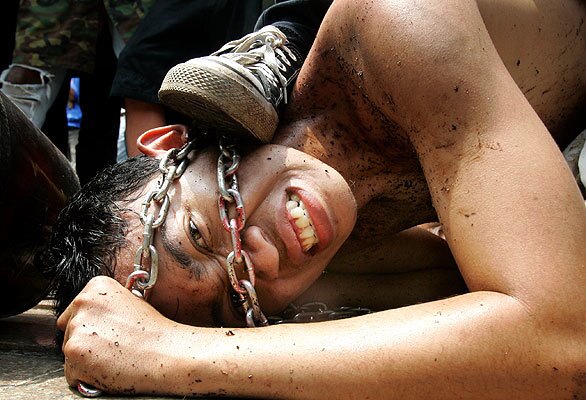 During a protest, an activist portrays a poor man oppressed by corrupt authorities. Thousands of people gathered at rallies throughout Indonesia to demand government action to end widespread corruption among public officials.
(Tatan Syuflana / Associated Press)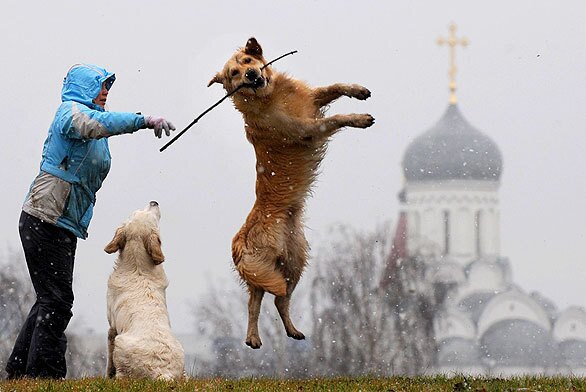 As a light snow falls, a woman plays with dogs in a park.
(Viktor Drachev / AFP / Getty Images)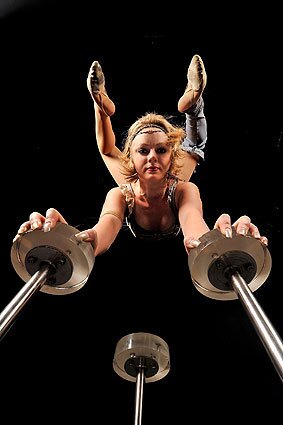 Jessica Ward performs hand-balancing at the National Institute of Circus Arts.
(Quinn Rooney / Getty Images)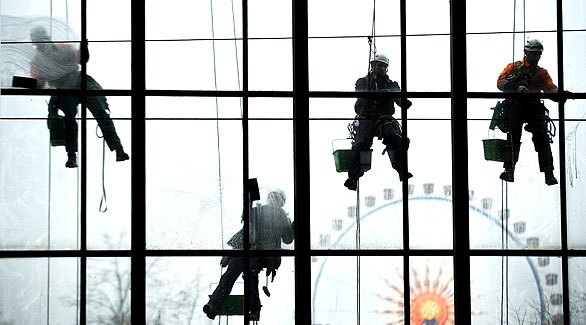 Workers clean the windows at the Alexanderplatz train station. Behind them is a Ferris wheel that is part of a Christmas market.
(Timur Emek / AFP / Getty Images)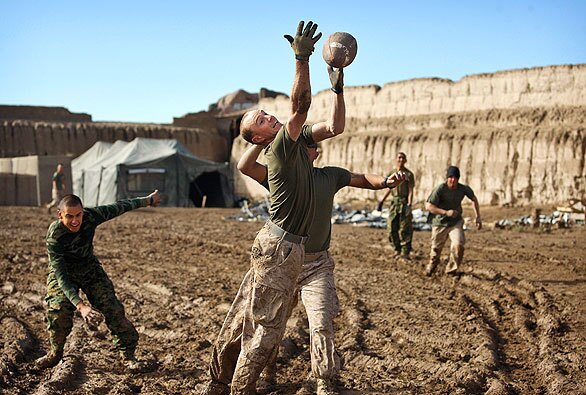 Sgt. Jordan Swaggart of Columbia, S.C., goes up for a pass while Marines play a game of mud football following a rainstorm at their base in Khan Neshin.
(Kevin Frayer / Associated Press)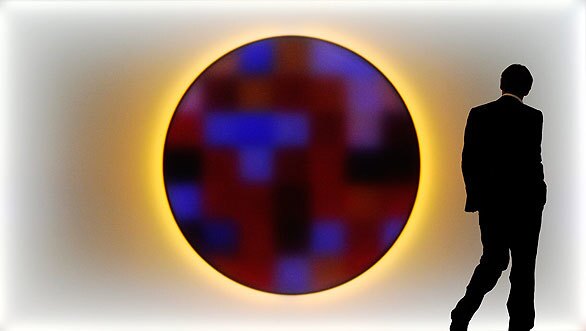 A delegate walks past a light installation at the exit of the Bella Center following the third day of the U.N. climate conference.
(Adrian Dennis / AFP/Getty Images)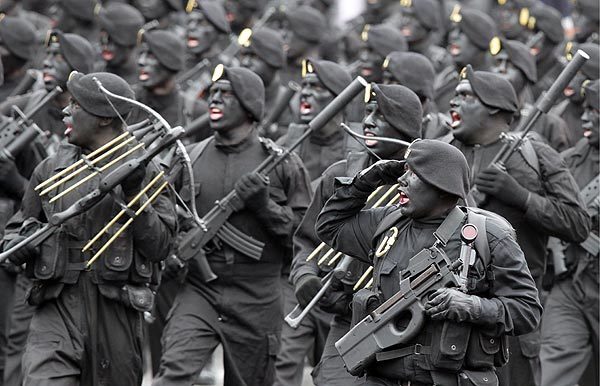 Members of the Peruvian Army's Special Forces march in a parade marking the nation's independence. The parade is usually held July 29, but was postponed this year to prevent the spread of the H1N1 flu.
(Paolo Aguilar / European Pressphoto Agency)
An Australian duck keeps her newly born ducklings in check on the upper lake of the Boat Club in Bhopal, India.
(Sanjeev Gupta / European Pressphoto Agency)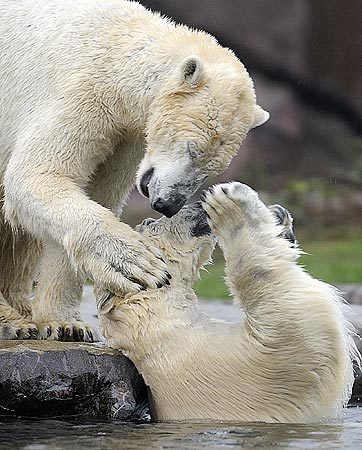 Polar bears play at the zoo in Gelsenkirchen, Germany.
(Martin Meissner / Associated Press)
Pope Benedict XVI waves from inside his vehicle after the traditional prayer to celebrate the Immaculate Conception.
(Pier Paolo Cito / Associated Press)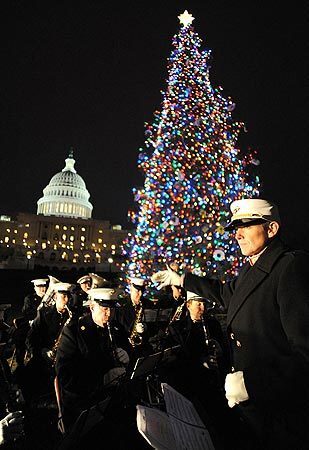 The U.S. Navy Band performs at the Capitol's Christmas Tree Lighting Ceremony.
(Olivier Douliery / Abaca Press/MCT)
The
San Gabriel
Mountains are cloaked in fresh powder the morning after a winter storm dropped snow and rain on Southern California. Photographed from the deck of the Queen Mary in Long Beach Harbor.
(Mark Boster / Los Angeles Times)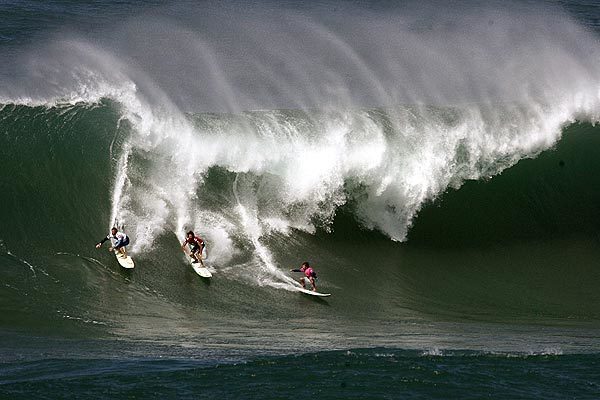 Noah Johnson, Kohl Christensen and Ibon Amatrian ride a wave during the first round of the
Quiksilver
in Memory of Eddie Aikau Competition big wave surfing contest. Thousands of spectators and surfers are flocked to Hawaii's beaches to see some of the largest waves in the state in half a decade.
(Photo by Kent Nishimura / Getty Images)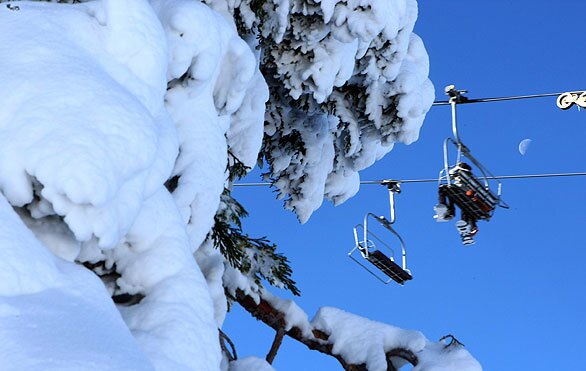 Snow boarders ride a lift at Snow Summit ski resort in Big Bear City, Calif. Although 14 inches of fresh snow is on the ground, a pine tree received an extra flocking from a snow-making machine.
(Don Bartletti / Los Angeles Times)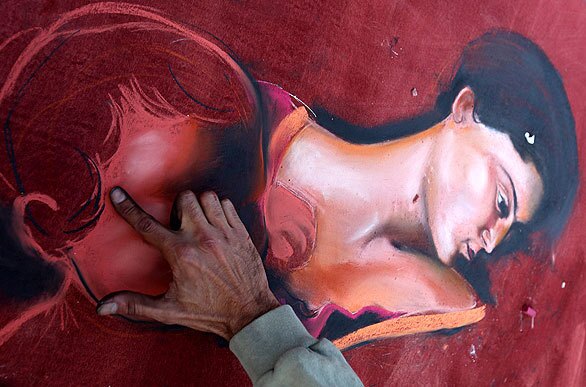 An Italian artist from the Madonnari Neapolitan School works on an artwork outside the Church of the Nativity in the West Bank city of Bethlehem. The traditionally accepted birthplace of Jesus Christ is preparing to receive pilgrims to celebrate Christmas later this month.
(Abed Al Hashlamoun / EPA)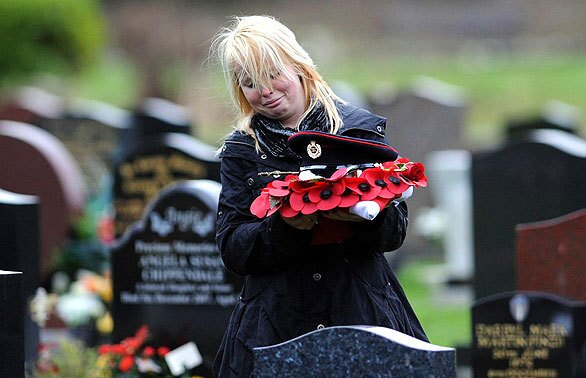 Family friend Jessica Lambe holds the cap and medals of Corporal Loren Marlton-Thomas, 28, from 33 Engineer Regiment, at his grave in Lytham Cemetery in Lancashire, England, following his funeral. Marlton-Thomas, a bomb disposal officer, died after a roadside bomb exploded while he was clearing a route in southern Afghanistan's Helmand Province on Nov. 15.
(John Giles / Associated Press)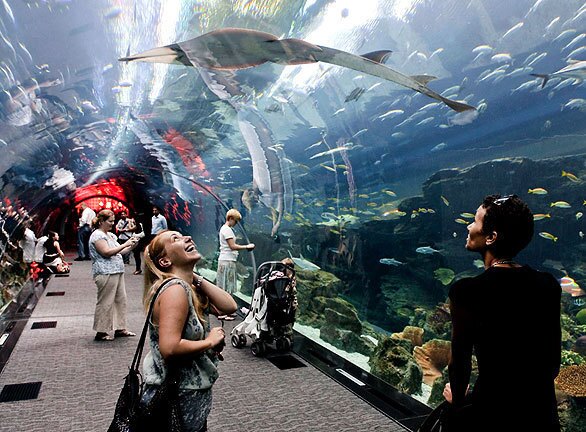 Visitors look at fish at the Dubai Aquarium and Underwater Zoo in the Dubai Mall, owned by Emaar Properties PJSC, in Dubai, United Arab Emirates. Debt restructuring by Dubai state-run companies may almost double to $46.7 billion as more of the emirate's businesses could need help making payments, investment bank Morgan Stanley said.
(Charles Crowell / Bloomberg)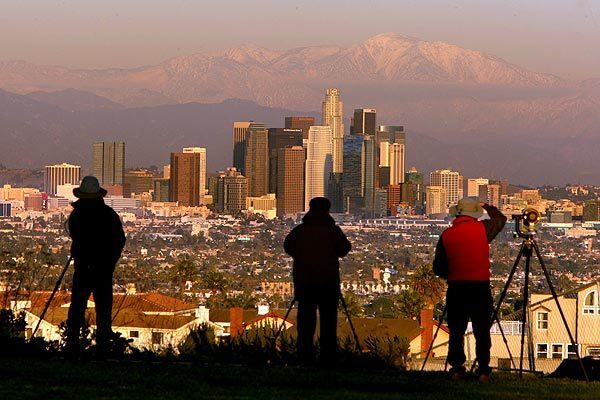 Photographers Peter Pak, 46, left, Cheol Cho, 57, and Joe Fuhrman, 53, take their best shots of the snowcapped San Gabriel Mountains, forming a picturesque backdrop to the
Los Angeles
skyline as seen from Kenneth Hahn State Recreation Area.
(Genaro Molina / Los Angeles Times)
A rally condemning the recent wave of terrorist strikes that has left hundreds of people dead and many more wounded is held in the southern Pakistani city of Karachi. Pakistan has been hit with a wave of attacks as its army tries to clamp down on Islamic militants in the nation's tribal areas along the border with Afghanistan.
(Shakil Adil / Associated Press)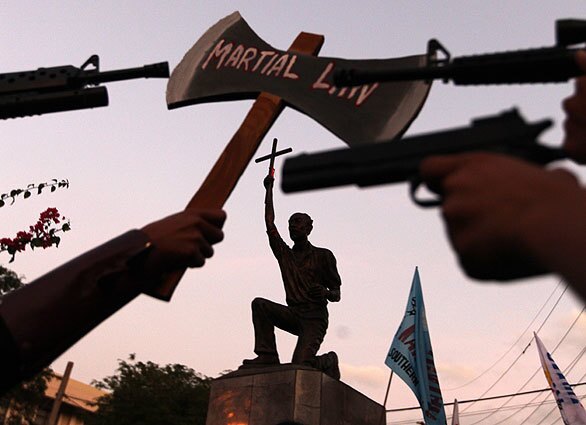 Filipino students stage a protest rally near the Malacanang presidential palace in Manila to denounce the imposition of martial law in the southern province of Maguindanao. President Gloria Macapagal Arroyo imposed martial law there on Saturday in response to a Nov. 23 politically motivated massacre that left 57 dead. It was the first time martial rule was declared in the country since the late dictator Ferdinand Marcos imposed it more than three decades ago. The Supreme Court has deferred its ruling on Arroyo's decision to impose martial law in Maguindanao.
(Francis R. Malasig / EPA)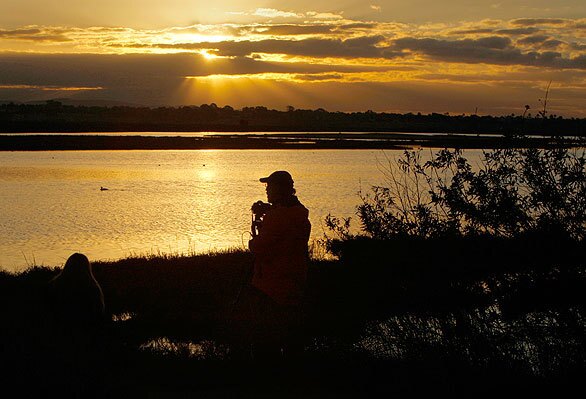 On the morning after the first of several storms to sweep through Southern Californa, photographer Leslie Kelly takes pictures of the sunrise at the Bolsa Chica Ecological Reserve in Huntington Beach.
(Mark Boster / Los Angeles Times)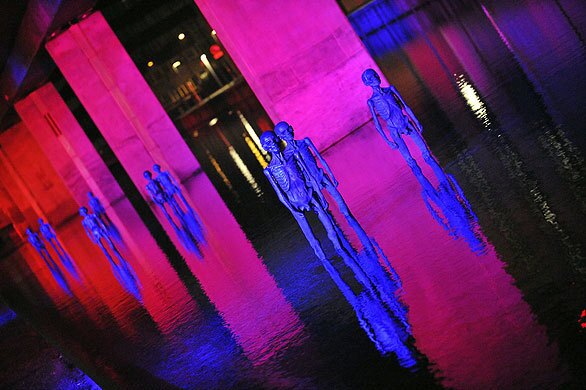 Sculptures standing in water lend an eerie presence to a transit station in Copenhagen near the site of the U.N. climate conference.
(Attila Kisbenedek / AFP / Getty Images)
Tate Stratton is thrown from Mortachi during the fifth go-round of bull riding at the National Finals Rodeo at the Thomas & Mack Center in Las Vegas. There were no qualified bull rides in the round, the first time since 1997.
(Isaac Brekken / Associated Press)
Demonstrators picket the House of Representatives to protest the imposition of martial law in the southern province of Maguindanao after the massacre of 57 people traveling in an election convoy there.
(Bullit Marquez / Associated Press)
A fan of the Coritiba soccer club is confronted by police Sunday, when at least 18 people were hurt in fan rioting after a match with Fluminense in the Brazilian Championship. Coritiba was forced to drop into the second division next season because of the game's outcome.
(Orlando Kissner / AFP / Getty Images)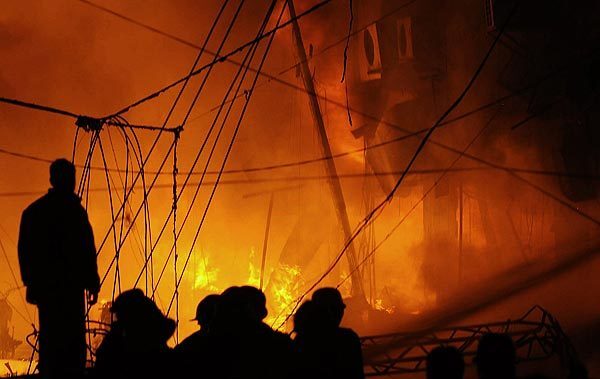 People gather at a Lahore market that was hit by two explosions, killing 36 people. In the city of Peshawar, a suicide bomber killed 10 people outside a courthouse.
Full story
(Arif Ali / AFP/ Getty Images)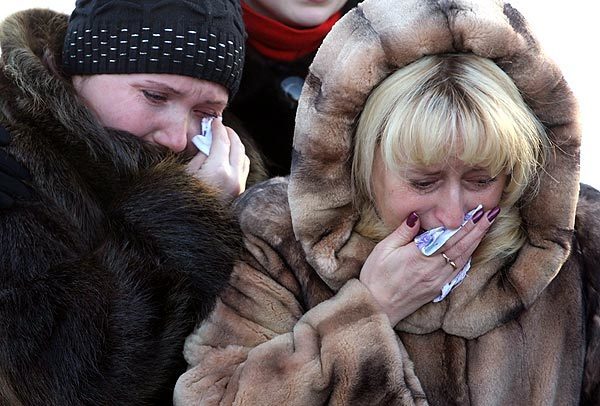 Relatives weep at the graveside of Lilia Kalashnikova, 30, one of the victims of the Dec. 5 fire at the Lame Horse nightclub in Perm.
(Sergei Ilnitsky / EPA)
At the Melbourne Aquarium, Gentoo penguins speed through their 26,417-gallon pool that is kept at 44.6 degrees Fahrenheit. It also features a light cycle that replicates the Antarctic seasons. Gentoo penguins are the fastest underwater bird.
(William West / AFP / Getty Images)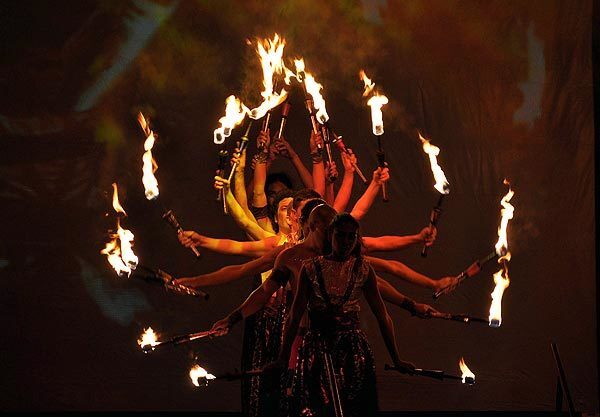 "Cirko Vivo" artists perform during a ceremony to start off Christmas festivities.
(Yuri Cortez / AFP / Getty Images)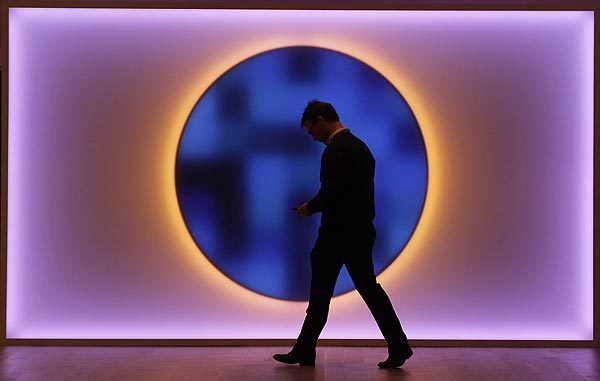 A delegate passes a light installation at the entrance to the 15th United Nations Climate Change Conference.
Full story
(Anja Niedringhaus / Associated Press)
Mike Drysdale clears snow from the driveway of his home near Big Bear. Officials say plunging temperatures across the state could cause the snow level to drop as low as 1,500 feet overnight.
Full story
(Don Bartletti / Los Angeles Times)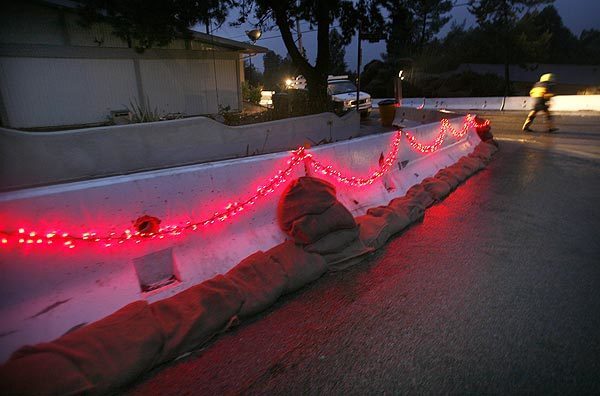 Some La Cañada Flintridge residents living near the Station fire burn area decorated concrete barriers at the corner of Ocean View Boulevard and Earnslow Drive. The barriers could protect their homes from mud and water that officials fear may come with a winter storm in the region.
Full story
(Mark Boster / Los Angeles Times)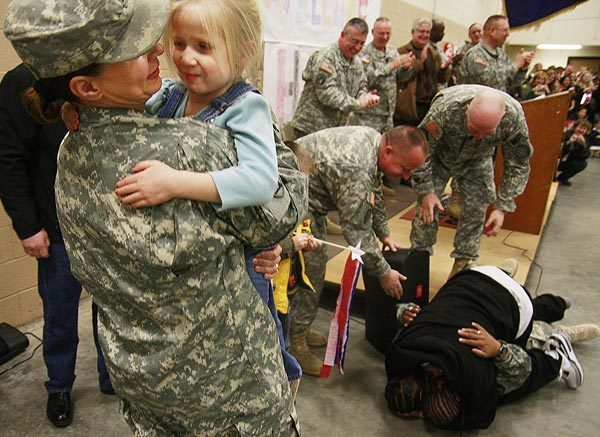 After an 8-month deployment to Afghanistan, Cmdr. Corrina Whitmoyer hugs her daughter, Bryce, 3, during a homecoming ceremony at Michigan National Armory. Whitmoyer returned with some 130 other soldiers of the 464th Quartermaster Company three months early with no injuries or casualties.
(Hollyn Johnson / Flint Journal)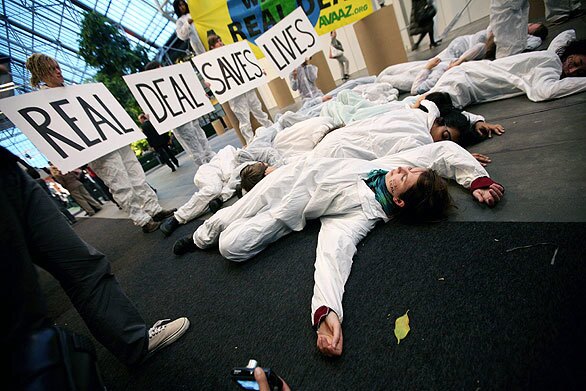 Members of an environmentalist group feign death during a protest demanding a substantive climate deal during the first day of the U.N. Climate Change Conference in Copenhagen, Denmark. The conference runs until Dec. 18.
(Miguel Villagran / Getty Images)
Mohamad Shinaz, a
Maldives
climate activist, holds a sign reading "Act Now Save Lives" as he is submerged in water in a 9-foot tube outside the Bella Center on the opening day of the Climate Change Conference in Copenhagen. The scene is a re-creation of a Maldives flood scene and is meant to be a reminder of the human cost of failure to come to an agreement in Copenhagen.
(Peter Dejong / Associated Press)
Members of the Iranian opposition demonstrate at
Tehran
University. Iranian police firing tear gas clashed with crowds of protesters in the capital as the opposition used Students Day commemorations to stage anti-government demonstrations.
(AFP / Getty Images)
A
Filipino
soldier stands guard in Ampatuan town, Maguindanao province, southern Philippines, after martial law was implemented. The government imposed martial law after clashes erupted between security forces and armed militia allegedly linked to the Ampatuan family. The militia members are accused of killing 57 people two weeks ago.
(Dennis M. Sabangan / EPA)
Protesters use cream to protect themselves from tear gas during a demonstration in central
Athens
marking the first anniversary of a police shooting of a teenager, which sparked the worst violence the country had seen in decades. Thousands of hooded youths, the majority of them high school students, threw petrol bombs and chunks of marble at riot police during the protect. Authorities said nine people were arrested.
(Orestis Panagiotou / EPA)
Youths are detained by riot police during a demonstration in central Athens. Riot police clashed with stone-throwing youths in Athens as violence marred a second day of demonstrations held to mark the fatal shooting of a teenager by police a year ago.
(Aris Messinis / AFP / Getty Images)
Spanish bullfighter Miguel Angel Perera waves to the public as he leaves the bullring during the last afternoon of the "Senor de los Milagros" fair at the Plaza de Acho in Lima, Peru.
(Paolo Aguilar / EPA)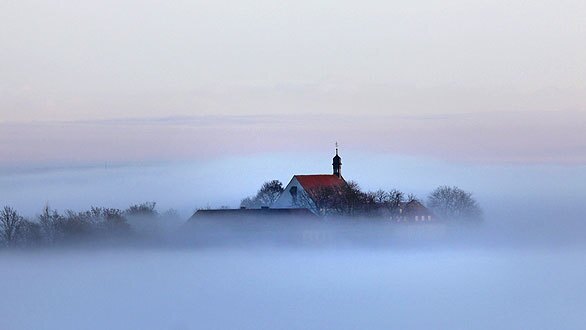 The top of Vogels castle peeks through the thick fog near Volkach, Germany. Rain and mild temperatures are predicted for the area in the coming days.
(Daniel Karmann / EPA)
Reporters and others stand around director
Roman Polanski's
"Milky Way" chalet. Polanski was released to his chalet on $4.5-million bail after spending about two months in a Swiss jail while fighting extradition to Los Angeles, where he faces charges in a child-sex case from the 1970s.
(Thomas Coex / AFP/Getty Images)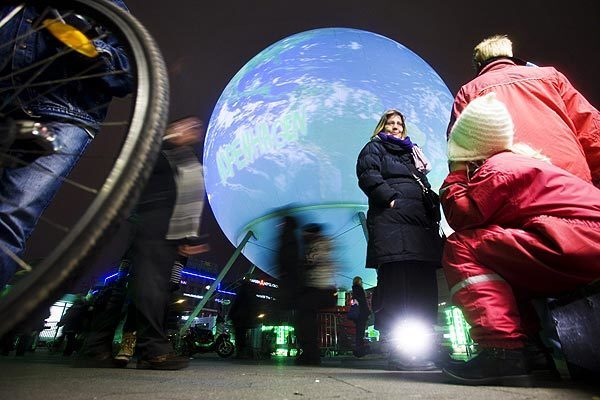 A giant globe on Copenhagen's central square marks the United Nations Climate Conference, which started Monday.
(Mikkel Moeller Joergensen / AFP/Getty Images)
Riot police detain a protester on the anniversary of a teenager's death at the hands of police in central Athens. Clashes broke out across Greece as marchers commemorated the event, which had sparked the country's worst riots in decades.
(Orestis Panagiotou / EPA)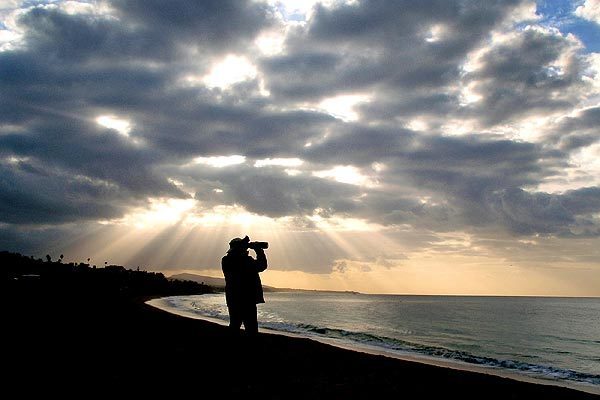 The sun rises behind ominous-looking clouds Sunday in Dana Point. Forecasters expect two storms to hit Southern California this week, starting tonight. Heavy rain would test measures put in place to contain mudslides in neighborhoods left vulnerable by last summer's Station fire in the Angeles National Forest.
Full story
(Allen J. Schaben / Los Angeles Times)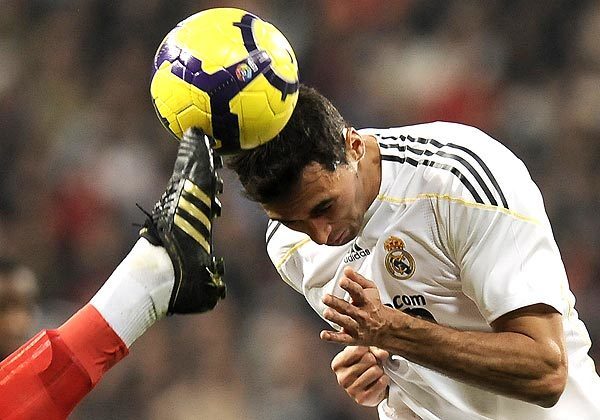 Real Madrid's Alvaro Arbeloa attempts to head the ball as an opponent attempts to kick the ball away at Santiago Bernabeu Stadium in Madrid.
(Alvaro Barrientos / Associated Press)