17 Images
The Week in Photos: January 22 - 28
KEEPING TRACK:
A Palestinian observer updates the count that shows Hamas with more votes than the ruling Fatah party at a polling station in Jabaliya in the Gaza Strip. Hamas was later declared a huge winner in the national balloting.
(Abid Katib / Getty Images)
GREEN REVOLUTION:
Palestinian supporters of Hamas celebrate their victory in parliamentary elections in the West Bank town of Hebron on Thursday. The radical party Hamas won a huge majority in parliamentary elections as Palestinian voters rejected the longtime rule of the Fatah party, throwing the future of Mideast peacemaking into question.
(Nasser Shiyoukhi / AP)
IN RAMALLAH:
An injured Fatah supporter reacts to being hit by a stone thrown through a window at the Palestinian parliament building. After Hamas loyalists hoisted the group's flag over the building, a scuffle broke out between them and backers of Fatah.
(Kevin Frayer / AP)
THE SHAFT:
A Mexican police officer Wednesday examines a tunnel running under the U.S.-Mexico border that officials say was used by drug smugglers. The tunnel was equipped with lighting, ventilation and a pulley system.
(David Maung / AP)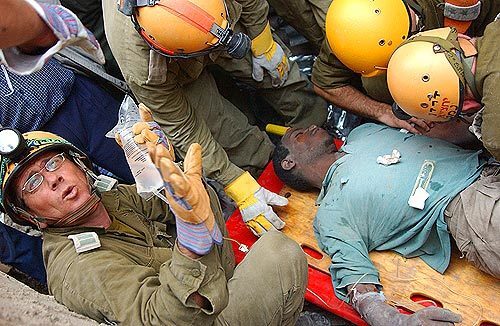 BUILDING COLLAPSE:
An Israeli army rescue team gives medical aid Tuesday to a man freed from the rubble of a building in Nairobi, Kenya. The five-story apartment complex collapsed Monday with about 280 construction workers inside. Fourteen people have been confirmed dead.
(Israeli Army photo via AP)
ITALIAN ICE:
A man rushes to cross a bridge over a canal as snow falls in Milan, Italy on Thursday. Temperatures fell to below freezing in northern Italy, but Olympic officials welcomed the snow for the Games that start in two weeks.
(Luca Bruno / Associated Press)
MILITARY MIGHT:
Indian Air Force's Sukhoi fighter jets fly past at Rajpath during the country's 57th Republic Day parade in New Delhi on Thursday as India showcased its military might and cultural diversity.
(Prakash Singh / Getty Images)
FLAG DAY:
Soldiers with the 365th Engineer Battalion stand at attention as a young boy waits for a family member just back from Iraq at Ft. Indiantown Gap, Pennsylvania., on Thursday.
(Gary Dwight Miller / Patriot News)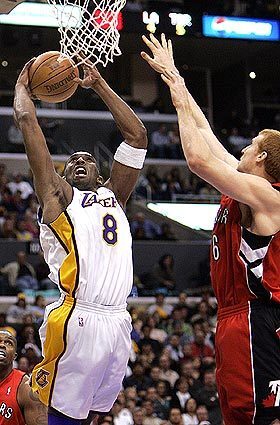 81!:
Kobe Bryant goes up for a dunk against the Toronto Raptors' Matt Bonner in the first half en route to scoring 81 points at Staples Center on Sunday, the second highest scoring total in NBA history.
(Lori Shepler / Los Angeles Times)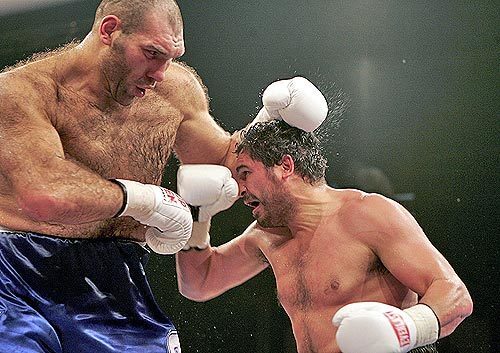 BIG MAN ON CANVAS:
Nikolai Valuev of Russia, left, and John Ruiz of the U.S. exchange punches during their WBA heavyweight fight at the Max Schmeling Hall last month in Berlin, Germany. Valuev is the tallest and heaviest boxing champion ever.
(Martin Rose / Bongarts / Getty Images)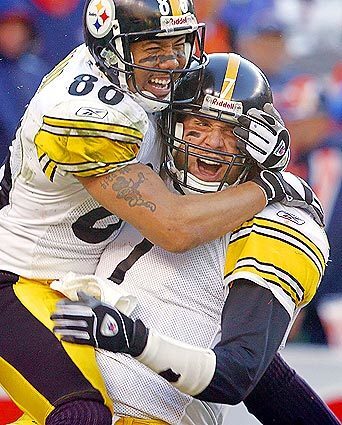 SUPER BOWL BOUND:
Pittsburgh Steelers quarterback Ben Roethlisberger, right, celebrates his fourth quarter touchdown run with receiver Hines Ward in the AFC Championship football game against the Denver Broncos in Denver. The Steelers advanced to Super Bowl XL with a 34-17 win over Denver.
(David Zalubowski / Associated Press)
STILL GOT THE MOVES:
Former pro football great Jerry Rice performs a dance routine Wednesday at Western Avenue Elementary School in Los Angeles while fifth-grader Laquita Wilson, 11, looks on. The retired wide receiver talked to children about the benefits of physical fitness and healthful food.
(Beatrice de Gea / Los Angeles Times)
TARGET:
A crime scene investigator examines bullet holes in an L.A. County Sheriff's vehicle in Compton, where officials say two men led deputies on a car chase and then took hostages. "It is very fortunate that no one was killed," Sheriff's Sgt. Don Manumaleuna said.
(Wally Skalij / Los Angeles Times)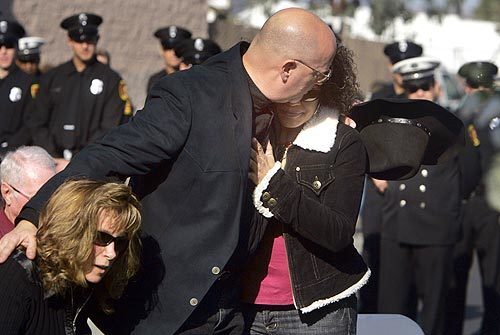 TRAGIC ANNIVERSARY:
Susan McKeown, left, is consoled by brother-in-law Todd McKeown, who embraces Teresa Nance, at a service on the first anniversary of a Metrolink crash near Glendale that killed 11 people, including Susan McKeown's husband, Scott. Survivors and relatives of those who died gathered near the collision site, where the victims' names were read and 11 doves were released in their memory.
(Karen Tapia-Andersen / Los Angeles Times)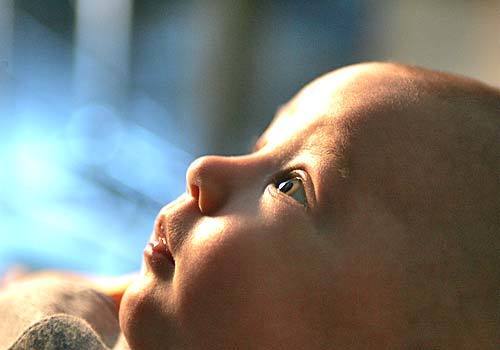 IN NEED:
NicK Draper, left, and his brother Nate have hearts that barely pump, a condition called dilated cardiomyopathy. They are both awaiting transplant surgery at UCLA Medical Center.
(Anne Cusack / LAT)
IN MEMORIAM:
Nathaniel Maloney, 6, with his mother, Michelle, receive the Bronze Star awarded to his father, Marine Capt. John Maloney, who died in action in Iraq. Lt. Col. Eric Smith presents the medal.
(Mark Boster / LAT)
WAVE RUNNERS:
Dolphins swim through a breaker off gusty Manhattan Beach on Tuesday. Santa Ana winds pounded the Los Angeles area for a few days as crews struggled to restore power to tens of thousands of people after gusts blew down lines and toppled poles.
(Allen Schaben / Los Angeles Times)