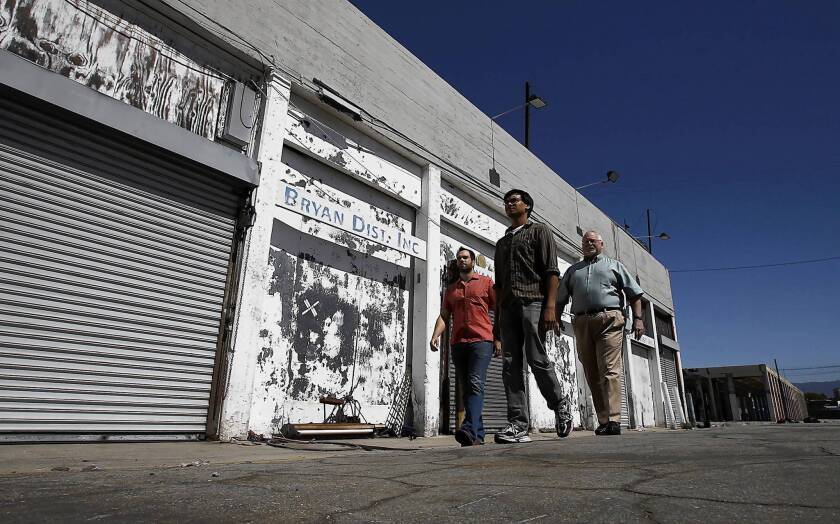 A fledgling rooftop drive-in theater in downtown Los Angeles — a recent cause celebre for urbanites — has landed safely on its wheels after getting booted from its home atop a parking structure in the historic core.
To make way for a new skyscraper on Broadway, Electric Dusk Drive-In, where fans assemble in cars and lawn chairs to watch classic movies on a big inflatable screen, is moving to the site of another planned mega development on San Julian Street in the fashion district.
Just last month it looked like curtains for the young business when its landlord on Broadway announced that it was time for tenants to leave so that the building could be demolished. Stories about the theater's plight in The Times and local blogs brought relocation offers from local property owners, said Eric Heusinger, co-owner of Electric Dusk.
"I wanted to preserve that activity for the community," the drive-in's new landlord, Peter Fleming, said. "It would be dreadful to lose that."
PHOTOS: The five tallest buildings in L.A.
Fleming is president of City Market, an ambitious 3.3-million-square-foot development that would include a college, hotel, offices and apartments. It could cost as much as $1 billion and rise on 10 acres roughly between San Julian, San Pedro, 9th and 12th streets.
But construction is at least two years away, Fleming said. Until then and perhaps long beyond, theater-goers will have a ground-level view of the downtown skyline behind the big screen on the City Market campus, Fleming said. First to be screened will be the 1990 gangster flick "Goodfellas" on April 27.
Although Broadway has some of the best old buildings in Los Angeles, the former home of the drive-in and other small businesses is what is known in real estate circles as "a dog." The drab 1980s structure houses shops at street level with parking on the roof.
"It's an eyesore," said developer Izek Shomof, who recently paid more than $10 million for the parcel on 4th Street between Broadway and Spring Street.
Shomof, who has redeveloped several historic properties in the neighborhood, plans to knock this building down and construct a residential tower in its place. It will probably be a 400-unit condominium building rising more than 20 stories, he said.
The new building would cost more than $50 million. It's still in the planning stages, but he hopes to start construction within two years.
Although the drive-in has been driven out, he said, "Broadway is coming up big time."
'Tonight Show' landlord still wants Leno
Jay Leno is welcome to stick around Burbank after "The Tonight Show" departs for New York next year, his landlord said, but the loss of the show will not wound the local entertainment real estate market.
"We love having 'The Tonight Show' and specifically Jay Leno on the lot," said Jeff Worthe, president of Worthe Real Estate Group, which owns the former NBC lot where the show has been filmed for four decades.
If Leno wants to host another television show, Worthe said, "he is more than welcome to do it on our property."
Worthe expressed dismay that the state of New York recently approved tax breaks worth millions of dollars that apply only to established out-of-state programs such as "The Tonight Show."
"It's a political issue worth looking into later," Worthe said.
NBC will also have to pay a price for letting "The Tonight Show" walk out of 3000 W. Alameda Ave. before its lease is up, the landlord said.
The Times reported in 2010 that NBC would rent Studio 11 for recording the show and Studio 9 for rehearsal and skits. The show may be leaving, but there is still money owed under the eight-year lease, which started in 2011: At the time, real estate experts valued the lease at $35 million.
NBC "would have to terminate their lease with a penalty," Worthe said. He did not disclose how much the penalty might be.
A spokeswoman for NBCUniversal said the company would have discussions with the landlord in the near future.
Entertainment businesses move frequently, and the Los Angeles region remains the hub of the action, Worthe said. The departure of "The Tonight Show" will not hurt the region financially.
"It's just one show," Worthe said. "Do you know how many TV shows are out there?"
Kerlan-Jobe clinic is downsizing its offices
The Kerlan-Jobe Orthopaedic Clinic, a sports medicine pioneer, has renewed its office lease on the Westside but will give up a third of its space.
Kerlan-Jobe moved to Los Angeles with the Dodgers in 1955 and forged the practice of what is now commonly known as sports medicine. Clients include the Lakers, Angels, Kings, Ducks, Sparks, USC and the PGA's men's and senior golf tours.
Terms of the agreement to rent 60,000 square feet were not disclosed, but the landlord of the building at 6801 Park Terrace Drive in Howard Hughes Center asks for nearly $4 a square foot monthly, according to real estate data provider CoStar. Real estate experts familiar with the Westside valued the deal at more than $25 million.
The five-story building near the San Diego Freeway is owned by Healthcare Realty Trust Inc. and has been Kerlan-Jobe's main campus since the building opened in the 1990s, said broker John S. Wadsworth of Colliers International.
The 30,000 square feet to be vacated by Kerlan-Jobe will be offered to new medical tenants.
"Medical providers, large and small, have all been, and will continue to be, impacted by health reform, with the most significant mandate being that providers deliver care more efficiently and cost effectively," Wadsworth said.
In an environment of declining patient revenues, "there is more pressure on revenue and bottom line," he said, "so all aspects of the care delivery model are being scrutinized like never before, including real estate decisions."
---