19 Images
The Week in Photos: Sept. 3-9
la-week08-j570v8nc
Beachgoer Paul Case swings on rings as the sun sets behind the Santa Monica Pier. Mild temperatures prevailed at the beach as hot summer weather continued to roast the rest of Southern California.
(Luis Sinco / LAT)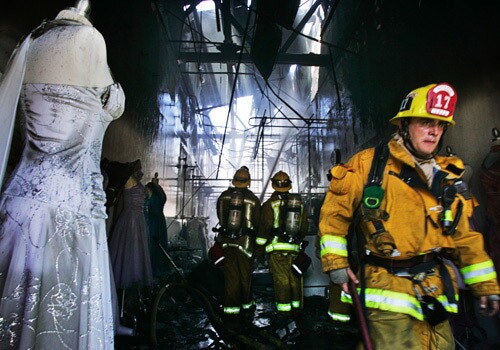 la-week08-j4xqjwnc
Firefighters work on Friday to extinguish a blaze that destroyed a building at 1129 S. San Julian St. in downtown Los Angeles' garment district. Fire Department spokesman Brian Humphrey said the blaze was "very aggressive," and firefighters had to crawl on their bellies to enter the one-story brick structure built in 1937. Four businesses were damaged in the fire, which left two firefighters with minor injuries. The cause was under investigation, Humphrey said.
(Damon Winter / LAT)
la-week08-j53ersnc
Gov. Arnold Schwarzenegger playfully grapples with Chris Bell on Monday at Muscle Beach in Venice, where Schwarzenegger used to work out as a champion bodybuilder. Democratic challenger Phil Angelides also campaigned on Labor Day, calling for tax cuts for middle-income Californians.
(Gary Friedman / LAT)
la-week08-j4zt6snc
A fan signals a touchdown as Bruins cornerback Alterraun Verner crosses the goal line after intercepting a pass in UCLA's 31-10 victory over Utah on Saturday.
(Richard Hartog / LAT)
la-week08-j513mmnc
Hot air balloons take off from Marie Kerr Park in Palmdale at the seventh annual Antelope Valley Labor Day Sky Parade held during the weekend. Don Kissack, one of the event's organizers, estimated the attendance at 2,000 to 3,000.
(Carlos Chavez / LAT)
la-week08-j4xkcanc
A child plays in a fountain at the Cerritos Civic Center.
(Luis Sinco / LAT)
la-week08-j5739nnc
Jackie Gordon, 30, holds a program with photograph of her close friend Ashley Patrice Cheval, 23, who was shot and killed in an apparent gang-related shooting on Aug. 25, 2006, near the intersection of 43rd Pl. and Western Ave in Los Angeles. Cheval's mother, Marcia Holmes, made a public plea to gang members on Monday morning at the site of the shooting, saying she wanted to reconcile and end the violence.
(Mel Melcon / LAT)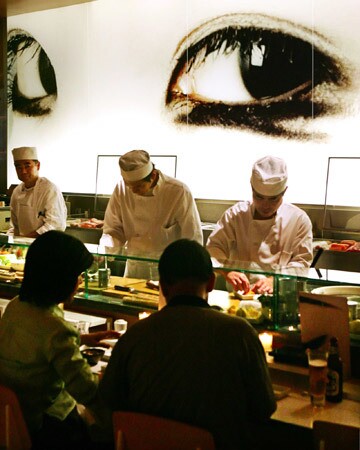 la-week08-j500dinc
Under a geisha's watchful eyes, chefs at Katsuya's busy sushi bar in Brentwood turn out dressed-up sushi and fancy rolls.
(Lawrence K. Ho / LAT)
la-week08-j3lyq6nc
Laser lighting streaks through Circus Disco in Hollywood. The long-running dance club recently completed an interior renovation and can accommodate 3,200 people.
(Lawrence K. Ho / LAT)
la-week08-j54kg9nc
Parents of freshmen sleep at a gymnasium at Huazhong Normal University in Wuhan of Hubei Province, China, on Tuesday after accompanying their children during the registration process. More than 300 parents slept at the gymnasium because hotels nearby were full. Some of China's top universities asked new students' parents to stay at home due to lack of accommodations, according to local media.
(China Photos / Getty Images)
la-week08-j56k9ync
Artist Ian Davenport stands with his 164-foot-long outdoor painting entitled "Poured Lines: Southwark Street" in Southwark, southeast London on Wednesday. The work, one of Britain's biggest outdoor paintings ever, has taken two years to complete and features a dazzling combination of more than 300 different colors.
(GEOFF CADDICK / EPA)
la-week08-j53ue6nc
Sisters of the Missionaries of Charity pray for Mother Teresa, the founder of their order, Tuesday on her ninth death anniversary in Calcutta, India.
(Bikas Das / AP)
la-week08-j56klinc
A Palestinian Hamas supporter attends a Hamas rally in support of the Palestinian government in Gaza on Wednesday. Israeli aircraft struck three times in southern Gaza that day, killing five militants. Two airstrikes came late Tuesday in the Rafah refugee camp on the Gaza-Egypt border, killing four Hamas militants and wounding 18 bystanders, witnesses and hospital officials said.
(Ali Ali / EPA)
la-week08-j5561fnc
Manny Martin signals to his foreman while checking each of the 32 lamps on the northeast light pole at Bentonville High School's football stadium in Bentonville, Ark., on Tuesday. Three of the four 100-foot light poles at Tiger Stadium were reinstalled last week after being blown down or damaged by a tornado that hit the town on March 12. All of the stadium's 128 lights are being fine-tuned this week in preparation for the school's first home football game of the season.
(Marc F. Henning / AP)
la-week08-j54f9nnc
A broken idol of elephant-headed Hindu god Ganesh lies on the sea coast after its immersion Sunday, on the eighth day of the 10-day Ganesh festival in Chennai, India.
(M. Lakshman / AP)
la-wee08-j54nqdnc
U.S. teammates Vicky Galindo, left, and Caitlin Lowe embrace under a shower of confetti at the end of the award ceremony for the ISF XI Women's Softball Fast Pitch World Championship in Beijing on Tuesday. USA beat Japan in the championship final, 3-0.
(Diego Azubel / EPA)
la-week08-j553dznc
Ron Dornhoff stands among flags put up by members of the Patriot Guard Riders motorcycle club before funeral services for Staff Sgt. Jeffrey Hansen in Minden, Neb., on Tuesday. Hansen, a member of the National Guard was fatally injured in Iraq when his Humvee overturned.
(Scott Kingsley / AP)
la-week08-j570qnnc
Young Iraqi boys play on a blast wall on Wednesday in Baghdad. On Oct. 14, 2005, two suicide bombers drove their vehicles into the perimeter of the Al Hamra hotel compound here, attempting to breach the walls. The explosions destroyed a nearby apartment block, killing at least eight Iraqi civilians, including two children. A recent report released Friday by the Pentagon stated the number of deaths in Iraq has increased by 1,000 people a month over the previous quarter, to more than 3,000 violent deaths each month.
(Daniel Berehulak / Getty Images)
la-week08-j54yoknc
A firefighter looks out at the site of a forest fire in A Zapateira, Spain. Nineteen new fires broke out Tuesday after a month of blazes in August that devastated thousands of acres of pine and eucalpytus forests all over the Galician region.
(Gabriel Tizon / EPA)