Christina House / Los Angeles Times
12 reasons why Sycamore Avenue is L.A.'s coolest new hangout
For Jerome Mage, owner of luxury eyewear brand Jacques Marie Mage, North Sycamore Avenue in Hollywood between Santa Monica Boulevard and Willoughby Avenue evokes a certain nostalgia.
"I really fell in love with that street," the French expat said. "It's a little slice of heaven, almost like what old L.A. used to be, from the early 2000s."

For the record:
9:50 a.m. March 2, 2023A previous version of this story stated that Beyoncé had a Supervinyl store takeover to celebrate her album "Homecoming." The event was for her 2022 album "Renaissance."
The designer, whose business is based in Hollywood, liked the street so much that in late 2022 he opened his second retail location on Sycamore Avenue (the first is in Venice), with his atelier and offices tucked in back.
Mage is hardly alone. Over the course of a few short years, a stretch of North Sycamore, one street east of La Brea Avenue and around the corner from a long-standing neighborhood fixture, a 99 Cents Only store, has become a cultural hotbed, attracting a mix of boldface names and energetic upstarts from the worlds of food, art and fashion. It is quickly becoming what Hollywood Boulevard or Sunset Boulevard of yore were in terms of retail, celebrity and buzz.
Today it's not uncommon to see a slew of stylish Angelenos grabbing a coffee and pastry, checking out a gallery show or just browsing for some chic clothes in these roughly six blocks of mixed-used space, which includes homes, from Santa Monica Boulevard south to Melrose Avenue and La Brea Avenue east to Orange Drive. Who can say why or how, exactly, a city like Los Angeles rearranges itself, but there's no doubt that this little pocket of Hollywood has coalesced and blossomed during the COVID-19 pandemic — in no small part because of savvy real estate developers — with Sycamore Avenue as its center. And it's now beckoning the coolest kids in L.A.
Over the last few weeks, we spent time on the ground in the trendy, revived neighborhood to help give you the lay of the land. There's lots happening there, so here's a beginner's guide to the bustling new commercial district, which has been dubbed the Sycamore District.
Tartine Bakery
When the popular San Francisco bakery and cafe Tartine migrated down south, it settled in a few prime locations scattered across town. But the Sycamore location, with its architecture that marries industrial and historical design elements, echoes the mellow charms of the northern locations. Additionally, the wide sidewalks on Sycamore Avenue recall leafy, laissez-faire European boulevards; the layout practically begs for alfresco seating, perfect for power lunchers from nearby studios.

"We hope that Tartine can serve as a gathering place to help make the street really feel like a community," said Kendal Barrett, brand and marketing manager for the cafe. It's not uncommon to see celebs (Jay-Z and Beyoncé!) lingering over a cup of Tartine's in-house coffee blend or taking advantage of the all-day breakfast menu. The egg sandwich is a must-have, as are the crispy potatoes, and try to get in early enough to pick up a morning bun, which often sell out. But most of all, enjoy the eclectic community vibe. "There are a lot of artists and creatives and a lot of young families in the neighborhood that walk from home each day," Barrett said. "So we see a lot of familiar faces and strollers."
More Info
Mr. T
Hollywood
Restaurant and lounge
When restaurateur Guillaume Guedj first saw the corner tract where the American outpost of his Parisian restaurant would eventually be, it was just a forlorn-looking parking lot. That, however, meant he could build it from the ground up and, after a COVID-induced pause on travel, when he was able to visit the finished boîte, he discovered the surrounding area had developed a bohemian air that mirrored the original location, in Paris' Marais district. Now the Sycamore Avenue neighborhood is the manifestation of what he hopes his restaurant achieves — something global in scope, with a distinctly artistic point of view.

Helmed by République alum chef Alisa Vannah, Mr. T takes intercontinental street foods and executes them with the finesse of Parisian fine dining, yielding surprising results: cauliflower tiki masala, bucatini a la tequila, truffle and wild mushroom mac 'n' cheese, and Scottish salmon kombucha curry, to name just a few. All of this is housed in a sleek, sexy concrete space with burgundy banquettes and a naughty hit of red neon. "Each establishment provides something different to the neighborhood, and we all help each other by being on the street," Guedj said of the Sycamore neighborhood. "Mr. T provides a place where people can come together and enjoy a great meal, have a glass of wine and discover something unexpected with friends."
More Info
Supervinyl
If you think records are a lost art form, don't tell the folks at Supervinyl, a sleek and sexy shop that peddles a mix of vintage and contemporary vinyl records. In fact, the whole shop — simple black shelf-lined walls and matching tables — is geared toward audiophiles. Not only does it carry the latest and greatest in albums, the store also sells turntables, speakers, headphones, merch and other accessories that make a music lover's heart sing. Additionally, Supervinyl is apt to host special events and signings, which have included an Elton John takeover, timed with the musician's return to Dodger Stadium in 2022, and a similar takeover to commemorate Beyoncé's "Renaissance" album — oh, and Bey herself even dropped in to sign a few copies.
More Info
Mizlala
Sycamore hosts one of three locations of the buzzy fast-casual spot Mizlala. Run by Danny Elmaleh, Mizlala specializes in Middle Eastern fare with a SoCal twist — healthy, hearty and packed with flavor. Everything on the menu — the grilled meats; the herby, punchy salads; the nutty, creamy hummus; the pillowy pita; the decadent tahini shakes; and the crunchy falafel — is beautiful in its straightforward, tasty simplicity. Located in a roomy and bright inside-outside location complete with a juice bar and plenty of patio seating, it's a great spot for a low-key, quick and easy lunch with pals or even alone.
More Info
Jeffrey Deitch
After a turbulent, short-lived run as director of the Museum of Contemporary Art, legendary gallerist and dealer Jeffrey Deitch did not run from Los Angeles but, instead, doubled down, opening a West Coast outpost of his eponymous galleries on North Orange Drive in 2018. The besuited and bespectacled art-world power player settled on the location due to its proximity to other cultural points of interest, including Regen Projects, Paramount Studios and the studio of the friend who introduced him to the area, photographer David LaChapelle.

The airy, light-filled space, coming in at 15,000 square feet, has already hosted its fair share of buzzy shows and seems to have a mission of promoting previously underrepresented artistic voices (2021's group show "Shattered Glass" focused solely on the work of artists of color, and 2022's "Wonder Women" was curated by Kathy Huang and featured art from Asian women artists). "Hollywood created so much of the world's pop culture, it still does," Deitch told The Times in 2018. "It's meaningful that we're part of that history.

"When you talk about California art of the '60s, people use the term Light and Space," he added. "And that's what we have here, that's the heritage. I wanted to have expansive space, so we could present the most beautiful environment, and I wanted natural light because we have such a gift of it here in Los Angeles."
More Info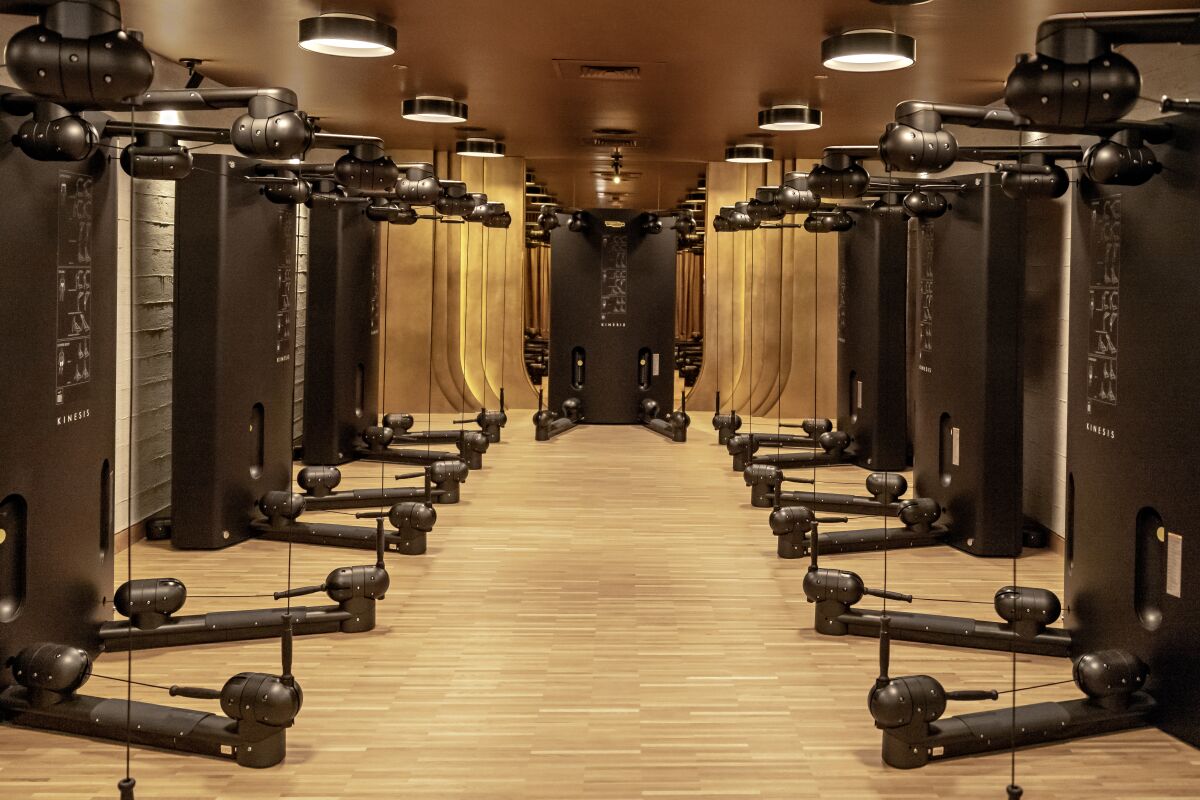 Heimat
Hollywood
Health & Fitness Club
Just around the corner from Sycamore Avenue itself is Heimat, an expansive fitness-based, membership-only club (think Soho House meets Equinox). At 75,000 square feet over five floors, the location for the so-called "private community" features a spa, juice bar, co-working space, rooftop pool and the salubrious-minded restaurant
Mother Tongue
. GQ called it the "world's most lavish gym," and it's easy to see why. (For what it's worth, The Times in 2022
called it
"entirely over the top.") From personal training and Pilates to yoga to boot camp classes, basically every type of fitness regimen is on offer, all housed within the trappings of unfettered luxury.
It was designed by Germany-based studio INCO and Martin Brudnizki Design Studio; the most shocking thing is just how un-gym-like the space is. The bamboo herringbone floors as well as painted murals and plants accenting the cardio room all feel more in line with a five-star resort. Meanwhile, the shared workspace has an eclectic Moroccan feel, while the marble-covered changing rooms are undeniably glamorous.
Heimat, which is German for "feeling of home," requires potential members to complete a rigorous application process; once approved you'll fork over a $350 monthly fee and all applicants pay a $300 enrollment fee. The benefits, though, for those obsessed with both discretion and health in all its forms, are immeasurable.
More Info
Bode
New York-based designer Emily Bode opened her second retail shop on Melrose and Sycamore avenues last year, and at 3,200 square feet, it's four times the size of her first outpost in downtown Manhattan. Trevor Cheney, who owns the furniture gallery Seventh House directly next door, tipped her off. "The most important thing was to find a space that felt organic and came to us naturally," she said. "We had been looking for two years and knew that we wanted to be generally in Hollywood and among friends."

Inspired by the concept of a natural history museum and midcentury civic institutions, the store features dioramas of wildlife, retro signage and dark wood cupboards where Bode's patchworked and upcycled ready-to-wear clothing hangs neatly. The store, designed by Bode's husband, Aaron Aujla, is evocative and dramatic, filled with antique furniture and quirky tchotchkes (when it opened, there were bird's nests from Bode's home state, Connecticut). The store is a bit further afield, closer to the high-end furniture and home decor shops along Melrose, but it gives Bode's clothes a sense of gravitas and history. "We really liked the idea of making an institutional space feel warm and a little bit weird and a little bit off," Aujla told Vogue. "We wanted it to be an expression of something beyond; it's about education and creating a universe."
More Info
Gigi's
Hollywood
Restaurant and lounge
When Samantha Ressler was searching for the perfect place to open her California-meets-France bistro Gigi's, she wanted an undiscovered nook — somewhere between Hollywood and Los Feliz and off Hollywood Boulevard. Enter Sycamore Avenue, where she was one of the first settlers. Today Gigi's is an anchor for the Sycamore-area neighborhood. With its sumptuous menu (ask the waiter about the burger, which isn't on the menu but is divine), seductive interior design (that whimsical mural begging to be 'grammed) and the evocative atmosphere, is it any wonder that it's become a see-and-be-seen watering hole for L.A.'s creative class? That heady mix recalls the midcentury splendor of New York's dining scene, filtered through the laid-back elegance of post-pandemic L.A., all of which led culinary website the Infatuation to dub Gigi's "nothing short of euphoric."
"You can spend morning, noon and night on just these couple blocks," Ressler said. Additionally, Ressler, who is a co-founder of
We the Women
, a production company, hosts a salon series in the back courtyard, featuring film, poetry and dance from female artists. "It's very organic in the sense that all the businesses and patrons work really well together," she said. "Everyone goes to everyone else's spot and genuinely loves it!"
More Info
Just One Eye
Just One Eye had long been an "if you know, you know" sort of spot for fashionistas and art lovers — a luxury shop that catered to both. Originally located in the nearby Howard Hughes building at 7000 Romaine St., the space was moved by Just One Eye founder Paola Russo to a lonely stretch of Sycamore in late 2019. Russo was attracted to the area not because she saw it as some future hot spot. "It was my belief in the area and starting something new," she said. Now the store, which carries clothing from Prada, the Row, Dries Van Noten and other luxury brands alongside fine jewelry, books, art and home decor, attracts an eclectic, discerning customer. The space itself is impressive, an oversize, light-filled expanse flanked by two-story galleries and featuring a large-scale cherry blossom painting by Damien Hirst and an iconic crushed-metal sculpture by John Chamberlain. "We have a point of view, and part of that is the location I believe in," Russo said. "The rest is up to whatever follows."

Or, perhaps, whoever follows. Russo loves the type of person who has been attracted to the Sycamore Avenue area in recent years. "A curious and inquisitive being, from an international traveler to an established regular client," she said. "Just One Eye is a nucleus for creativity, inspiration, curation and to really get one's senses going. The scene is welcoming, inviting, discerning and palpable."
More Info
Sightglass Coffee
With its prime location at the corner of Sycamore and Willoughby avenues, its terracotta red floors, brick façade and industrial bowstring truss ceiling, Sightglass is a stylish linchpin to the commercial district. It's considered to be the revived area's first tenant, signing on back in 2016. "For us, one of the most exciting things about this location is that there is so much variety," said Jerad Morrison, a co-founder of the coffee and market concept that has San Francisco roots, "all throughout a dense residential neighborhood."

In many ways, Sightglass embodies everything the area aspires to be — a multifunctional community hub where you can get coffee or food, work or socialize. Additionally, there's a market concept where you can pick up organic, local produce or other provisions including ceramics, greeting cards, foodstuffs and flowers. "Looking back, it's pretty incredible to see what this area has evolved into over the last few years and how it's bloomed into a cultural and culinary hub," Morrison said. His favorite part is, of course, the vibrant scene, complete with eccentric Angelenos. "We have a customer that lives a few blocks away that walks her large tortoise, Marcel, up and down the streets in the neighborhood," Morrison said. "Marcel is a local fixture that always draws the biggest crowds."
More Info
Formula Fig
Hollywood
Skin-care services
Former fashion and beauty editor JJ Walsh started her facial bar in Toronto in 2019 and now is expanding stateside, bringing with her a menu of inside-out skin treatments ranging from laser treatments to Botox injections. The emphasis is on a holistic approach in a luxurious, Zen'd-out environment. While self-care is at the center of the business, she said building a community is just as integral — which led her to Sycamore Avenue. "The area has a mix of cool independent places rich in art and culture," she said. "We are so excited to sit side by side with our new neighbors." To elevate a crowded market, Walsh focuses on creating a "transportive" experience; for the newest location of Formula Fig, that meant design elements that recall "Old Hollywood era, Deco elements with sleek, geometric forms," she said.

"You can feel the energy," she added. "It's buzzing with ideas and people looking for inspiration, for something a bit different and not cookie-cutter."
More Info
Jacques Marie Mage
Jerome Mage's buzzy eyewear brand, Jacques Marie Mage — which has shielded the eyes of Brad Pitt, Zendaya and Jeff Goldblum, to name a few — opened a second location and moved its studio to the Sycamore District in December (Mage's first shop is in Venice and his studio was in Westlake). The designer picked the area because it's not yet been infiltrated by chains. "It's more of a one-of-a-kind experience," he said.

His 900-square-foot shop is a traditional retail space that features a large painting from local artist Matt McCormick and design flourishes that point toward his love of American archetypes: the swaggering cowboy, the rock star. This type of iconography serves as a major touchstone for his striking line of limited-edition, handcrafted glasses, which have model names like Jagger, Walker and Fonda. Tucked in back is a VIP area, and behind that is the design studio. Furniture and design were overseen by Cédric Hervet, who some may know from his work with the French electro-rock duo Daft Punk. "The area has great energy," Mage said. "I like where it is in Los Angeles, it's very central, in that part of Hollywood that used to be more studios. It's the new Hollywood."
More Info
Get our L.A. Goes Out newsletter, with the week's best events, to help you explore and experience our city.
You may occasionally receive promotional content from the Los Angeles Times.