Los Angeles may finally get cannabis right, and help minorities get a stake in the industry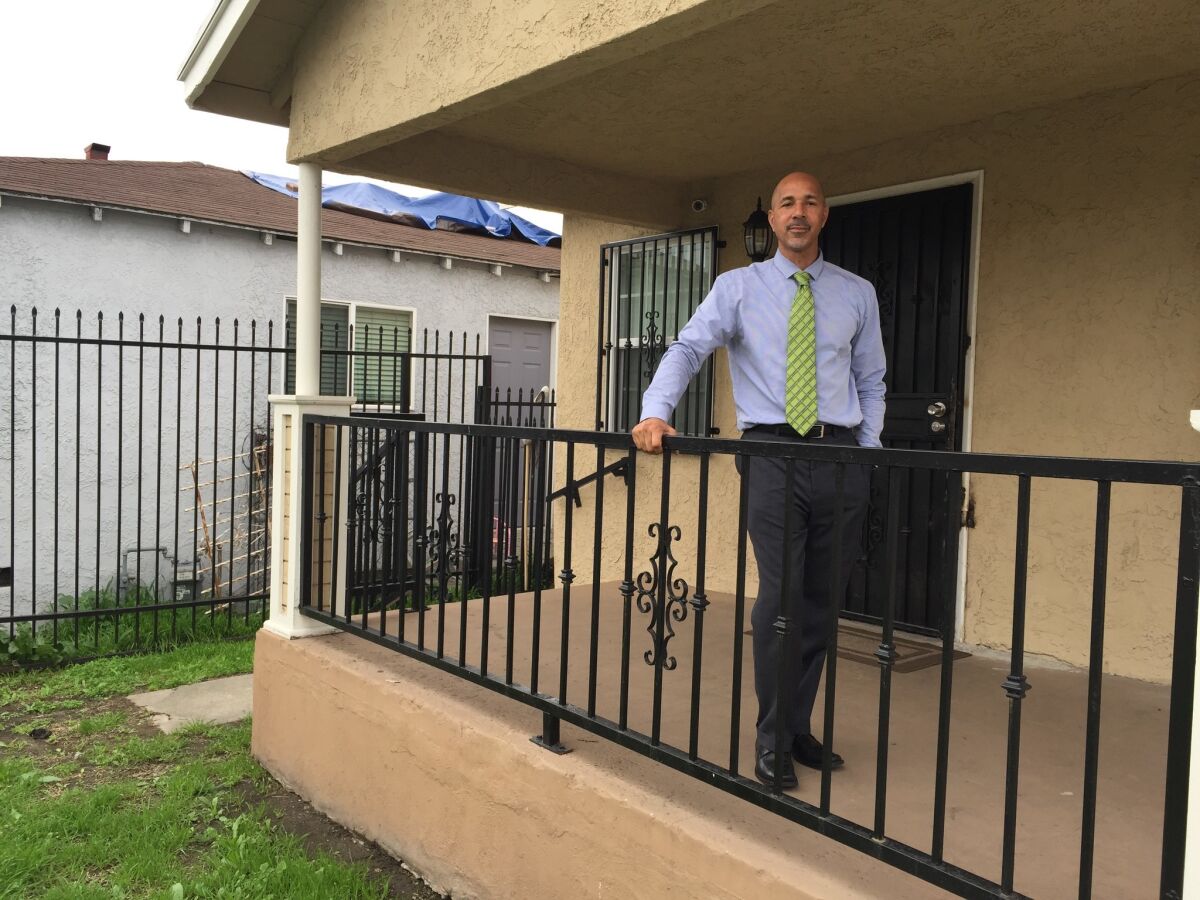 After years of barely controlled chaos, Los Angeles voters will have the opportunity on March 7 to finally harness the city's unruly cannabis industry. Proposition M will give the City Council authority to regulate, tax and create an enforcement scheme for medical and recreational marijuana.
Many people have worked hard to produce this measure — City Council members, stakeholders, law enforcement, civic organizations — but the guy sitting in front of me in a stripped-down back room of a South Los Angeles cannabis dispensary has emerged as the de facto leader of this campaign.
His name is Virgil Grant. He's a trim 49-year-old who has reaped the rewards and suffered the consequences of working in an industry that was once the province of outlaws but has fitfully moved into the legal light.
Seven months ago, Grant co-founded the Southern California Coalition, a group representing all facets of the cannabis industry, from cultivation to sales. This was no small feat. Marijuana entrepreneurs, particularly in Los Angeles, are a competitive, unruly lot. "Backbiting" is Grant's adjective.
As the City Council, led by Herb Wesson, drafted Measure M, it became clear to Grant and his partner, local activist Donnie Anderson, that the cannabis industry would need to be represented by a single, united voice.
"We said, we are no longer going to have the City Council take meetings with hundreds of other organizations," Grant said. "I didn't go to the City Council with an 'ask.' I went with a demand: This is what needs to be done, and it needs to be done right. We don't get a do-over. We need smart and sensible regulations, licensing mechanisms and enforcement."
He doesn't get all the credit, of course. Many groups have joined forces to help draft Proposition M, including the Los Angeles Cannabis Task force, the UCBA Trade Assn., labor groups, neighborhood councils and Weedmaps.
For those who have not been following L.A.'s byzantine cannabis regulation, at the moment, there are 135 or so well-established medical dispensaries that operate in quasi-legal fashion. They aren't exactly licensed, but a 2013 ballot measure, Proposition D, gave them "limited legal immunity" against prosecution. That has not stopped hundreds of rogue shops from popping up around the city like mushrooms after a hard rain.
"Prop. D did not allow the City Council to control and govern the business," said Grant. "And it didn't give law enforcement a clear pathway to enforce."
For months, the Southern California Coalition has met weekly — behind closed doors — with council staff to hammer out the details of Proposition M. If voters approve it, it will become a model for other California cities and counties that are struggling to codify rules for both medical marijuana and its newly legalized counterpart, recreational pot.
Oh, but because this is cannabis, where nothing can ever be simple, there is also a separate, competing measure on the March ballot, Proposition N. It was written by those quasi-legal dispensaries, who have since disavowed it and thrown their support to M.
So, bottom line: There is a measure on the Los Angeles ballot that no one supports.
::
One of the goals of the Southern California Coalition was to make sure that in the new cannabis world order, people penalized by the failed drug war would have an equal shot at getting into this new, lucrative sector. That means that blacks and Latinos, jailed disproportionately for marijuana crimes that are in some cases now erased from the books, will be getting consideration when the city starts to issue pot licenses.
"We are not letting that be an afterthought," said Grant. "I won't call them 'set-asides,' but we are helping draft the language. X percent of dispensaries will have to have minority ownership."
For many in the cannabis industry here, Grant is a symbol of the inequitable way drug laws have been enforced.
He grew up in Compton, ran track at Lynwood High School, attended San Diego State on an athletic scholarship and then came home to help his father run Dee's Liquor, a chain of Compton stores.
Grant worked behind the counter at 124th and Wilmington, where he discovered he could make far more than a clerk's salary quietly dealing marijuana. Business boomed.
"I controlled Compton when it came to marijuana," he said. "In the day time, I could be that educated college kid, and at night, I had to be something different."
In 1994, police found two nickel bags of pot in the center console of his car, and charged him with possession with intent to sell. He got a two-year "joint suspension," that is, probation with the threat of immediate incarceration if he came into contact with police.
"For a young man in Compton, what do you think the chances are that you won't come in contact with law enforcement?" he said. He did, and served 14 months of his two-year term, partly in prison and partly on a wildfire crew. His second stint in prison came after he was busted with six pounds of pot in his car, transporting it from Mendocino to L.A.
After California voters legalized medical marijuana, Grant got into the dispensary business, opening the first cannabis dispensary south of the 10 Freeway.
In 2008, he was raided by agents of the federal Drug Enforcement Administration. He was indicted on dozens of counts of drug conspiracy and money laundering. His wife, whose handwriting appeared on some of their business checks, was also charged. In exchange for the feds dropping charges against her, Grant took a plea and was sentenced to six years in prison, at Terminal Island.
He's not worried about his felony record preventing him from obtaining local licenses to sell recreational pot, but he will also need to be licensed by the state, and the state has the right to deny licenses based on past marijuana felonies.
"The NAACP is going to weigh in heavy on that," said Grant. "The Black Caucus is going to weigh in heavy on that."
They should. Folks like Grant deserve a shot in the very industry they helped pioneer.
More columns by Robin Abcarian »
Twitter: @AbcarianLAT
ALSO
The all-cash cannabis nightmare: Your business is legal but you can't use banks
Will minorities share in the riches of legalized marijuana?
California is poised to become the center of cannabis culture
---