Shaolin monk is bringing more than kung fu to Chinatown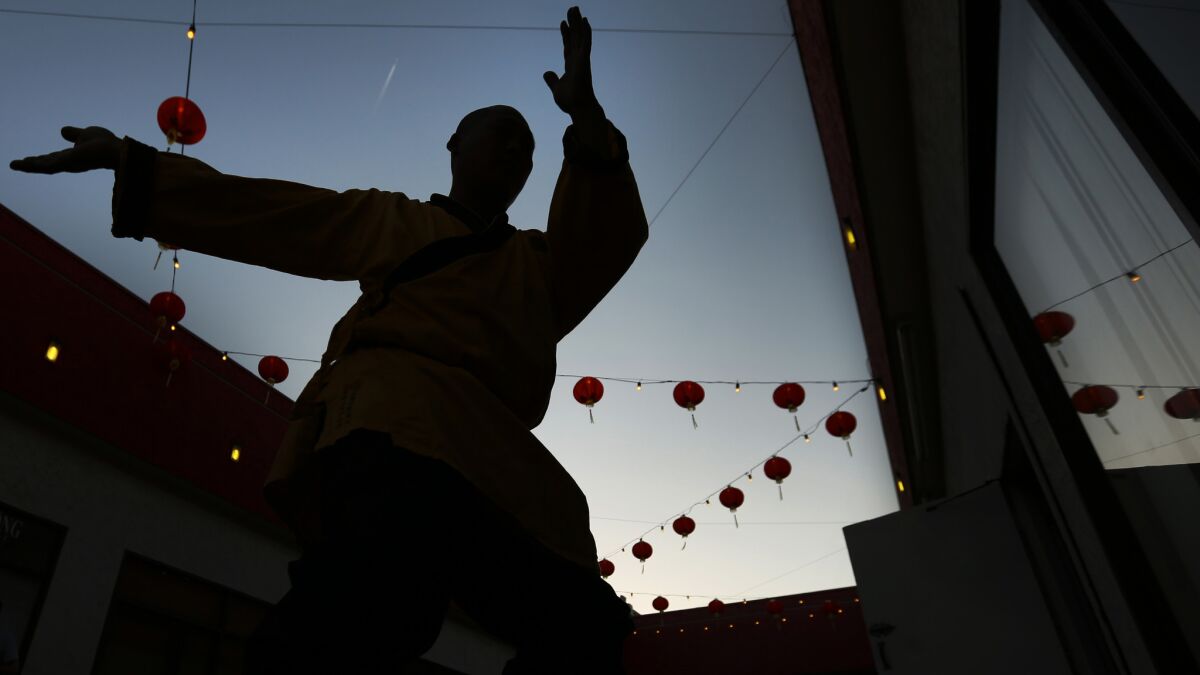 On the second floor of Far East Plaza in Chinatown, six kung fu students assume warlike expressions and ball their hands into fists.
Shaolin Master Shi Yanxu bellows a command:
"Mao Bu" — Chinese for "cat stance."
The kids twist into an ornate crouch, their shouts mingling with the rap soundtrack of Chego, chef Roy Choi's downstairs rice-bowl restaurant.
It's one of the first classes in Chinatown's new Shaolin Yanxu GongFa Center, a kung fu school that Yanxu hopes will help him complete his official mission: bringing the culture of China's Songshan Shaolin Temple to a more diverse, modern audience.
The Chinatown Business Improvement District will commemorate the opening Saturday with a daylong celebration featuring martial arts demonstrations, Buddhist vegetarian food and meditation.
Yanxu's mission involves establishing more learning centers like the one in Chinatown, clarifying Shaolin precepts for other instructors and raising money for a temple he hopes to build.
But sometimes it's as simple as teaching a 5-year-old the difference between left and right.
"Whoa, what's up?" Yanxu reaches down and taps the leg of one of his students "This is your left leg." The student giggles and incorporates the correct limb into his stance.
Born to farmers in Dengfeng, China, a few miles away from the Shaolin Temple, Yanxu ran away from home at a young age to train as a monk. He eventually became Temple Abbot Shi Yongxin's personal assistant, and on a 2006 trip to America, Yongxin asked him to stay behind and spread Shaolin culture through the United States.
See more of our top stories on Facebook >>
At 28, Yanxu had never driven a car or owned a cellphone or computer. He arrived in Los Angeles to find that Shaolin, thanks to Jet Li films and Wu-Tang Clan rap songs, had become an industry.
Yanxu slept at a Buddhist temple in Monterey Park and cooked vegetarian food to earn room and board. He took English classes at Pasadena City College and taught a kung fu class at Griffith Park to raise money.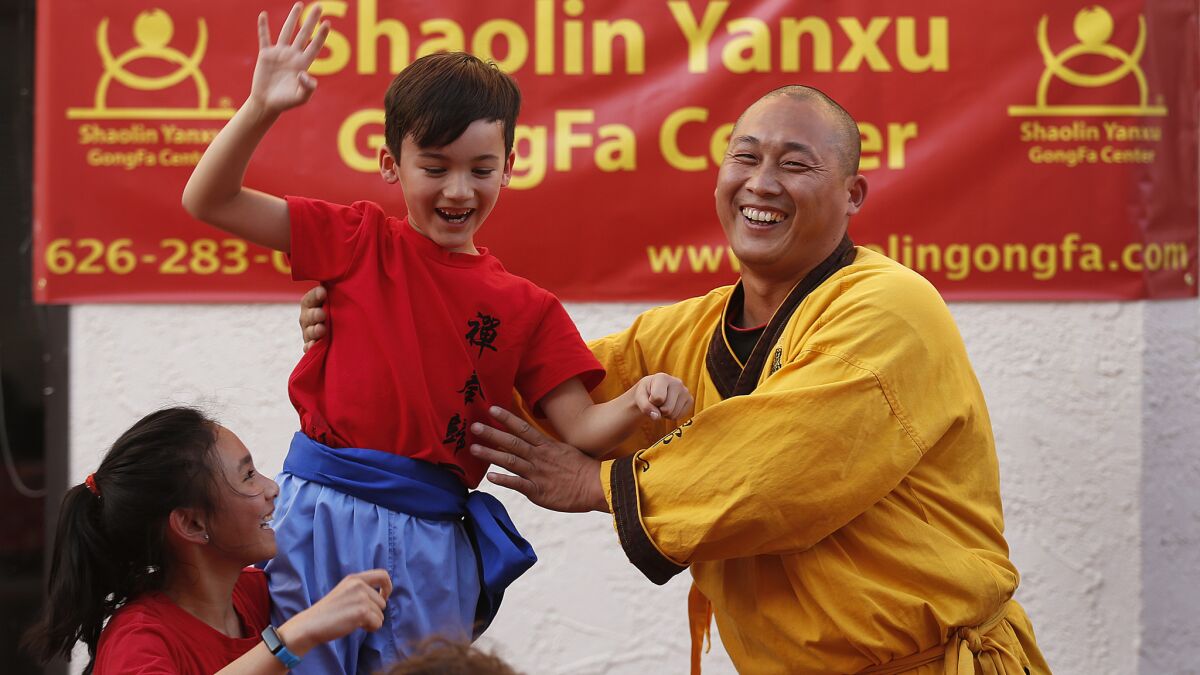 When he went to apply for a business license using the name "Shaolin Temple," he found more than 200 other businesses using the name, Yanxu said. The temple had provided documents certifying that he was an official Shaolin monk, but counterfeiters replicated them so perfectly that they looked more authentic than the real thing.
When he opened his first center in Temple City in 2008, attorneys from the more established kung fu academies told him that he had to stop using the name of Shaolin, Yanxu said with a laugh. He kept using it, and they never followed up with the lawsuits.
Yanxu said he doesn't mind that so many are using his temple's name. And besides, it's not a monk's habit to bad-mouth other people.
"The Shaolin philosophy is not about a name or a person," Yanxu said. "It's about what you have been able to learn."
These days, Yanxu, a monk with an iPhone 6 and a Facebook page, drives a leased Ford sedan to teach classes at centers in Temple City, Walnut and Chinatown.
He has about 300 students over three centers. There are larger Shaolin kung fu academies around Southern California, but his students say Yanxu doesn't just teach martial arts.
"Most of the shifus I had in the past, they teach the moves, and I thought that was kung fu," said Julian Nara, one of his students and an instructor. "With Master Shi, he teaches the meaning behind the move."
Stephan Hambsch's 7-year-old daughter, Ryan, is one of Yanxu's first Chinatown students.
Hambsch, like many Shaolin fans in the U.S., first heard about the martial art through the Wu-Tang Clan, who released several rap albums and a video game that mentions Shaolin kung fu.
His Netflix queue is full of kung fu films, and he's been eagerly waiting for his daughter to be old enough to enroll in classes. He was particularly excited for her to learn from an official Shaolin monk.
"I think I might start taking the class," Hambsch joked.
Yanxu said he moved to Chinatown to encourage more people like Hambsch to take up the robes. It takes 10 years to fully learn Shaolin, Yanxu said, and many of his students in America are casual learners. But as long as they're having fun and getting exercise, he is spreading Shaolin and completing his mission, Yanxu said.
"Shaolin cannot be a closed community," Yanxu said. "We want to be open to people of all kinds."
Twitter: @frankshyong
ALSO
Lufthansa jet and drone nearly collide near LAX
Jury awards Hulk Hogan $115 million in sex, celebrity and privacy case
He met a girl abroad, and soon was living in a place called Islamic State
---
The stories shaping California
Get up to speed with our Essential California newsletter, sent six days a week.
You may occasionally receive promotional content from the Los Angeles Times.