Design of balcony in fatal Berkeley collapse was sound, outside expert says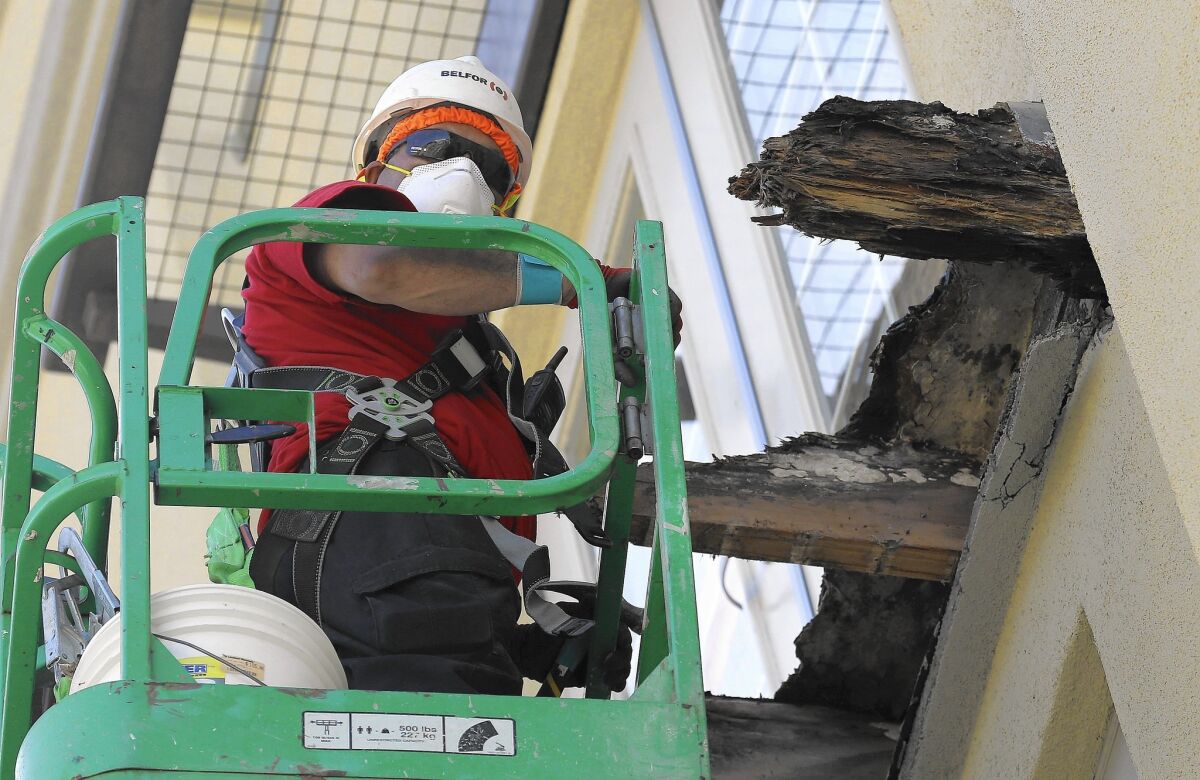 Reporting from BERKELEY —
The design of the apartment balcony that collapsed here earlier this week, killing six people and injuring seven others, contains no obvious defects, an independent engineer who looked at the balcony's architectural plans said Thursday.
Gene St. Onge, a civil and structural engineer in Oakland who is not connected to the investigation, said the balcony should have held the 13 people if it was built according to the plans and was properly maintained.
"It was not overloaded," St. Onge said.
Many experts believe the balcony failed because the wood beams supporting the deck had rotted because of exposure to water.
The balcony was designed to keep water out of the support beams, St. Onge said. That leaves the question of whether construction workers did not complete the work according to the design drawings, or whether there were defects in the materials used. If the building was constructed according to the drawings, then there's a question of whether improper maintenance contributed to the weakening of the balcony's wood beams.
"According to the drawings, it looks as though it was professionally done. Whether it was completely done, whether there's something missing that could've been missed in the field — I don't know," St. Onge said.
A 57-page city inspection report does not indicate whether inspectors checked for waterproofing before residents began occupying the Library Gardens complex on Kittredge Street.
"The city went to great lengths to check anything on structure, finishes, electrical, mechanical — quite a number of things," St. Onge said. "But nothing related to waterproofing."
St. Onge said waterproofing often gets less scrutiny. "This is the kind of thing that tends to slip through the cracks," he said. "It's just not regulated the way a lot of important things are."
City spokesman Matthai Chakko said the balcony would have been inspected at various points during construction and before occupancy, but the details of those inspections would not necessarily be included in the inspection history report.
Housing inspectors across California typically check to make sure waterproofing is done correctly during construction, but not after residents move in, said Rachel Flynn, Oakland's director of planning and building department.
A resident would have to complain of water intrusion, for example, for the city to check the sealing again.
"Once you get your certificate of occupancy, it's up to you to maintain your property properly," she said.
A lawyer who represented Berkeley in a California Supreme Court case over its rent control law said the city's inspectors should have caught any construction defects before allowing tenants to move in.
"It's up to the city to do the proper inspection so water doesn't seep in and cause dry rot," said Myron Moskovitz, a professor emeritus at Golden Gate University School of Law.
If inspectors missed a construction defect, he said, "There's no excuse for that, especially on something like a balcony."
Meanwhile, family members were making funeral arrangements for the six people killed in the collapse.
A joint funeral will be held in Rohnert Park for victims Olivia Burke and Ashley Donohoe, who were cousins. Donohoe, 22, a resident of Rohnert Park, will be buried in the Bay Area, while Burke, 21, will be laid to rest in Dublin, Ireland.
Burke and four of the other people killed were visiting the Bay Area from Ireland for the summer and working on temporary J-1 visas.
The Alameda County coroner has confirmed that the cause of death for all six people was blunt force trauma.
St. John and Panzar reported from Berkeley, Lin from Los Angeles. Times staff writers Lisa Girion, Veronica Rocha and Joseph Serna in Los Angeles contributed to this report.
The stories shaping California
Get up to speed with our Essential California newsletter, sent six days a week.
You may occasionally receive promotional content from the Los Angeles Times.