Bullet-train land acquisitions are moving so slowly a judge hearing the cases calls it a 'lifetime job'
Reporting from Hanford, Calif. —
Once a month, Judge Edward M. Ross packs his car and drives 200 miles to preside over the biggest government taking of private land in California in decades.
At a courthouse in the Central Valley city of Hanford, Ross, 85, dons his black robe and hears land disputes involving the California bullet train, which is planned to slice through one of the richest agricultural belts in the nation.

For the record:
2:25 p.m. Nov. 21, 2018Bullet train: A previous version of this story misidentified Mark Wasser as a Sacramento farmer. Wasser is a Sacramento attorney.
The court depends on the previously retired Manhattan Beach jurist since every Kings County Superior Court judge has refused to hear the cases — citing unspecified "personal reasons." Some locals say the judges are simply afraid of angering farmers.
The workload — much like the commute — seems to drag on.
"When I was asked to handle these railroad cases, I was told it may take a year," Ross said during a recent hearing before a mostly empty courtroom. "Now I think it may take a lifetime. OK, no problem."
Eight years ago, the California High-Speed Rail Authority estimated it would cost $332 million to acquire the route spanning the Central Valley's orchards, vineyards, dairies and cities.
The process, however, has proven far more legally tangled. The 1,900 properties in the Central Valley are now budgeted at $1.5 billion, part of the reason the project is 13 years behind schedule and at $44 billion over budget.
There are fights about farm wells and trellises, the price of nut trees separate from the land and the emotional value of land held by families for more than a century.
Kings County is the epicenter of the disputes, where the drama plays out in Ross' courtroom for just two days each month.
The proceedings offer a window into the project's problems, which could dog it for years. The slow progress has pushed back construction for the Los Angeles-to-San Francisco system, caused delay claims by contractors and hardened the emotions of property owners.
"We try to manage the workload through the court system as efficiently as we possibly can," said rail authority chief counsel Tom Fellenz. "Some cases are easier than others."
It the middle of this mess is Ross, a graduate of both UCLA and USC law schools who was once the presiding judge in the probate division of Los Angeles Superior Court and an antitrust attorney at the U.S. Department of Justice. He was first appointed to Inglewood Municipal Court in 1979 by Gov. Jerry Brown.
"It is not so bad to have a lifetime job at my age," Ross told attorneys in the courtroom after discussion of another delay. "Too bad I didn't have this when I was 21 years old."
Ross declined to be interviewed, saying it could affect the cases before him, but told The Times he has more than 100 cases on his docket.
The rail authority doesn't have its own large legal staff, so the job of representing Brown's project has fallen to a crew of attorneys from the state's highway department.
As many as 20 Caltrans lawyers call into court or drive to Hanford from all corners of the republic of California: San Diego, Sacramento, Los Angeles and Oakland. If they are lucky, they can catch a flight to Fresno and drive nearly an hour to Hanford.
When they arrive, there isn't much of a chance to make sophisticated legal arguments or Perry Mason-type surprises. This is a slow-moving and abstruse legal process. It was established with a few words in the U.S. Constitution's Fifth Amendment: "nor shall private property be taken for public use, without just compensation."
It is harder in practice than it sounds.
Central Valley fields are home to some of the most sophisticated irrigation and well systems, pest control practices and farm equipment movements in the world. Farmers howled over the plan to cut through the county diagonally years ago, warning that the rail authority didn't know how much disruption it would cause.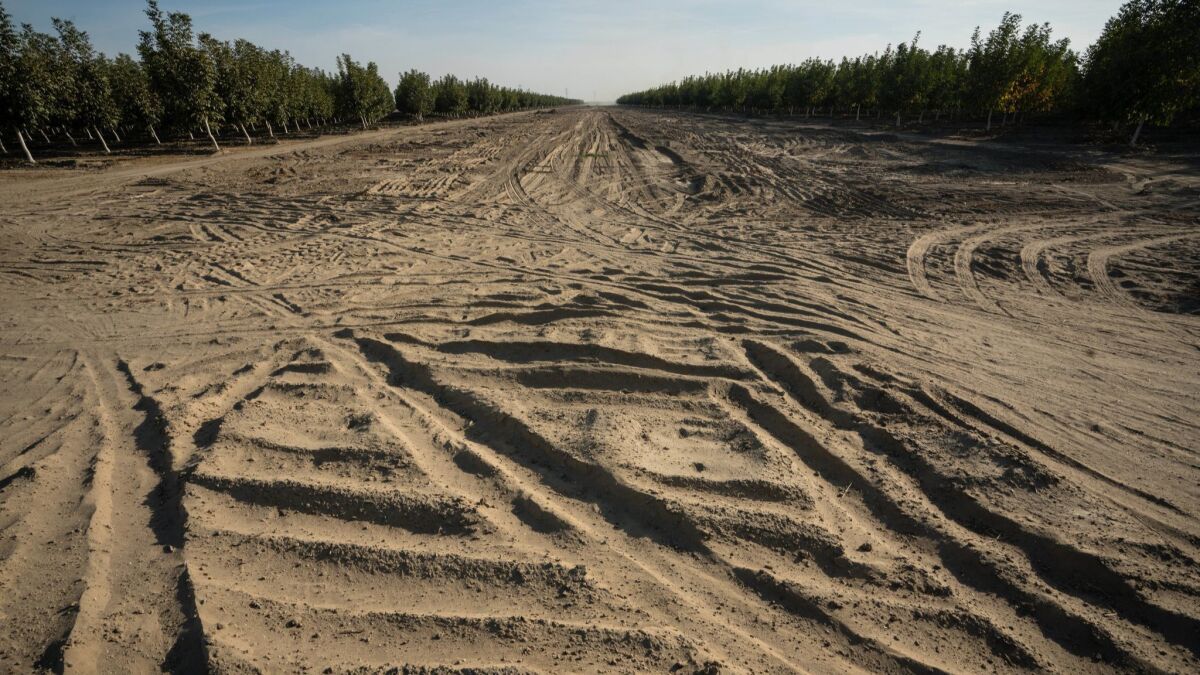 When a track cuts a vineyard at an angle, for instance, the trellis structure and the grape vines must be either removed or restrung. That can curtail production for years and the state has to pay for it, farmers say.
"Somebody at high-speed rail drew a line for a route on Google Earth and had no idea of what was on the ground or how they are affecting it," said Michael Dias, a Hanford lawyer who defends farmers and is a grape and nut grower with his own bullet-train dispute.
A constant stream of design changes has complicated the process. Dias said the state took land in front of his house and came back a second time for more, because it changed the design of a highway underpass.
The rail authority says it designed the route through an exhaustive environmental process.
"Our obligation to the public is to provide the minimum impact possible," said Donald O'Dell, the rail authority's acquisition chief. "We are doing the best job we can."
The disputes are always financial, but emotions sometimes play a part. Eminent domain allows the state to obtain an order of possession for land before it actually owns or pays for it — which makes for tense relationships with farmers.
"When you tell a farmer you own his land, that is like stealing his horse," said Mark Wasser, a Sacramento attorney representing an orchard owner.
The rail authority has acknowledged that it made serious errors in the Central Valley, issuing construction contracts before land was in hand and underestimating the difficulty of the process.
An October report from the authority's finance and audit committee showed the rate of property acquisition has fallen behind a plan revised in 2016 after years of earlier problems buying land. O'Dell, the rail authority's head of acquisition, said the project is not falling further behind schedule, because many disputes are close to resolution.
The court action is painfully slow in the view of many rail proponents, opposing attorneys and farm owners. Sometimes, Ross signals that he would like a faster pace, as well.
"Don't try to give me a guilt trip," Ross lectured a Caltrans attorney when he said a decision would harm his client, the rail authority. "I have been pushing the state for years. The state has not been prompt in anything that needs to be done."
The judge often goads attorneys to move faster. When dealing with a problem in a case handled by a Caltrans attorney, Ross asked, "You had that baby nine months ago. Sleeping through the night yet? I hope we can resolve this before that child starts college," Ross said.
The fact that Ross is handling these cases irritates many locals in conservative Kings County, who feel their own judges should be making the decisions, not somebody from Southern California.
"They are chickens and afraid to make a decision," said Doug Verboon, a Kings County supervisor, who says he is friends with the local judges. "They were elected to protect the people of the county, and at a time of need they are failing us."
Donna Tarter, presiding judge of Kings County Superior Court, declined to respond, citing judicial code that forbids public comment on litigation.
Ross acknowledges that the agricultural subject matter can pose a challenge.
He warns attorneys, "While I am knowledgeable in many things, farming is not one of them. If you can't figure it out, I can't figure it out."
Among the red flags is anything having to do with a dairy operation, in which animals move around, rail authority officials acknowledge.
"Are there cows on this land?" Ross wanted to know in one case.
"Is this underpass for cows?" he asked in another case.
Caltrans lawyers, too, appear to struggle like other city folk to understand the business, sometimes astonishing the farmers.
In one case, a Caltrans attorney suggested a farmer place dozens of mature walnut trees in pots for a few years while his land is used as a temporary construction site, according to Wasser, the orchard owner's attorney.
"Well, no, these are giant trees with large root structures," Wasser said in an interview.
Several Caltrans attorneys declined to comment and the agency referred questions to the rail authority.
It's not just the farm technology that is complicated. Thousands of acres across the county are leased to growers who have mature trees producing nuts and fruit — making for a complicated three-way negotiation. Some leases never contemplated a condemnation on the scale that is occurring, said Jan Kahn, a Hanford agricultural attorney handling cases with Wasser.
The land acquisitions are a prime topic among farmers over hearty breakfasts at the Hanford Country Club. Rows of gleaming new luxury pickup trucks with muddy tires line the parking lot.
It's an eclectic mix of people, some well-educated, many politically conservative and all with a gift for growing things that would be the envy of any urban gardener. Last summer, Kings County officials and state rail executives met at the country club to negotiate a global legal deal. There is no agreement so far.
Deals are still being forged, though some of them are quite costly.
Tim Raven, a walnut, almond and grape grower, had a 160-acre field that the authority had to buy entirely, because the rail cut off access to the whole plot. The state paid more than $6 million for land that will have just a few hundred feet of track.
John Tos, who farms walnuts and almonds on more than 5,000 acres in Kings County that his grandfather began acquiring in 1906, has one of the largest series of eminent domain disputes.
"We have eight different areas that are getting hit by high-speed rail," said Tos, a lead plaintiff in a suit seeking to stop the project. "The life of a walnut tree is 30 years, and they are taking trees that are only 15 years old. We want the revenue of those trees for the next 15 years.
"They say they will make us whole so we will go away. We don't want to go away. We want our lifestyle."
Follow me on Twitter @rvartabedian
---
The stories shaping California
Get up to speed with our Essential California newsletter, sent six days a week.
You may occasionally receive promotional content from the Los Angeles Times.