Can Pacific Coast Highway withstand El Niño? Officials pour millions of dollars into creative engineering to make sure it does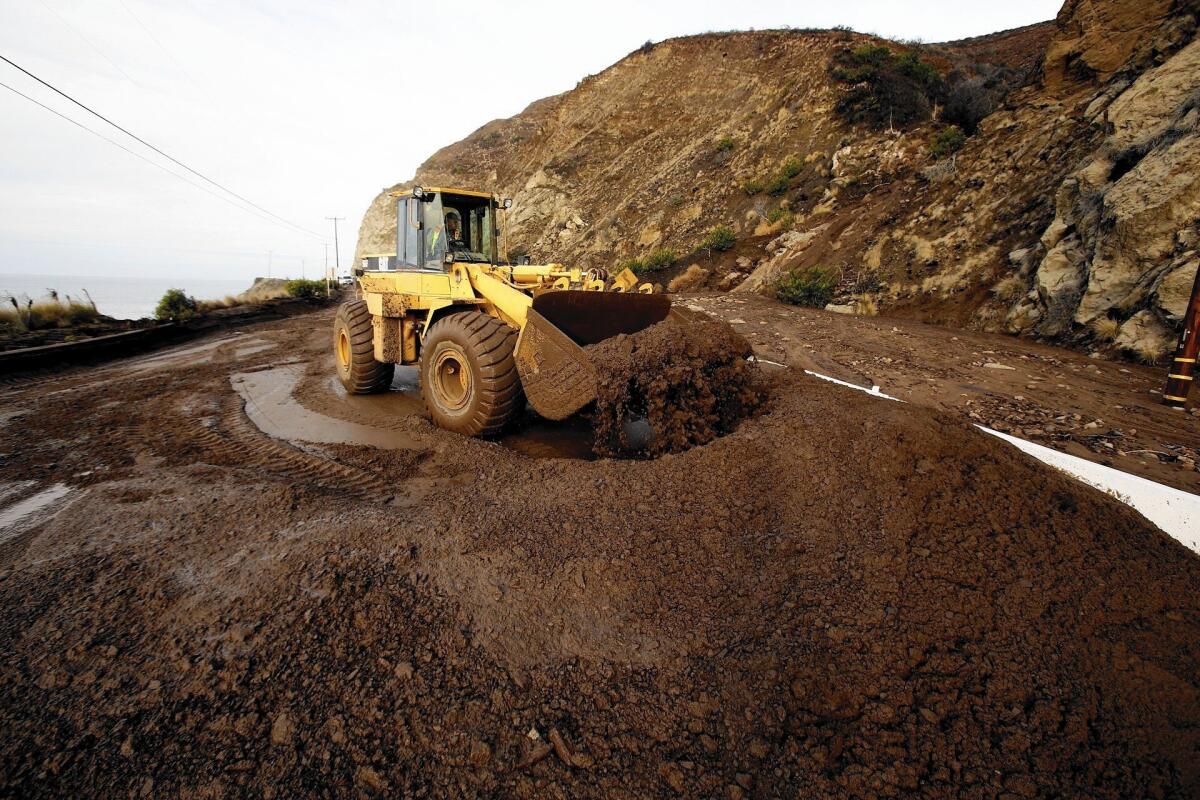 When El Niño storms hit Southern California, Pacific Coast Highway is the first line of battle between man and nature.
This scenic ribbon of asphalt, sandwiched by steep mountains on one side and ocean on the other, has fought with rock slides and erosion since it was built almost a century ago.
El Niño rains of the past have left portions of the coastal route battered. But they also have given transportation engineers and local officials lessons in how to make PCH more stable as California faces what experts forecast will be one of the strongest El Niños on record.
In recent years, officials have spent millions of dollars in creative engineering to strengthen PCH against a double threat: rocks and heavy rain coming down the coastal mountains and high surf crashing in from the ocean. Steel rock netting, concrete debris barriers and fortified sea walls now adorn the iconic route from Santa Monica to Ventura, the highway's roughly 30 most perilous miles.
This winter's conveyor belt of El Niño storms will be a major test of these advances.
"Keeping PCH open from natural disasters coming from both the bluff side and the ocean side is quite the challenge," said Deborah Wong, a deputy director for the California Department of Transportation. "It's at sea level, so there are no pumps to pump anything. It's right by the ocean, where you also have to deal with storm surges."
For tens of thousands of residents and commuters, PCH is the vital route to get safely in and out of their isolated canyon and coastal communities.
"PCH is very vulnerable, but people have to use it every day to get anywhere. It really is a lifeline," Malibu Mayor Laura Zahn Rosenthal said. "It has people living on it, it has stores, it has restaurants, it has parks. The school buses use PCH every day! ... It impacts our security. Let's say parts of PCH come down, and we have a fire, it's much more difficult for fire engines to come through."
Local residents, resigned to a history of mudslides and flooding, are bracing for the worst.
"It's an accident waiting to happen, unfortunately, and it happens often," said Seth Jacobson, who has lived in Malibu for 20 years.
See more of our top stories on Facebook >>
He worries about getting landlocked, and how he'd get back to his kids in time if PCH shuts down during the workday. If a landslide closes off PCH, commuters would have to wind through the canyons — but these narrow roads, some hundreds of feet high, can be even more dangerous when it's raining, he said.
"It locks us in. There's really only two ways out," Jacobson said. "One is to go over one of the canyons, or to go north, go up, reach Oxnard and hit the 101 from there. And the amount of time it would take would be unbelievable."
He'll never forget the last major El Niño storms in 1998 when, according to Times archives, a 350-foot-by-220-foot chunk of hillside collapsed near Las Flores Canyon. That section of PCH was closed for months, he recalled. He left for work at 5:30 a.m. each morning to make it to Santa Monica by 8:30 a.m.
Others recall leaving a car every day on one side of the landslide, walking across the road closure, and driving a second car to where they needed to go.
The mission to keep PCH open through the El Niño season has been going on for months.
Caltrans engineers, Malibu officials, parks and coastal agencies have been coordinating storm projects and storing emergency equipment near areas they expect to be the most vulnerable.
"All we're trying to do is work with what we have," said Patrick Chandler, a spokesman for Caltrans. "Across the nation, it's not like we're building any new freeways."
After a series of slides in 2014 shut down the Point Mugu State Park area for more than two months, officials put in new netting to prevent rocks from falling onto the road, Chandler said. The rock netting — 3,000 pounds of steel — required a helicopter and a team of people spidering over the cables as it was installed.
And since November, Caltrans has been erecting a 20-foot-high sea wall along Las Tunas State Beach with boulders as heavy as 14 tons. These boulders, stacked together like giant puzzle pieces to support a crumbling slope that holds up PCH, will dissipate the strength of incoming waves. Without the erosion protection, this stretch of PCH could wash out.
"It basically helps break up the waves, so you don't have a continual onslaught from the high tide or big waves hitting the bare slopes here and causing more erosion," Chandler said.
So far, no significant storm damage has been reported on PCH, particularly in the trouble spots west and east of Malibu. (By the time PCH reaches Long Beach and Orange County, the bluffs are less steep and the highway further inland).
NEWSLETTER: Get the day's top headlines from Times Editor Davan Maharaj >>
Similar rock walls have been built along other sections of PCH over the years. On the mountain side, K-Rails have been anchored in to buffer against cascading flows of mud and debris.
But officials say this is just the beginning. El Niño tends to bring back-to-back storms that hose the region in January, February and March. Three storms dumped record amounts of rainfall this month, covering the Southland with floods, mud and even snow. More storms are on the way.
"PCH is really tough because when there are any incidents, even an accident, you're kind of stuck. Add the weather and nature part, and it's just a really tough area to deal with," Chandler said. "If we don't do what we need to do, there is no highway."
Experts acknowledge these measures won't stop Mother Nature at her worst. If a continuation of rain oversaturates a slope and brings an entire chunk of hillside crashing on to the roadway, officials will need to close the road for safety and to clean the mess.
When the first major El Niño rains arrived this month, Chandler met with sea wall workers at Las Tunas. As he walked along the shoulder of PCH, he paused at a water utility hydrant straddling the remnants of the eroded slope, the lines already exposed to the ocean.
"It is crazy to stand here and think that PCH used to extend all the way here," he said, watching the sea rise with the pounding rain. He checked his phone and learned that a possible mudflow had hit further up in Ventura County, and boulders had reportedly fallen onto Malibu Canyon Road, choking up traffic where the road joins PCH.
The stories have repeated itself over the decades. In 1943, a slide north of Santa Monica Canyon swept across the roadway, crashed through a railing and knocked a ticket booth over the embankment and onto the beach. Boulders the size of cars fell onto the highway during the 1998 storm season. In 2010, a rock crashed down and knocked out a woman's engine, setting her car on fire.
Perhaps the most infamous slide occurred in 1979, after earthen debris rumbled onto the PCH near Big Rock Drive. Residents were furious with the monthlong road closure as officials grappled with how to make the roadway safe again.
The situation was so tense that Heinz Heckeroth, Caltrans chief deputy at the time, told the Times in 1979: "We are still seriously considering and studying the possibility of a ferry boat system because we feel that there should be an alternative to the buses for commuters who do not wish to risk their lives daily."
More recently, a series of scattered showers in November 2014 unleashed a dozen mud and rock slides in the Point Mugu State Park area, trapping motorists and shutting down a crucial stretch of PCH for more than two months. The deluge was so strong that concrete barriers — 20,000 pounds of K-Rail engineered to hold back mudflows and debris — were pushed 75 feet across the road. Waves crashed in from the other side, and the road was overtaken.
"The landslides is one consequence of the fact that PCH was built where no road really should be, at least without the aid of modern engineering," Nathan Masters, a Los Angeles historian at the USC libraries, said.
The highway, completed in 1929, was considered a feat of engineering at the time. Built as part of an interstate network that ran from the Mexico border to Canada, it closed the gaps between small coastal towns and provided the first reliable transportation link between Santa Monica and Ventura — a journey that once took hours over the Conejo Grade or required rushing along the sea when the tide was low.
However perilous, the highway remains a fixture in Southern California. Past proposals to tunnel or reroute PCH were buried before they took hold. The highway has remained essentially unchanged since the 1940s, after a few realignments in known trouble spots — such as blasting a path through Mugu Rock instead of curving around — and a sweeping upgrade that widened the highway.
"PCH seems to have a special place in our collective self-identity," Masters said, rattling off images of open-top convertibles, Malibu surfers and Beach Boys-era woodies.
It also created what Masters calls a "feedback loop." Building PCH enabled more development along the route, which further reinforces the need to keep the highway.
"Since we built the highway, it has influenced our settlement patterns," Masters said. "There are subdivisions that have opened up in the hills directly abutting the highway. So even if maintaining the highway requires a lot of money and engineering, we're sort of locked into that arrangement."
Twitter: @RosannaXia
ALSO:
A behind-the-scenes look at a Rams' proposal the NFL couldn't refuse
Taiwan nationalists suffer historic defeat with election of first female president
Explosion risk stalls plan to capture and burn gas from Porter Ranch leak
Sign up for Essential California for news, features and recommendations from the L.A. Times and beyond in your inbox six days a week.
You may occasionally receive promotional content from the Los Angeles Times.