A bon vivant artist who got death threats for spray painting a boulder in Joshua Tree has come clean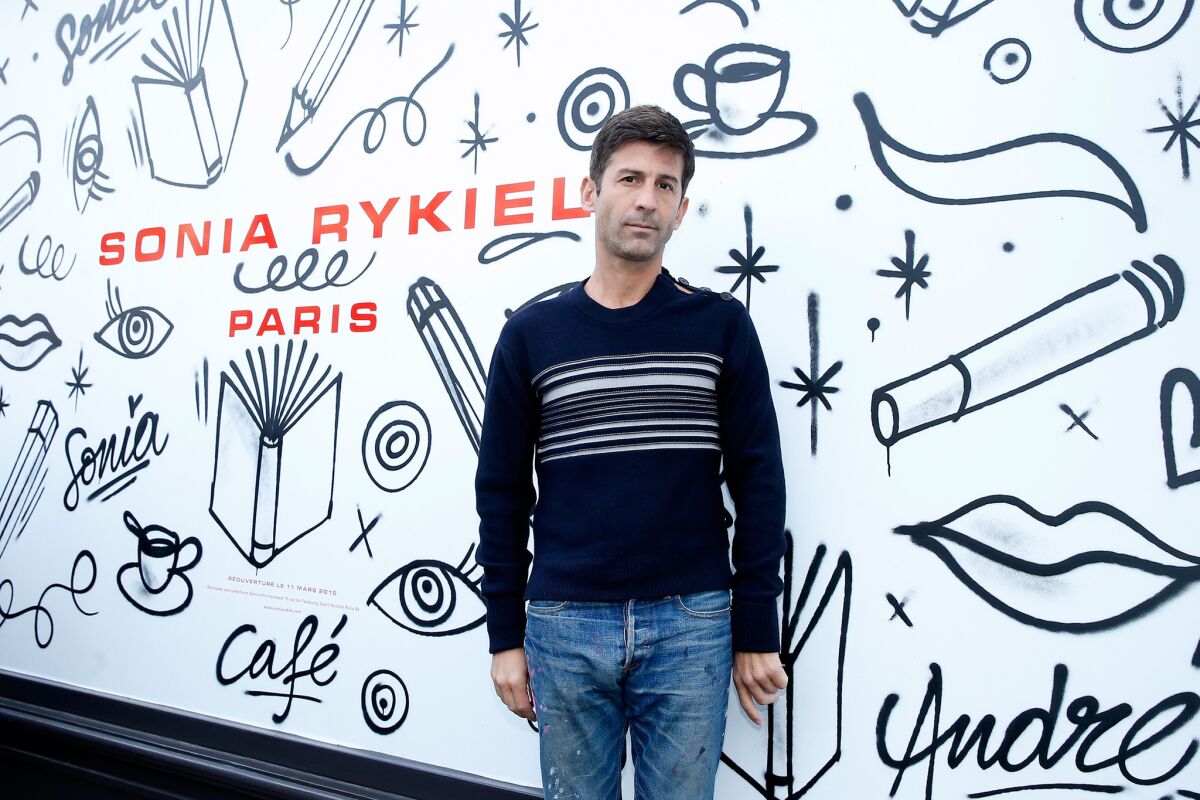 A well-known French graffiti artist and bon vivant who became the target of social-media harassment has apologized, saying the crime for which he was vilified stemmed from a naive impulse: To tag a boulder in a Joshua Tree National Park parking lot with water-based spray paint, then post a snapshot of it on Instagram as a wink — a "clin d'oeil" — to his fans.
There wasn't a ranger in sight that day in February of 2015, so Andre Saraiva says he didn't hesitate to spray-paint a variation of his trademark tag — a top-hatted, grinning stick figure known as Mr. A — on a hunk of rock the size of a small storage shed.
Trouble is, the image was uploadable.
Within three weeks, the website Modern Hiker had spotted and posted evidence of the February 2015 act. Outraged, readers decried the vandalism, labeling Saraiva a ringleader of a new generation of graffiti artists who regard the natural world as an expansion of their concrete, steel and glass urban canvas. He's been besieged with venomous insults and death threats ever since, he says.
Saraiva, 45, initially took a defensive stance. He denied the boulder was in a national park. His lawyers demanded that Modern Hiker remove its article about him.
But by comparing Saraina's own social media feeds with Google satellite maps, longitude and latitude coordinates and field notes of concerned citizens, Modern Hiker readers were able to pinpoint and publish the boulder's exact location — inside the park — as well as every site Saraiva visited that day.
The information triggered a National Park Service investigation that confirmed Saraiva, 45, as the culprit. On April 1, 2015, Saraiva paid a fine of $275 to the U.S. District Court in Los Angeles.
Last month, speaking publicly for the first time since the incident, the impish former nightclub impresario famous for presiding over lavish after-hours parties and raves took a more remorseful approach, saying he has altered his views about graffiti's place in the contemporary art world.
"Graffiti should only be painted on what humans have built — not on nature's land and rocks," he said, nibbling on French pastries at an outdoor lunch table in Hollywood. "Joshua Tree was the wrong place for it, and I am sorry."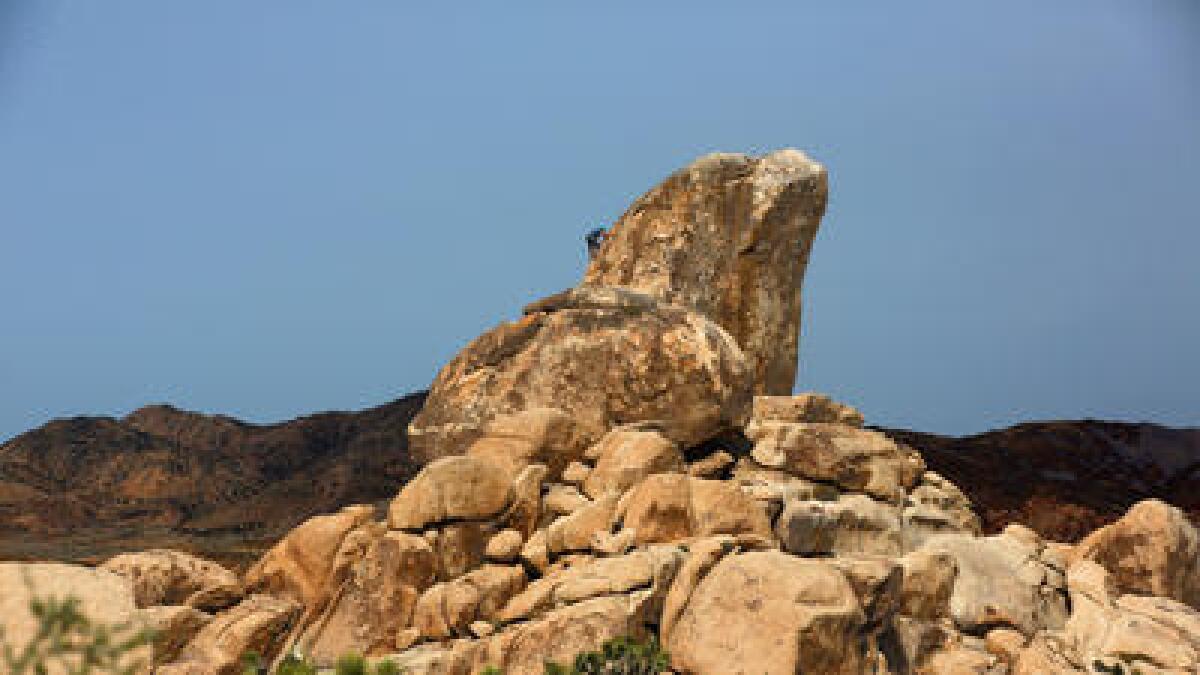 George Land, a spokesman for the park, said that he respects the shift in attitude. "I respect Andre for being a big enough man to say, 'I made a mistake and I'll never do that again … But he made himself a target by blatantly posting an image of his graffiti in the park on his website. That made some people real mad."
That's the part of the story in which Saraina feels that he was not the only one behaving badly.
Modern Hiker's investigation and undercover work unfairly suggested that he was, as he puts it, "a rich international who doesn't care about America's landscape. That's false."
"Maybe I wasn't nice — but they went a bit far," he says,"by making people think I went all over the park to deface it, and by posting a 20-year-old image taken from one of my websites of Mr. A on a rock in Brittany, France and using it as possible evidence of vandalism in Joshua Tree."
"As a result," he adds, "park rangers had to spend hours and days searching for nothing."
Graffiti should only be painted on what humans have built — not on nature's land and rocks.
— Andre Saraiva
Casey Scheiner, editor of Modern Hiker, agrees that Saraiva's story shows how "quickly the Internet can turn into mob justice for serial vandals and flagrant vandals like Andre."
"But I question his whole 'woe is me' attitude," he says. "I wonder if he would have taken that attitude if he wouldn't have gotten caught. He had the opportunity to talk to me and clarify things. Instead, his response was instant anger."
Saraiva blames his response on a different emotion: "I was scared. My family and friends were really scared because many different people were saying, 'We're going to kill you and your family.'"
In any case, his views appear to have changed. In a 2013 online interview with a website called "The Talks" he said: "Everything I do comes from the attitude I learned from graffiti.If I want to do something, I do it. If I want to paint this rooftop, if I want to paint this train, or a place that's very difficult to access, I'm going to go and paint it. And I've kept that attitude with everything I do. I want to do a movie — I do it. I want a nightclub — I'll do it."
Nowadays, Saraiva weighs his words carefully. Sporting a T-shirt with French nautical stripes, baggy trousers and a blue baseball cap, he sits back in the patio chair and answers a mystery that has nagged investigators.
Who removed the graffiti from the boulder in the parking lot?
"I did," he says. "Four days after I put the graffiti on the rock, I cleaned it off with a bottle of water, a brush and sand."
"Since then, I have not visited the rock and will not," he says. "Ever."
ALSO
The sunset that takes an hour to go from date palms to redwoods
The 20 most-visited national parks in the U.S.
Discover our desert national parks and rediscover yourself. You can start with Joshua Tree
---
Life is stressful. Our weekly mental wellness newsletter can help.
You may occasionally receive promotional content from the Los Angeles Times.