Where grocery stores are sparse, one family farm nourishes a California town
Farmer Hansel Kern, 60, stands in the Gnarly Carrot, the organic store he operates in North Fork, Calif.
(Tomas Ovalle / For The Times)
Organic produce for sale at the Gnarly Carrot.
(Tomas Ovalle / For The Times)
Zev Grifalconi Mandel, 9, and Allie Grifalconi Mandel, 12, play around in the North Fork School Garden next to North Fork Elementary.
(Tomas Ovalle / For The Times)
Allie Grifalconi Mandel picks some greens in the garden adjacent to North Fork Elementary School.
(Tomas Ovalle / For The Times)
Paul Bouchard jokes around at the Buckhorn Bar in North Fork.
(Tomas Ovalle / For The Times)
North Fork is a small Sierra foothills town with an interesting community of characters.
(Tomas Ovalle / For The Times)
Reporting from North Fork, Calif. —
A lot of people in this Sierra foothills town start sentences with "used to be."
There used to be sawmill jobs. Used to be mining. Used to be a plaque that marked this as the exact center of California — until someone stole it last year.
But so far, the Gnarly Carrot has escaped past tense.
The organic market, which recently celebrated its first anniversary, has joined a farm and school garden as the latest step in one family's attempt to change the local food supply.
"We've got everyone in these hills: yogis, loggers, old cattle ranchers, home-schoolers of every kind. I'm always looking for commonalities. And if it's not access to needing healthy food, then what is it?" Kern Farm patriarch Hansel Kern said.
Wearing overalls and sporting a beard that would be the envy of any hipster, Kern, 60, walked with a bit of a limp through the school garden where he spends every Friday. A gout flare-up, he figured, caused by the years he spent as a stonemason who liked his steaks and beer.
Although thinking of it as simply a garden might be a slight: There is a farm behind the playground at North Fork Elementary that stocks the school salad bar. There are terraced arbors, fruit trees, revolving row crops, compost piles and usually a lot of work to be done by even the youngest farmhands.
But on this day, Kern had something easier in mind for Mrs. G's kindergarten class.
"Who wants to play with baby goats?" he asked a group of children.
William Beighey, 6, sighed as he cradled a 10-day-old kid.
"It used to be the best thing I ever saw was fire ants," he said. "But I love goats even better. I've always dreamed of having a goat, because if I did, I would name him Elliot."
Chances are that if they weren't growing their own fruits and vegetables, the children at this school would not be eating produce at all.
North Fork, just above the agriculture-rich Central Valley, is in a rural food desert — defined as anyplace more than 10 miles from a grocery store or any low-income area where families are unlikely to be able to afford fresh produce. About 85% of North Fork Elementary students come from families who live below the poverty line, school officials said.
"That we have a system where pesticide-free, local food is elitist is upside down," Kern said before shouting a reminder to the children to snack on the organic orange slices laid out on a table.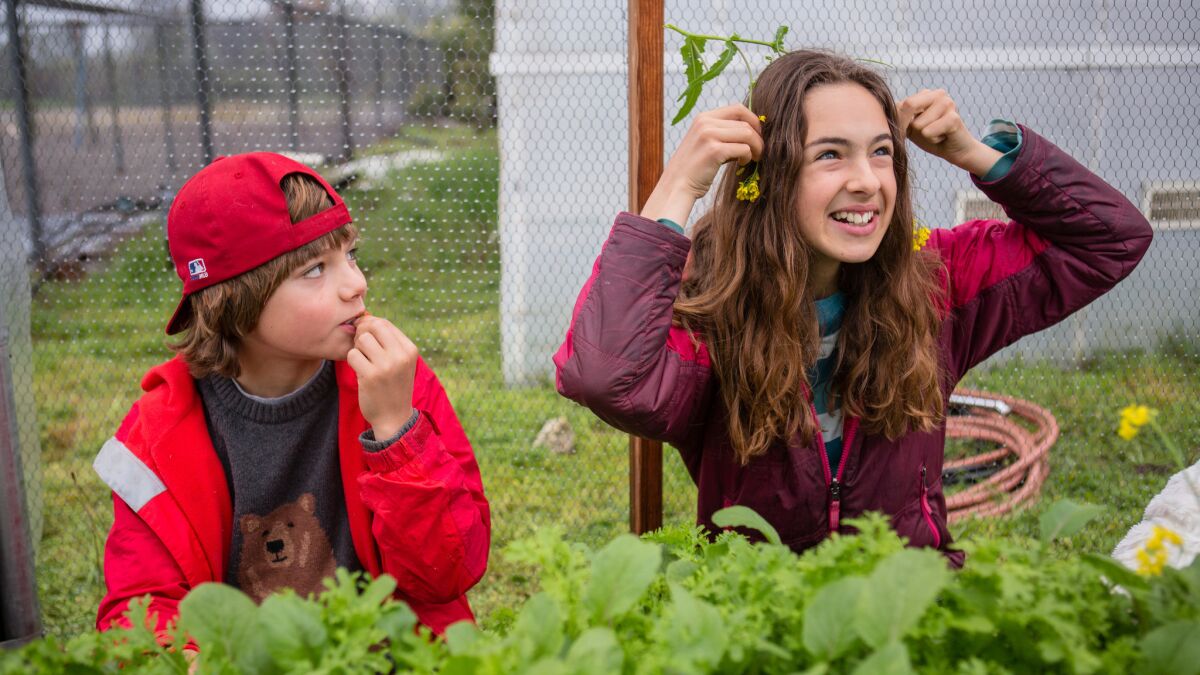 Mia Grifalconi, one of a group of mothers who volunteer at the school, said she loves to watch students pick handfuls of kale and eat it. (Kern said he's never had a child refuse to try something they helped grow.)
"A lot of these kids — they live in trailers, they don't have warm enough clothes. It's amazing to see them dig in at the garden," Grifalconi said.
There is one little girl, she said, who always runs and clings to Kern, saying: "Hansel, I want to live here. I want to live in the garden forever."
When Kern, "a new old farmer" by his own description, decided to try to grow crops in the foothills more than two decades ago, his mentor, Madera farmer Tom Willey, told him he was either brave or crazy.
"I told him I was a little of both," said Kern, who became a full-time farmer in 1998. By doing so, he was embracing a family legacy.
His father, Ken, had been a leader of the back-to-the-land movement in the 1970s. It was a time when up to a million young people, mostly middle-class, moved to rural areas to protest corporate America by growing their own food and living simply.
The local John Birch Society, Hansel Kern said, had his family on its list of whom to kill first if the communists took over — a point of pride for his father.
From age 8, Hansel had his own little garden where he spent much of his time. But he dreamed of a more conventional, stable life than that of his childhood, with 13 step- and half-siblings and revolving stepmothers after his own mother left.
He married his high school sweetheart and settled into masonry. But his wife left him with two little girls.
A single father living on inherited rustic farmland, Kern would drive to jobs with his daughters, Ariana and Connie, tagging along in the back of a station wagon. After a few years, friends introduced him to what seemed an unlikely match: Sue Wasserman, a New York City law student. The day she passed the bar, he picked her up and they drove cross-country to his no-frills spread.
"The people around here had bets on how long I would last. They're like that," Wasserman said, pushing her waist-length silver hair over one shoulder as she sorted through her mail at the post office. "But I'd been an organizer in Brooklyn. We would have 70 people to one apartment with one bathroom. Hansel had an outhouse, but at least there wasn't a line."
They've been married 27 years now.
They have two grown children, Becky and Aaron, who have stayed in North Fork to help run the store and farm — and, maybe one day, an organic dairy.
The Gnarly Carrot sells Kern Farm products as well as those from a loose network of organic farmers. Next to the oranges and spinach and honey are photos of the families that produced them.
The little store's tri-colored carrots, organic banana chips and $7 nutritional yeast seasoning are pricey for an area where so many families round out government food boxes with bulk grocery shopping.
Across the street, Daniel Tilden sat on the porch of his auto parts store with his dog Thor, where they are most afternoons. Tilden was born in North Fork in 1964 and has been here ever since. His father was a Forest Service entomologist who studied the bark beetle, an insect that has left this area dotted with stumps and dead trees.
Tilden said his favorite meal was a cigarette, now that he's tying to quit. (He's down to a few a day.) Next to that, it's a cheeseburger. He said he was unlikely to shop at the Gnarly Carrot, even though he was one of those in town who could afford it.
"I love Hansel to death. He's good people, and we all know each other here," he said. "But I'm not spending that much of my income on food."
Tilden said he has had four heart attacks, the first when he was 42.
That evening, the local Pizza Factory was packed. A band was playing "Folsom Prison Blues." Families had brought in grocery store chocolate cakes and pies in plastic packages for dessert after pepperoni pizza and beer.
Outside, Tanner Ashe and Alex Sandoval were under a stairwell listening to the music. They said they were both the sons of single mothers who had moved to North Fork to be closer to family members. They have been best friends and worked in the school garden since kindergarten.
They weren't eating pizza. They said they were there because it's where Tanner's older sister works and they like Johnny Cash songs.
"To tell you the truth, I don't really like going out for food," Alex said. "I think it's the school garden. It's what you get used to."
Tanner, 13, said his favorite part of the garden was the grape arbor.
"We planted it in fifth grade, and now in seventh it makes perfect shade," he said.
Alex likes the radishes.
"Oh, wow, have you ever had a fresh-picked radish?" the 12-year-old asked outside the pizza parlor.
---
The stories shaping California
Get up to speed with our Essential California newsletter, sent six days a week.
You may occasionally receive promotional content from the Los Angeles Times.