Deadly holiday weekend on roaring Kern River: 3 dead, 24 rescued
For the last five years, the drought severely depleted the Kern River, usually one of the fastest-flowing rivers in the West.
But the exceedingly wet winter has returned the 165-mile Kern, California's 10th-longest river and a favorite among whitewater rafting enthusiasts, to a power not seen in years. Fueled by runoff that ultimately stretches from its headwaters at the base of Mt. Whitney, dramatic rapids and swift flows are returning to a river so feared that it's known as the "Killer Kern."
Over the Memorial Day weekend, its reputation was confirmed.
Three people died and 24 were rescued in multiple incidents along the river, about three hours north of Los Angeles. Five more were rescued from other nearby rivers.
Ten people have died in Kern and Tulare county rivers this year. And officials say they fear the death toll could climb in the coming summer months, as chilly snow melt fuels the river water.
The problem: Memories are short, and people have forgotten what a normal, powerful Kern River is like.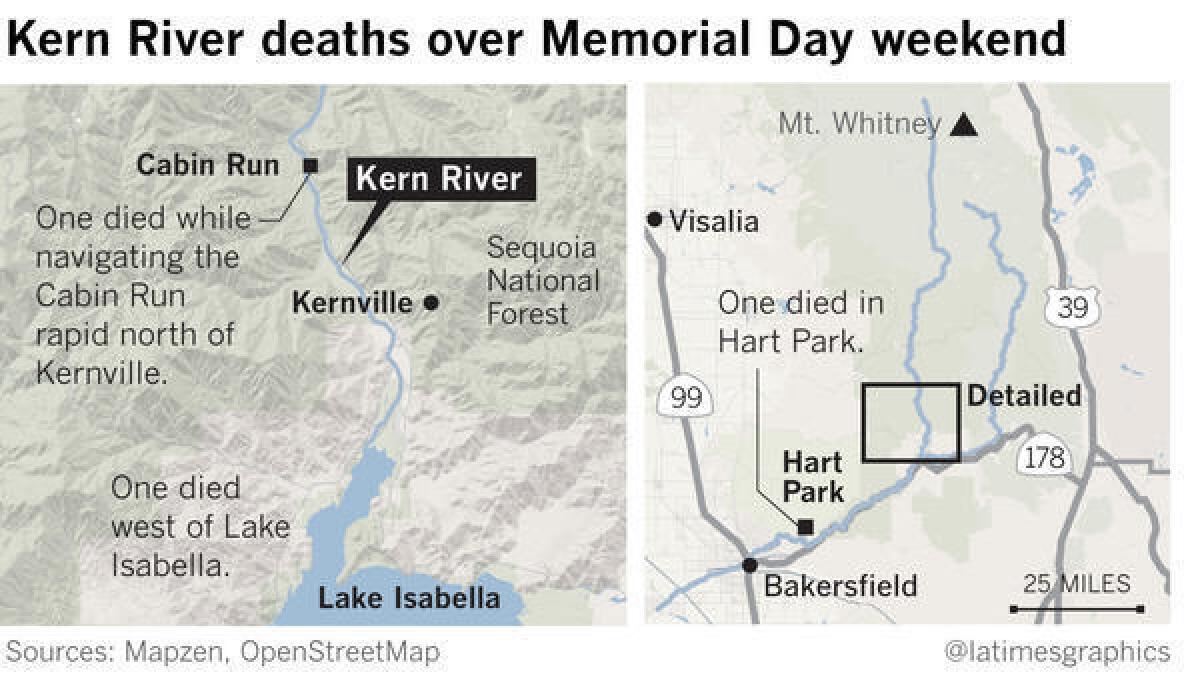 'People aren't used to this big water'
"People aren't used to this big water like we've had in the past. Five years of a drought really impacts people's ability to look at a river — they just don't remember," Tulare County Sheriff's Lt. Kevin Kemmerling said Monday. "This year, they think it's the same river, but it's five times as big.
"They get lulled into a false sense of security," he added. "What they think is a tranquil river that they're used to — the currents are running 12 mph. And you can't swim out of it once you get into it."
In the last wet winter, in 2012, about two dozen people died on the Kern, Kemmerling said. The river is marked with a sign that says: "Kern River: 280 lives lost since 1968."
We have electronic sign boards advising them: 'Do not swim. Very cold water. Dangerous.'

— Mike Theune, park ranger at Sequoia and Kings Canyon National Parks
Flow of the river jumps
During the drought, the flow of water on the Kern at this time of year slowed to as low as 1,000 cubic feet per second, Kemmerling said. On Saturday, the river was flowing five times that fast.
"The numbers are just giant," Kemmerling said. "And when people get caught in that water, that translates to hundreds and hundreds of pounds of force against the human body."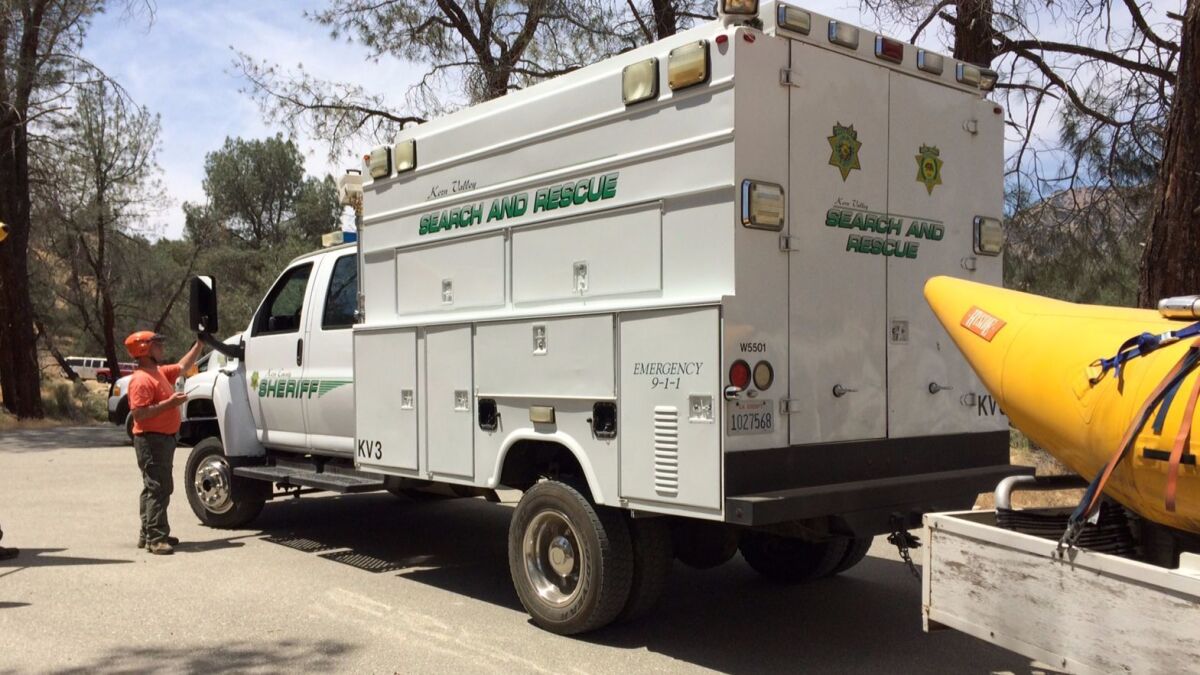 Falling into the river
On Saturday, a man in his 40s died after falling into the river from a raft operated by Sierra South, a local outfitter, Kemmerling said. The raft was navigating the Cable Run, a Class IV rapid that is intense and turbulent.
The accident occurred about five miles north of Kernville, where the river water was 40 degrees, Kemmerling said. Rescuers performed CPR for about 20 minutes; he was rushed to Kern Valley Hospital, where he was pronounced dead.
Tom Moore, president of Sierra South, said the man was part of a church group and was a last-minute substitute.
He was wearing a wetsuit and life jacket, Moore said. The man fell backward out of the inflatable raft when it was hit by a wave, he added.
The man was able to grab on to a kayak that had been tailing the raft, and after grabbing hold of a paddle he was pulled back onto the raft, Moore said. He was following commands and was responsive, but he collapsed shortly after he was pulled back into the boat, Moore said.
Moore said a relative of the victim told him that the coroner suspects a heart attack. The coroner was unreachable Monday night.
"We're so sorry and so sad for him and his family," Moore said. "In 32 years of running, we've never had an accident like that."
Classes of rapids
Class I: Fast-moving water with riffles and small waves.
Class II (Novice): Straightforward rapids.
Class III (Intermediate): Rapids with moderate, irregular waves that may be difficult to avoid and can swamp an open canoe.
Class IV (Advanced): Intense, powerful rapids requiring precise boat handling in turbulent water. Risk of injury to swimmers is moderate to high, and water conditions may make self-rescue difficult.
Class V (Expert): Extremely long, obstructed or very violent rapids that expose a paddler to added risk. Swims are dangerous, and rescue is often difficult even for experts.
Class VI (Extreme and Exploratory Rapids): These runs have almost never been attempted and often exemplify the extremes of difficulty, unpredictability and danger.
Source: American Whitewater
On Sunday morning, the body of a woman in her 40s was pulled out of the Kern River in Hart Park, about eight miles northeast of Bakersfield, said Kern County Sheriff's Lt. Bill Smallwood. She had been floating on the river with her family a day earlier, fell into the water and couldn't be found.
Then on Monday, authorities found the body of a man who had been rafting with his son, who is between 12 and 14 years old, Smallwood said. The two were on the Kern River west of Lake Isabella when they were thrown out of the raft by a rapid.
"The juvenile was able to get to the shoreline. The father was last seen being carried down the river," Smallwood said. "They were out on their own."
'It's only going to get worse'
Smallwood and other officials said the rivers are simply dangerous right now.
"Everyone should stay out of the water," Smallwood said. "It's only going to get worse. Once we get the melt from Mt. Whitney, it's only going to speed up the flow of the river."
The Sequoia and Kings Canyon National Parks issued a blunt warning on its website: "Park rivers are dangerous. Keep your distance! … Please: Stay away from the river. Return safely to your family."
The Kern River has actually earned the nickname the 'Killer Kern,' and it's earned it for a reason

— John Frando, Bakersfield Fire Department spokesman
So far this year, five people have died on the Kaweah and Tule rivers in Tulare County. Most had either gone for a swim or slipped and fell into the fast-moving water. One person died trying to rescue her friend.
The Tulare County sheriff and the U.S. Forest Service have since closed the Tule River. While the Kern River is at a normal flow, the Tule River is flowing unusually strongly, "and the danger to public safety was immense," Kemmerling said.
The perils of falling in whitewater rapids
Generally speaking, a person's immediate physiological reaction when hitting water as cold as 40 degrees is to gasp. That can draw a substantial amount of water into the lungs, Kemmerling said Monday. Also, the rapid shock of falling into intense rapids can sometimes trigger a heart attack, he said.
Even with a life vest, a person does not float in whitewater rapids and can be plunged to the bottom of the river and rise to the top in rapid succession.
"Classes I through III rapids, nothing is really going to keep you in that river. But when you start getting to IV and above, because of the power of the water, it changes the dynamic of the water and it becomes extremely more dangerous," Kemmerling said. "The survivability in whitewater is very difficult."
A big whitewater rafting season
Rafters have been excited for this whitewater season, with outfitters earlier this spring expecting an incredible amount of runoff after one of the wettest winters on record. Some outfitters expected they'd be able to continue operating through August; whitewater season typically ends in July.
Just two years ago, the extreme drought placed substantial pressure on the whitewater rafting industry. In 2015, the Kern River Festival, which draws hundreds of professional and recreational paddlers each year, was canceled for the first time in 51 years.
Luther Stephens, an owner of Whitewater Voyages, a Kern River rafting company that was not involved in any rescues this weekend, said water levels will remain high for the next several weeks and that entering the water without a guide is dangerous.
"I wouldn't raft it alone any more than I would go climbing Yosemite myself without being with someone who knew what they were doing," Stephens said. "It's one of the few things you can still do that's a true adventure.
"We're just going to be careful where we put folks and just run safe trips through the course of the year," Stephens said.
Rescues over the Memorial Day weekend
11 rescued on Saturday, March 29, on the Kern River's Tombstone and Tequila Chute rapids — both considered Class IV by the sheriff's department — about 9 miles north of Kernville after commercial rafting companies called for help. Rescues were conducted from various locations on the river.
16 rescued from rivers in Tulare County on Sunday, March 30—11 on the Kern, four on the Kaweah, and one on the St. John's.
2 rescued in the Kern River on the west side of Bakersfield. A man and an 11-year-old boy in a kayak were overturned and thrown into the river, and clung onto small trees and brush until bystanders called for help and they were rescued
Deaths on rivers in Tulare and Kern counties in 2017
Kern River: 5 deaths
Tule River: 3 deaths
Kaweah River: 2 deaths
Source: Tulare County Sheriff's Department and Bakersfield Fire Department
Twitter: @ronlin
ALSO
Upgrading U.S. nuclear missiles, as Russia and China modernize, would cost $85 billion. Is it time to quit the ICBM race?
The Church of Scientology wanted a vacant lot. So did the city of Clearwater, Fla. One of them won
Even with Irvine's diverse mix of cultures, some residents feel they don't 'fit'
---
UPDATES:
10:55 p.m.: This article was updated to include quotes from a park ranger and the Bakersfield Fire Department.
9:30 p.m.: This article was updated to include the number that 280 lives have been lost since 1968 on the Kern River.
8:30 p.m.: This article was updated with additional details, including a third death.
This article was originally published at 1:25 p.m.
---
Life is stressful. Our weekly mental wellness newsletter can help.
You may occasionally receive promotional content from the Los Angeles Times.