On a midnight stroll, activists reach out to Hollywood's transgender and homeless population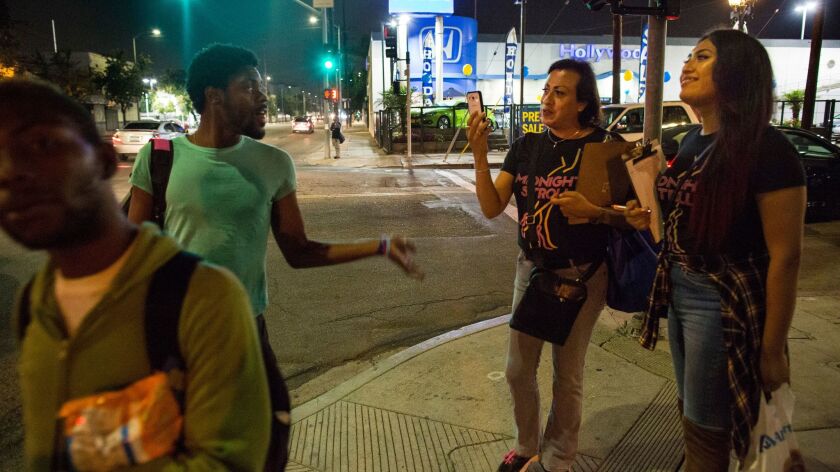 It was close to midnight Friday when the volunteers got off an MTA bus and began their two-hour walk through Hollywood's streets.
Starting at Western Avenue and armed with clothing vouchers, granola bars and condoms, they headed down Santa Monica Boulevard in groups, turning onto side streets and peering into alleys.

For the record:
10:05 p.m. Oct. 26, 2021This article previously made reference to St. John's Health Center in Santa Monica. The facility's name is St. John's Well Child and Family Center, which has clinics in South and Central L.A.
Less than five minutes in, Teanna Herrera — who works as an advocate for transgender people at St. John's Well Child and Family Center, which has clinics in South and Central L.A. — was encouraging two people on a bus bench to visit the clinic to learn about hormone therapy.
"I've done what they're doing," said Herrera, 49, explaining that she had been a prostitute on those same streets at age 16. "[I want] to let them know: 'I know what it's like to be out here … and there's hope for every one of us.'"
Several dozen volunteers have met five times since January for the Midnight Stroll — an initiative organized by various LGBTQ groups and Los Angeles city agencies that reaches out to those on the street, including transgender sex workers and the homeless population.
City Councilman Mitch O'Farrell participated in Friday's walk, which started with an orientation at Blank's 2nd Stage Theatre. On the walk back from Western Avenue, the volunteers invited those they met on the streets to come back to the theater for food; a mobile HIV testing unit was parked nearby.
"We really want to get them on a different path," said Jazzmun Crayton, an HIV testing counselor with the Asian Pacific AIDS Intervention Team. "Once you have a record, it's very difficult to continue to navigate through the various systems that are in place."
The Midnight Stroll grew out of discussions between the LAPD and transgender community leaders, two groups whose relationship has improved significantly in recent years, said Karina Samala, chair of the Transgender Advisory Council. Community leaders have assisted in training police on how to interact with transgender individuals, including respecting their preferred gender identity.
Habib Munoz, a sergeant in the LAPD's Hollywood Division, said the department receives complaints about transgender prostitution — especially on Santa Monica between Western and La Brea avenues.
"By providing some kinds of outreach services, hopefully we're able to get people out of that lifestyle," Munoz said. "We do have a group of people that need help — and we want to help them — but at the same time, there are crimes being committed. And those crimes are affecting the community."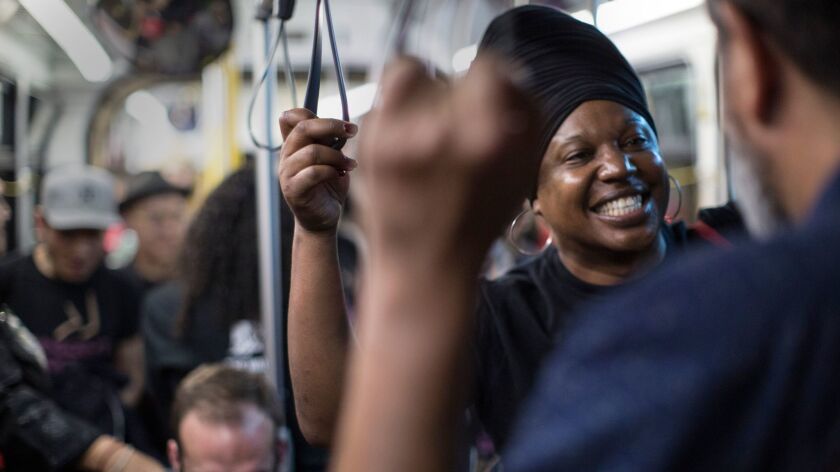 Many of the transgender people the volunteers encounter are homeless. According to a survey by the city this year, 1% of the homeless respondents identified as transgender.
"When our communities are not accepted by their own families … they're finding themselves homeless," said Jim Wen, who heads the Transgender Advisory Council's housing and homelessness committee.
About an hour into Friday's stroll, some of the volunteers stopped in front of a homeless encampment, calling out offers of free food and clothing.
Gia Olaes, who works with incarcerated transgender individuals with the Center for Health Justice, talked with Kay — a 20-year-old she knew from seeing him at the Los Angeles LGBT Center.
"Some of them have temporary housing, but they relapse," said Olaes, who once was homeless herself. "It's about letting them know that this is a time to change."
About an hour later, Olaes came across Mimi, a 23-year-old transgender woman who said she dreams of helping others by opening a transgender homeless shelter.
Mimi — who wore a black dress and red Converse sneakers — said she had been on a waiting list at the LGBT Center for two months and planned to visit other shelters next week. In public shelters, she said, it's difficult to be housed according to her gender identity.
"That's why I want my own shelter," she said. "Because I know what it's like."
Olaes offered encouragement.
"Come see me," she told Mimi.
Twitter: @leilamillersays
---
For reporting and exclusive analysis from bureau chief John Myers, get our California Politics newsletter.
You may occasionally receive promotional content from the Los Angeles Times.