Sanders campaign accuses L.A. councilman of blocking event at Greek Theatre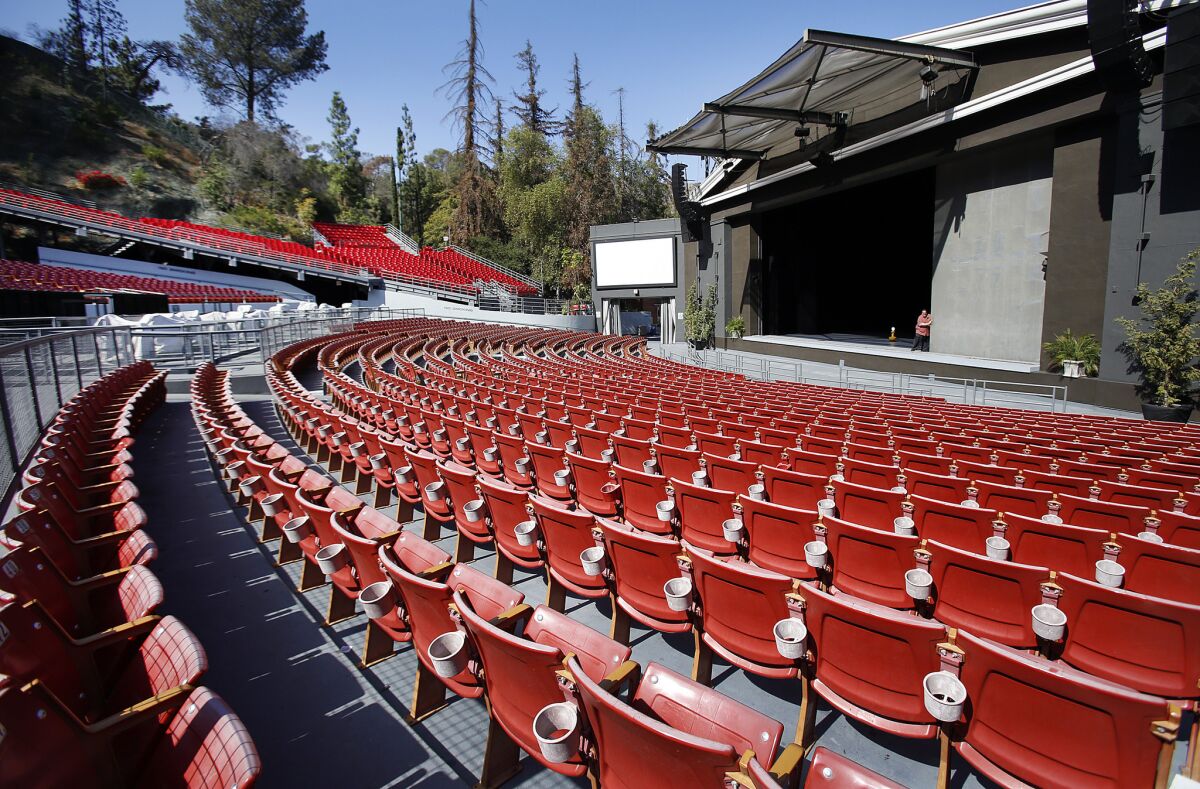 Sen. Bernie Sanders' presidential campaign on Saturday accused a Los Angeles city councilman who backs Hillary Clinton of obstructing his effort to stage a weekend campaign event at the city-owned Greek Theatre in the Hollywood Hills.
Sanders' campaign sent an announcement to supporters saying its plan for a get-out-the-vote concert at the Greek had been scrapped and relocated to the Los Angeles Memorial Coliseum Olympic Plaza in South Los Angeles. In that message, the campaign also suggested that favoritism was being shown to the presidential campaign of former Secretary of State Hillary Clinton, who has her own event planned at the Greek on Monday.
"Unfortunately, after reaching terms with the professional staff at the Greek to host our rally, interference from a local Los Angeles city councilman forced us to move from this iconic venue, even though Secretary Clinton has scheduled an identical event two days later — an event to which no objection has been raised," the Sanders campaign message said.
A campaign staffer was more explicit in an email sent directly to the Greek, saying that Councilman David Ryu, who represents the Greek and the surrounding neighborhood, had set up "roadblocks" that caused the venue to be changed. Ryu has endorsed Clinton and attended a fundraiser for her last month in Koreatown.
Ryu spokesman Estevan Montemayor called those messages "an inaccurate depiction of the last 24 hours" — saying the councilman's office had been trying to help the campaign stage a successful event. Sanders' campaign did not have a ticketing system or a plan for addressing traffic congestion, which is required of every group that holds a rally or concert at the Greek, Montemayor said.
"Any person or organization that chooses to have an event at the Greek Theatre needs to follow all the same guidelines," Montemayor said. "The Sanders campaign was asked to work with L.A. city staff on a traffic mitigation plan and a ticketing system, just as the Clinton campaign has done for their event on Monday evening. The Sanders campaign chose not to move forward."
Traffic mitigation plans typically address the level of city resources needed for a major event, such as traffic control, street closures and parking enforcement, Montemayor said. "The Sanders campaign is politicizing something that is solely a public safety issue," he added.
Asked about Montemayor's comments, a Sanders aide said the campaign already had reached an agreement with the Greek's management when the councilman intervened. "We were literally about to wire the money, and we get word there's now an issue, that the councilman's office stepped in," said the aide, who declined to be named.
The Greek sits at the entrance of Griffith Park, next to an affluent section of Los Feliz. Management of the historic venue — and the potential for traffic and noise from its concerts — was a hot-button issue during last year's election in Ryu's district, which stretches from Silver Lake to Sherman Oaks.
Ryu defeated 13 other candidates after repeatedly criticizing the bidding process used by park officials to find a company to run the theater. The Sanders aide said the campaign agreed to ticketing and would have put together a traffic plan but "didn't get the opportunity." Instead, the campaign faced "over the top" language from Ryu's office, the aide said.
Montemayor disputed that account, saying representatives of Mayor Eric Garcetti, City Atty. Mike Feuer and other offices spent much of Friday working on the Sanders application. "Never once were they asked to cancel the event."
Becky Colwell, the Greek's general manager, said the Clinton campaign submitted its application a month in advance. The Sanders campaign asked to use the theater on Thursday. Theater officials quickly began working with the campaign on the details, including a ticketing system, she said.
"We were working with them on the language to include on their free tickets that people could download from their website," Colwell said. "That conversation continued until Friday morning, and they ultimately never called us back."
Colwell finally emailed the campaign Friday afternoon, saying she had hundreds of staff members on hold and needed an answer by 3:30 p.m. Minutes later, a campaign staffer responded that Sanders had changed venues.
ALSO
Learning Mandarin is really, really hard — even for many Chinese people
Quick action by professors kept UCLA gunman from escape and potentially shooting more people
Brush fires fueled by extreme heat hit Southern California; parts of Calabasas evacuated
The stories shaping California
Get up to speed with our Essential California newsletter, sent six days a week.
You may occasionally receive promotional content from the Los Angeles Times.