L.A. City Council approves minimum-wage hike for hotel workers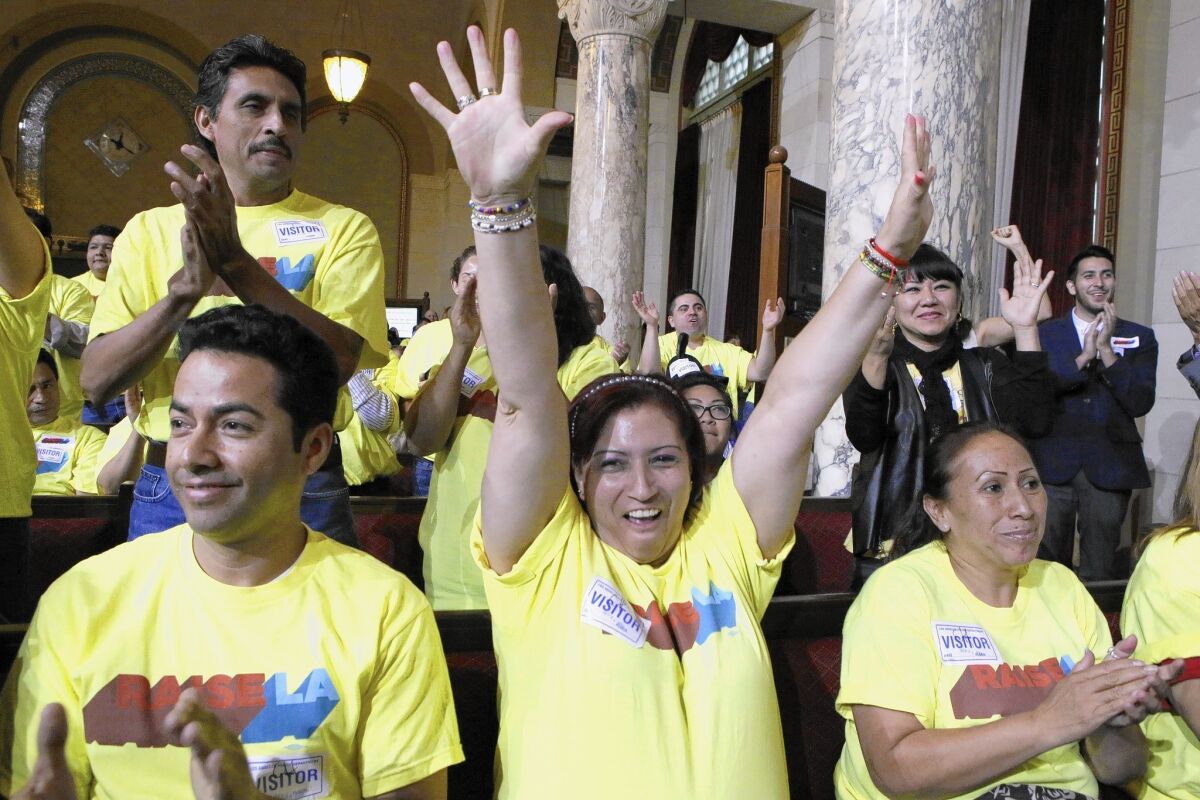 Big hotels in Los Angeles will soon be required to pay at least $15.37 an hour to their workers — one of the highest minimum-wage requirements in the country.
The City Council voted 12 to 3 on Wednesday to impose the higher wage on large hotels, delivering a huge victory to a coalition that included organized labor, more than a dozen neighborhood councils and the ACLU of Southern California. Lawmakers cast their vote despite warnings from business advocates, who said the measure would trigger job losses at hotels stretching from Harbor Gateway to the San Fernando Valley.
Kent Wong, director of the UCLA Center for Labor Research and Education, predicted that other cities would follow L.A.'s lead, much as they did after passage of the city's landmark 1997 "living wage" ordinance mandating higher pay for employees of many city contractors.
"Because of the size and prominence of the hotel industry here in Los Angeles, I do believe that this will have national reverberations," he said.
Wednesday's vote serves as a warmup for what is expected to be an intense debate over a more sweeping pay proposal from Mayor Eric Garcetti, who is seeking to gradually hike L.A.'s overall minimum wage to $13.25 per hour by 2017. Maria Elena Durazo, who heads the Los Angeles County Federation of Labor and championed the hotel wage measure, said her group has no position yet on "the specifics" of Garcetti's plan.
"Our position is that we need to explicitly get to $15 an hour as soon as possible," she said.
Council members said their decision on the hotel proposal would pull families out of poverty, freeing housekeepers, banquet servers and others from having to hold a second job. "It is not OK for families … working in this thriving industry to not see their children before they go to bed," said Councilwoman Nury Martinez, who represents the central San Fernando Valley.
Foes of the measure said the council had ignored two critical reports spelling out ways the measure would harm the hospitality industry.
"Today a whole bunch of people in the hotel industry lost their jobs; they just don't know it yet," said Ruben Gonzalez, senior vice president with the Los Angeles Area Chamber of Commerce.
Wednesday's vote represented the council's most significant move to increase wages in the private sector since 2007, when lawmakers hiked the base pay of employees at 12 hotels near Los Angeles International Airport. That decision, while increasing the incomes of hotel workers, led to a reduction in overall hospitality jobs near LAX, said Christopher Thornberg, founding partner of Beacon Economics, which produced one of the studies for the council.
Employment at hotels across Los Angeles County grew 10% during the six-year period that followed passage of the higher LAX hotel wage, Thornberg said. During the same period, the number of jobs at LAX hotels dropped 10%, he said.
If the wage boost hadn't happened, "there'd be 400 more people employed by the hotels in the airport area," he said.
Garcetti has already promised to sign the hotel wage plan. Because the vote was not unanimous, the ordinance will require a second procedural vote next week. Councilmen Paul Krekorian, Mitchell Englander and Bernard C. Parks voted against the measure. Parks said wage initiatives shouldn't be "just for a specific union or industry."
The wage boost will go into effect in July for hotels with at least 300 rooms, expanding a year later to hotels with at least 150 rooms. The measure is expected to cover at least 40 hotels and, depending on the analysis, anywhere from 5,300 to 13,500 workers.
Lawmakers said it makes sense for hotels to pay higher wages since Los Angeles has made "significant financial investments" to help the hospitality industry. The ordinance prepared for the council states that Los Angeles already runs free tourist attractions and has helped build "the public transportation system that carries visitors around the city, including to and from hotels."
Backers of the measure said tax subsidies have been provided to four downtown hotel projects, allowing developers to keep a combined $500 million in tax revenue that would have otherwise gone to the city's budget over the next three decades. Labor activists also pointed to a third report commissioned by the city, which found that after the minimum wage was hiked at LAX-area hotels, employment changes "essentially mirrored those across the city."
"When employers are saying jobs are going to be lost, they're really saying, 'We want to continue to have high profits, so we're going to fire people,'" said James Elmendorf, an advocate with the nonprofit Los Angeles Alliance for a New Economy, which pushed for passage of the wage hike.
Opponents of the measure — and even some supporters — say the city's new ordinance is more about expanding the ranks of UNITE HERE Local 11, the union that represents hotel employees, than improving wages. Hotels that have a unionized workforce can be exempted from paying the $15.37 hourly wage, if workers agree in their contract to relinquish that opportunity.
"Organized labor is supporting a minimum wage not for the short-term agenda of getting workers more money, but for the longer-term agenda of getting rid of resistance to unionizing hotels," said City Hall lobbyist Steve Afriat, who represents a hotel that favors the wage hike.
Hotels that face severe financial hardships also can be exempted.
Business groups have threatened to sue over the plan, saying the new ordinance appears to violate the state and federal equal protection clause by unfairly targeting one industry. And they complained that the city's own experts were given little time to present their findings to the full council.
Thornberg, whose firm will be paid up to $20,000 for one of the reports casting doubts on the merits of the hotel wage hike, received 60 seconds from Council President Herb Wesson to testify. Wesson cut him off just as he was providing statistics on job losses at LAX hotels.
Thornberg complained Wednesday that lawmakers had shown "a complete lack of interest in facts."
"They kept going back to the idea of this low-income Hispanic woman working two jobs who doesn't have enough time to spend with her kids," he said. "Well, she's going to have a lot more time to spend with her kids when she doesn't have a job."
Councilman Mitch O'Farrell, who represents part of Hollywood, said he read Thornberg's report and understood the trade-offs involved. He said he backed the measure because "significant numbers" of residents in his district would benefit from a higher wage.
"At the end of the day, between the intellect and the heart, the heart wins out," he said.
david.zahniser@latimes.com
Twitter: @DavidZahniser
The stories shaping California
Get up to speed with our Essential California newsletter, sent six days a week.
You may occasionally receive promotional content from the Los Angeles Times.