Under new formula, L.A. Unified graduation rate is lower than expected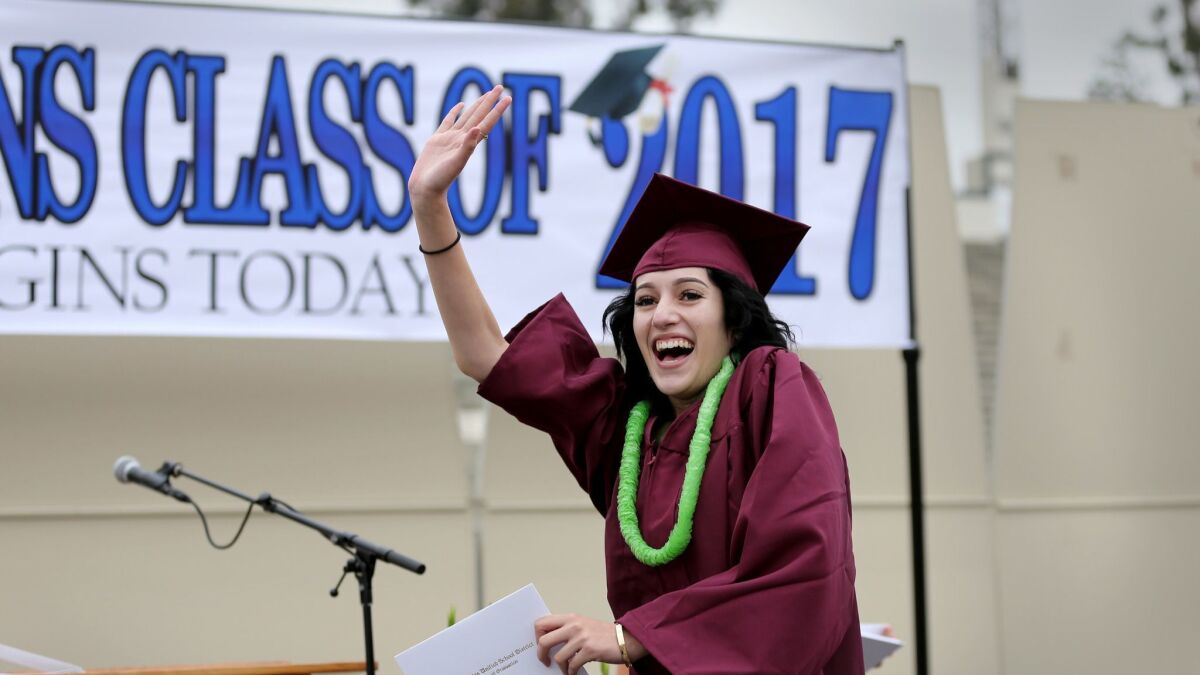 Last year, Los Angeles Unified officials predicted an 80% graduation rate for the class of 2017 — its highest ever — based on preliminary numbers. That continued an upward trend that district officials said was the product of a concentrated push to graduate more students.
But after a federal audit questioned the accuracy of how California schools count their graduates, the state's Department of Education changed its formula for figuring out who completed high school.
Using the new math, L.A. Unified's graduation rate was 76.1% for the class of 2017. The state fared better as a whole, graduating 82.7% of eligible students last year.
State and local district officials did not provide adjusted data for previous years, though, so it is difficult to know whether L.A. Unified is continuing to improve graduation outcomes despite the change. The state will release 2018 graduation data in December.
The change has to do with deciding who is counted as a student or a graduate.
Under the old formula, "students were counted as graduates if they transferred to adult education programs to earn their diploma or pass a high school proficiency exam," district spokeswoman Shannon Haber said in an email.
But now those students are considered dropouts. And students who pass a high school proficiency exam without finishing at a traditional high school, or who later get an adult high school diploma, do not retroactively count toward that year's graduation rate.
It's good that the state is trying to more accurately keep track of how students are graduating, but the district needs to pay attention to the gaps and the students who need support, said Ryan Smith, executive director of the nonprofit advocacy group Education Trust-West.
"For LAUSD and all California school districts, this keeps them and us honest," Smith said. "So the fact that we're thinking more accurately about data means that … we'll have a better sense how LAUSD students are actually doing."
The state also began reporting the students who completed the classes necessary to enroll in the University of California and Cal State University systems. While L.A. Unified graduated a lower percentage of students than the state as a whole, those who did graduate were more likely to meet eligibility requirements: About 60% of L.A. Unified graduates completed the necessary classes, compared with 50% statewide.
"The next step is making sure that those students are also completing higher education in California as well," Smith said. That would require a commitment to keep track of college completion rates statewide, which has yet to happen, he said.
Disparities remain between students based on race, income and language, the data show.
White and Asian graduates were more likely to be eligible for a four-year university than black and Latino students, both in L.A. Unified and statewide.
"We have a long way to go and need help from everyone — teachers, parents, administrators and community members — to narrow these gaps," said state Supt. of Instruction Tom Torlakson.
L.A. Unified officials said that if affiliated charter schools — which receive public funding and are for the most part run by the school district, unlike independent charters — are included in the district's count, the graduation rate for 2017 increases to 76.8%. And had L.A. Unified been allowed to use the old formula, it would indeed have been 80.6%, according to Haber.
Last month, school board President Monica Garcia suggested the district might want to ask for an exemption from the state's new way of calculating graduation rates. She said the district needed to notify the public that, because of the change, it wouldn't be fair to compare a rate calculated under the new formula with an older rate.
"We need to be clear that it's apples and oranges," Garcia said.
Times staff reporter Howard Blume contributed to this report.
Reach Sonali Kohli at sonali.kohli@latimes.com or on Twitter @Sonali_Kohli.
---
The stories shaping California
Get up to speed with our Essential California newsletter, sent six days a week.
You may occasionally receive promotional content from the Los Angeles Times.