From Hillary Clinton and Kamala Harris to 10,000 teenage girls: 'Speak up'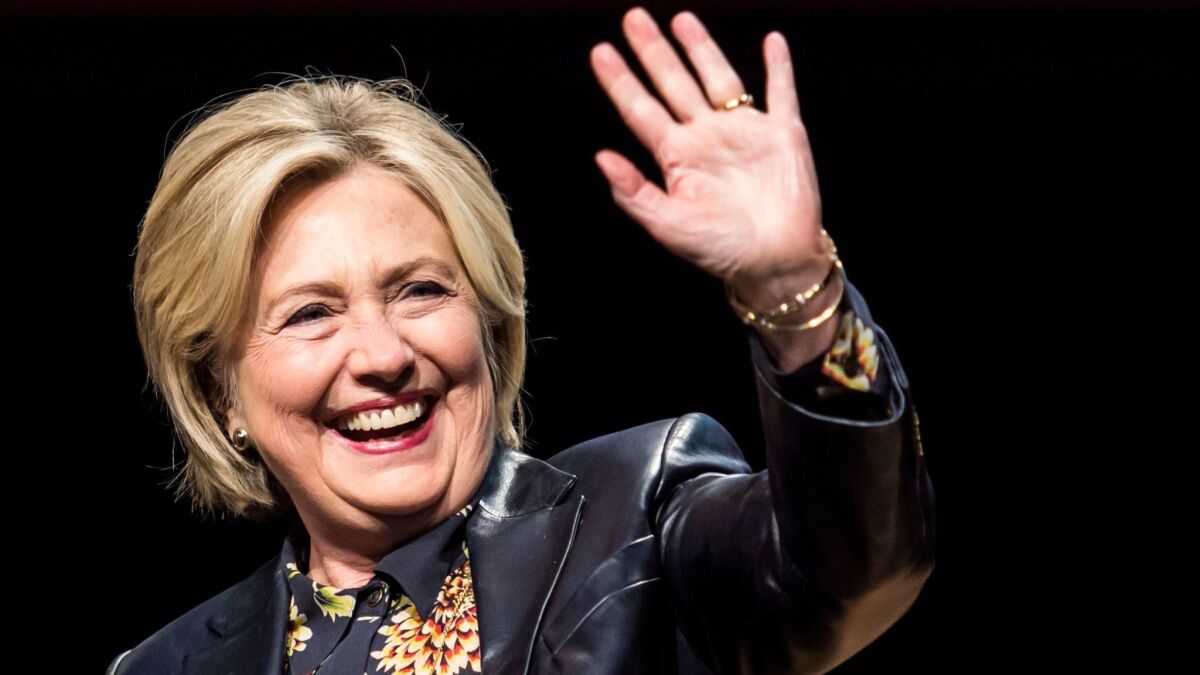 Female politicians are used to finding themselves in rooms full of men.
But on Friday, two of the nation's most prominent political women got the chance to address 10,000 girls.
Hillary Clinton and Sen. Kamala Harris (D-Calif.) shared their experiences and offered advice to the young women in middle and high school at the annual Girls Build L.A. leadership summit in downtown Los Angeles.
Girls Build is a program of the nonprofit L.A. Promise Fund, which aims to help students throughout L.A. County reach academic, personal and professional success. Both Harris and Clinton encouraged the young women to find issues they are passionate about and be active in changing what they don't like about the world. But they had some more specific advice, too:
1. Be more prepared than everyone else
"It's hard being the only woman in the room, and I've had that experience lots of times. So that's why you've got to be really prepared. You have to understand what it is you're there for," Clinton said. "You go in as well- or better-prepared than anyone else … and then you have to be able to read people and talk about … why they each should support your position."
Clinton said men have often taken credit for her ideas in the mostly male settings she's been in.
"You will present an idea and nobody will pay attention to it, and then a little later a man will say the same thing and everybody will say it's a great idea," she said.
She's diplomatic, she said, but she doesn't let that stand. She claims the credit she deserves.
Harris, who spoke later at the event, also said she's used to being the only person like her in boardrooms and courtrooms alike.
"Stand up," Harris told the cheering crowd. "You speak up, you express your feelings, you express your thoughts and know that we have got your back."
2. Don't run from challenges but do ask for help
Clinton said she didn't do so well in math and science in school, but she still took difficult classes in those subjects.
"Learning something about areas that you're not that good in or you don't even like that much gives you some additional basis for understanding what goes on in the world," she said.
It's OK if you get a bad grade, as long as you expose yourself to the topics, she said. And if you don't understand, ask for help.
"Students who ask for help do eventually do better," Clinton told the crowd.
Harris suggested that the young women find friends and mentors who challenge and support them, and then eventually become mentors themselves.
"Seek out role models. Seek out people who will be invested in your success, who cheer you on, who will lift you up when you fall and maybe have a good laugh with you if you slip ... along the way," she said.
3. Try alternate nostril breathing
After losing the 2016 election, Clinton turned to faith, family, friends and outdoor activities to help her through the defeat. She called writing her book, "What Happened," a cathartic process.
Clinton shared some of her coping strategies with the group Friday.
"It was really painful for a long time. I like being out in nature, I took walks in the woods. I have two dogs," she told comedian Jessica Williams, who was interviewing her onstage. "I saw my wonderful grandchildren.... Every minute with them is hilarious and fun. I read a lot."
"I really found it really calming. It's sort of a breathing form of meditation," she said. "I did a lot that just calmed me down and started to make me feel better and be more resilient."
Twitter: @Sonali_Kohli
The stories shaping California
Get up to speed with our Essential California newsletter, sent six days a week.
You may occasionally receive promotional content from the Los Angeles Times.