Lawyers wrangle over teachers' strike date while school board eases volunteer rules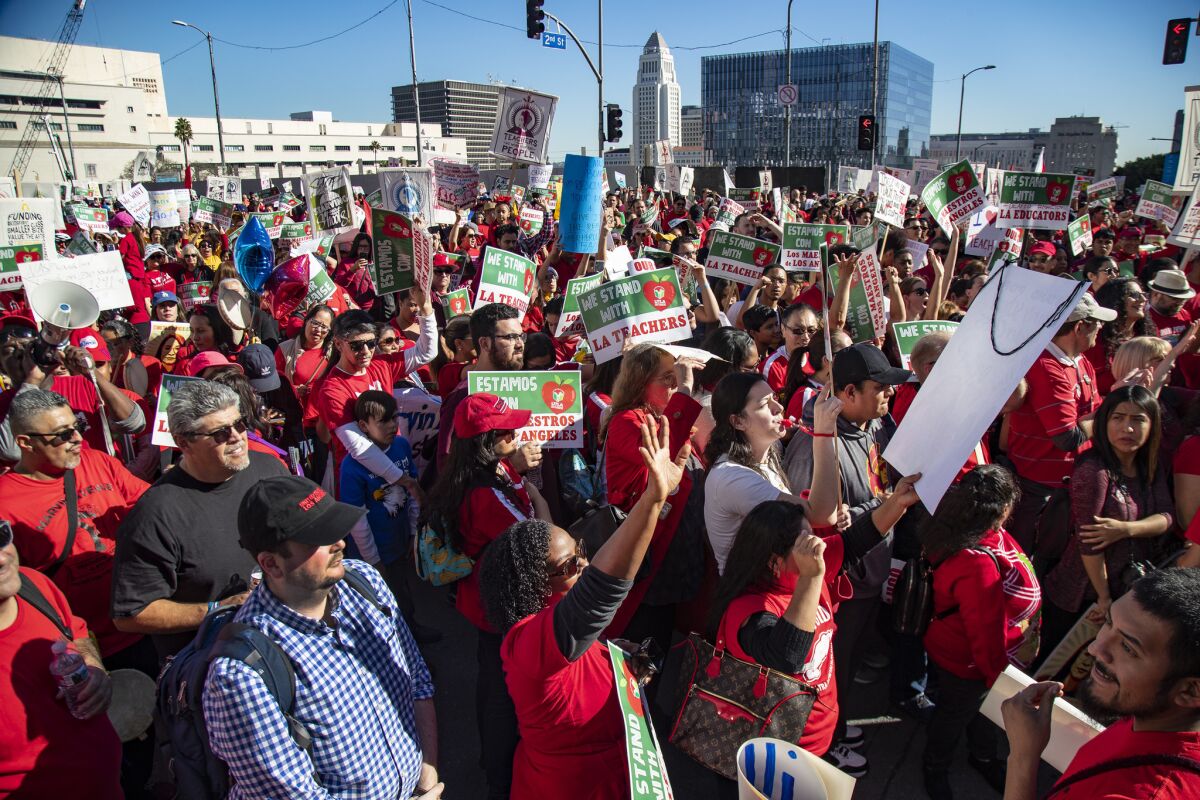 Los Angeles school officials on Tuesday loosened the rules for accepting volunteer help from parents on campus, two days before a planned teachers' strike could leave their campuses stripped of staff.
The strike's starting date, however, is still subject to change because of legal wrangling between the L.A. Unified School District and the teachers union, United Teachers Los Angeles.

For the record:
9:10 p.m. Jan. 8, 2019A previous version of this post incorrectly stated that Supt. Beutner was to deliver a report on raising district revenue by Jan. 18. The correct date is March 18.
UTLA announced a Jan. 10 strike weeks ago. But the district asserts that the union did not give the school system proper notice. The union hoped for a ruling on the matter in L.A. Superior Court on Tuesday, but a judge postponed a hearing until at least Wednesday.
A settlement, of course, would make the matter irrelevant. The two parties will give negotiations one more try on Wednesday.
At district headquarters just west of downtown Tuesday, it looked at first as though the school board would make no progress on a revised volunteer policy, which initially failed to win a majority.
The idea was to make it easy and faster for volunteers — especially in moments of great need — to help at schools. But board member Kelly Gonez, a new parent, wanted the speedier process limited to members of a student's immediate family and legal guardians.
"We know that times of crisis may be chaotic, and I think in those times we want to be even more careful," Gonez said during the board meeting. The policy needed her vote to pass.
Gonez ultimately compromised, offering an amendment to also include extended family members, subject to the principal's discretion.
In interviews, Gonez and board member Nick Melvoin both said they wanted to increase access to schools, and that volunteers could help with supervision during a strike. But they stopped short of saying that the schools would be so thinly staffed that such volunteers would be necessary.
Parents, teachers, and students rally in support of teachers at the corner of Topanga Canyon and Ventura Blvd. in Woodland Hills.
(Francine Orr / Los Angeles Times)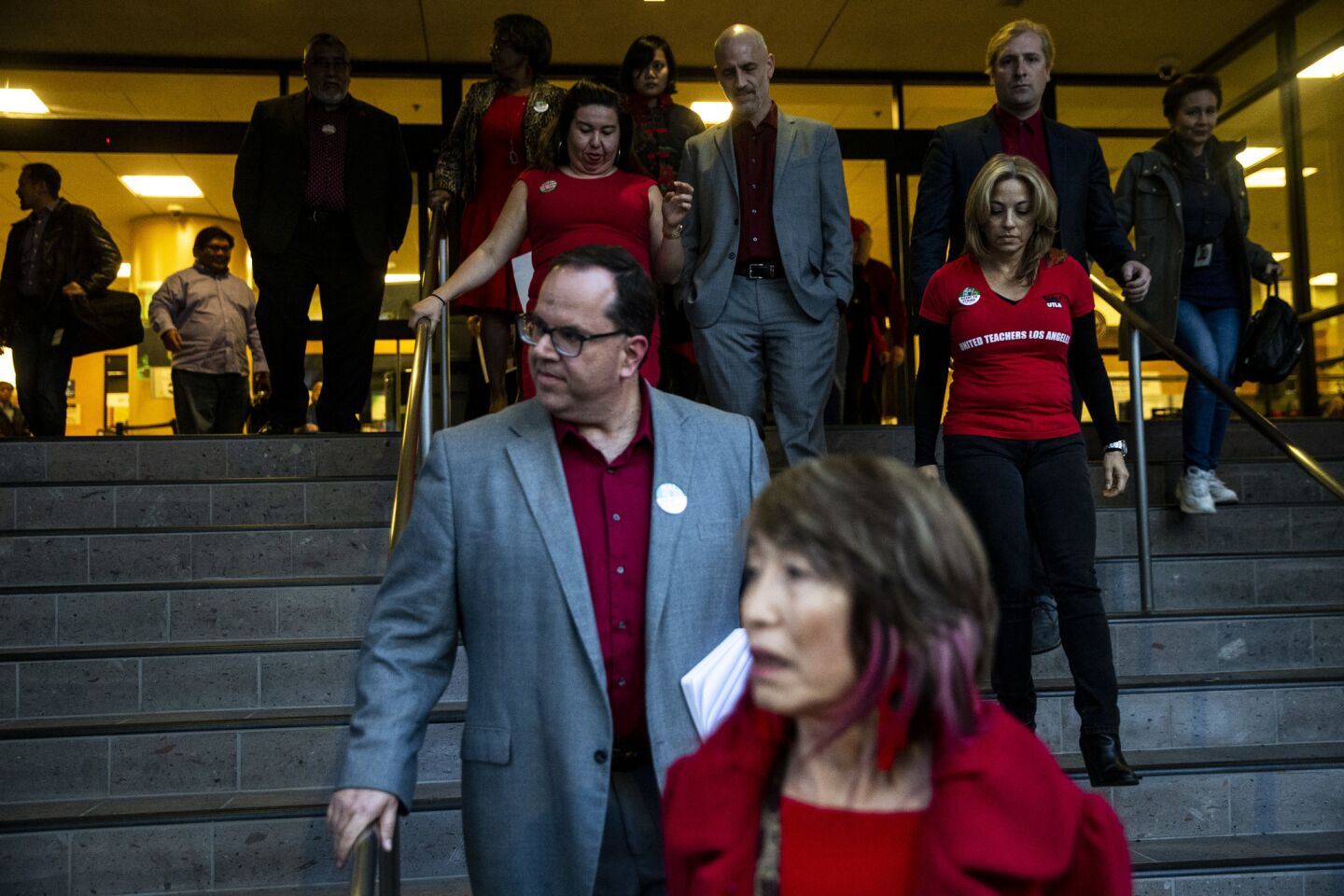 Arlene Inouye, Co-Chair UTLA Bargaining Committee and UTLA President Alex Caputo-Pearl walk down the front stairs to an area where they hold a press conference in front of the LAUSD offices.
(Kent Nishimura / Los Angeles Times)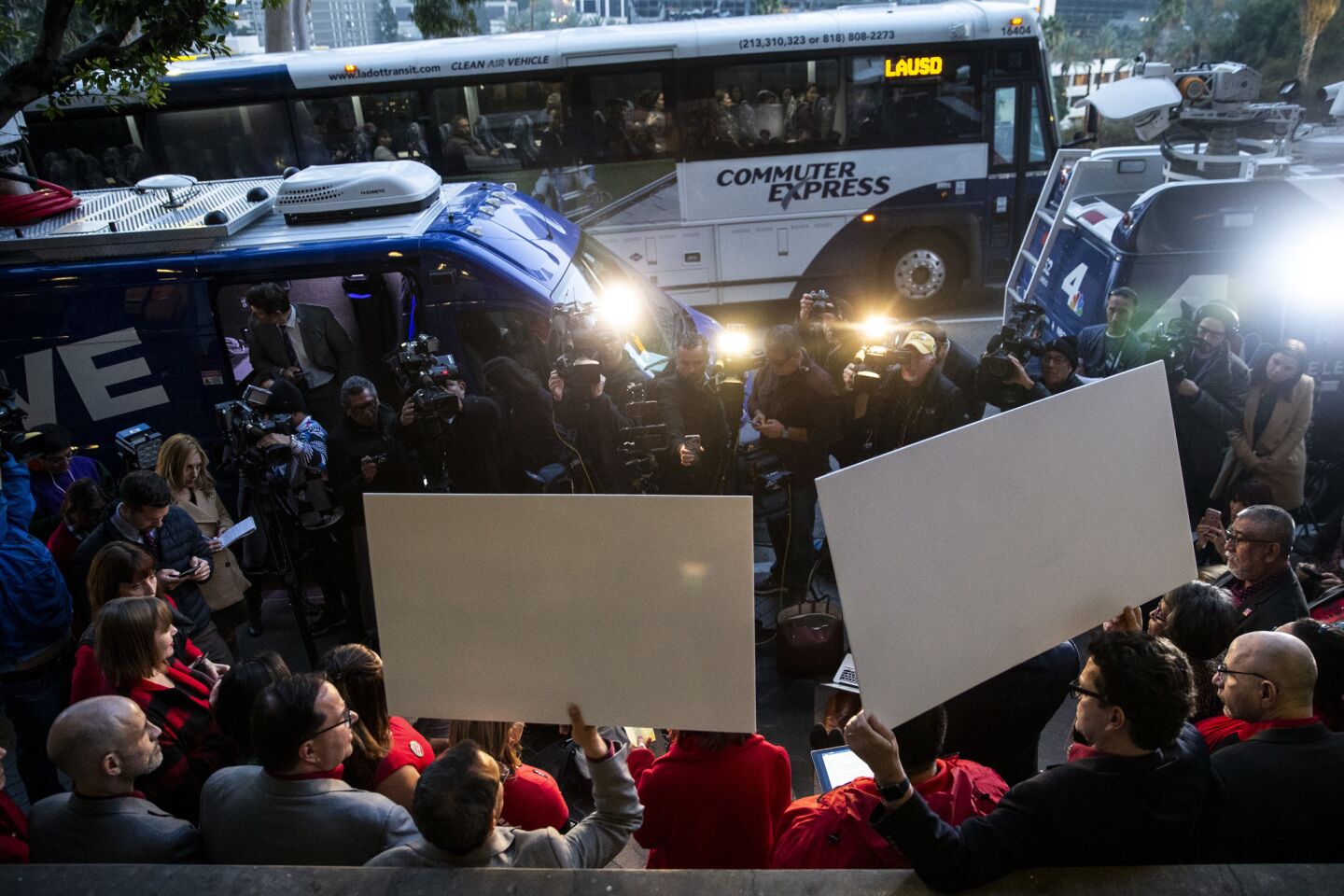 Arlene Inouye, Co-Chair UTLA Bargaining Committee, speaks at a press conference in front of the LAUSD offices.
(Kent Nishimura / Los Angeles Times)
Anastasia Foster, center, and Timothy Hayes right and join supporters of LAUSD teachers for a rally in front of Venice High School.
(Brian van der Brug / Los Angeles Times)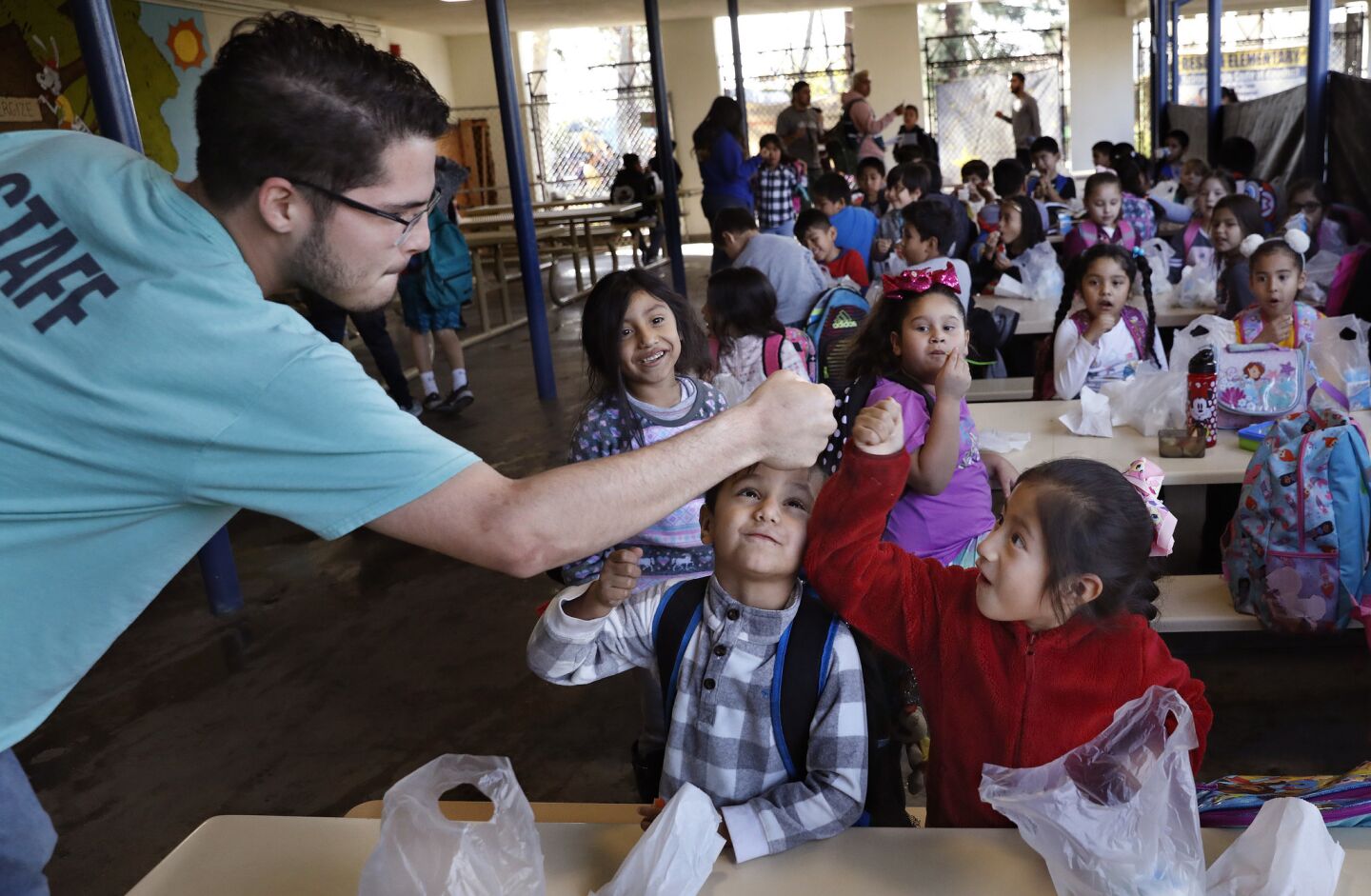 Michael Rothhammer gives a fist bump to Jayden Arriaga, center, and Emely Herrera, kindergartners in an after school program at Reseda Elementary School.
(mel melcon / Los Angeles Times)
Thousands gathered in downtown L.A. in December at a march held by the teachers union, which has scheduled a strike for Jan. 14.
(Gina Ferazzi / Los Angeles TImes)
Michael Fono, a teacher at Thomas Edison Middle School in South Los Angeles, holds a strike sign at a planning meeting on Jan. 5.
(Genaro Molina / Los Angeles Times)
Jasper Anderson, 15, participates in what could be one of his last pre-teachers' strike baseball practices on Jan. 8 at Crenshaw High School.
(Marcus Yam / Los Angeles Times)
Merwinn Rojas, a Foshay Learning Center sixth-grader, works on his homework on Jan. 8. His mother worries he might regress if teachers go on strike.
(Marcus Yam / Los Angeles Times)
Kweisi Gharreau, center, parent of two kids at Canfield Elementary School in Beverlywood, speaks to the media in support of teachers following a Los Angeles Unified School District Board of Education meeting on Jan. 8.
(Allen J. Schaben / Los Angeles Times)
In addition to its wage proposal, the L.A. teachers union has pushed for fully staffed campuses with smaller classes and more support staff. In talks this week, the district upped its offer by $75 million to increase staffing. Above, students at Cleveland High in Reseda.

(mel melcon / Los Angeles Times)
Shannon Stoller picks up her children Presley and Cooper from Pacific Palisades Charter Elementary School. Soller backs the teachers union but is concerned that keeping kids out of class costs schools money.
(Carolyn Cole / Los Angeles Times)
Alex Caputo-Pearl, president of United Teachers Los Angeles, speaks at a news conference about negotiations with the school district Wednesday.
(Francine Orr / Los Angeles Times)
Los Angeles Unified School District Supt. Austin Beutner speaks at a news conference about negotiations with the teachers' union Wednesday.
(Francine Orr / Los Angeles Times)
School psychologist Fabiana Lamm gets ready to go to work at a San Fernando Valley campus on Jan. 8. She's hoping a strike will lead to the hiring of more psychiatric social workers.
(Al Seib / Los Angeles Times)
Students depart Belmont High School in Los Angeles after classes on Jan. 9, the first day of school of 2019, while last-ditch bargaining efforts continued to avert a Los Angeles teachers' strike.
(Al Seib / Los Angeles Times)
Maria Espinoza, picking up son Michael from an after-school program at El Sereno Middle School, is concerned that a strike might ground school buses. Luis Sinco Los Angeles Times
(Luis Sinco / Los Angeles Times)
A group supporting the United Teachers Los Angeles gathers at a news conference on strike negotiations Jan. 7.
(Carolyn Cole / Los Angeles Times)
The new less-restrictive policy would kick in only when the superintendent declared an emergency. In such an event, a volunteer simply would fill out a form and the district would check a database to make sure the person was not a registered sex offender.
The revised policy passed 4-1. Board member George McKenna was absent, and Scott Schmerelson voted no because he said it would put an unfair burden on principals.
The change comes after the board voted in November to eliminate the $56 fee that aspiring volunteers previously had to pay when they were fingerprinted.
The district has 12,000 volunteers who have cleared background checks, said district spokeswoman Shannon Haber.
The school board also approved a resolution requiring Supt. Austin Beutner to present a three-year plan to "increase district revenues" by March 18. Critics, including the teachers union, have taken the district to task for not being more aggressive in pursuing higher enrollment, new tax revenue, philanthropy and increased state and federal funding.
At issue in the legal fight over the strike date is whether United Teachers Los Angeles gave L.A. Unified a required 10-day notice that its members would stop working under the existing contract.
In a twist, it was UTLA that went to court over whether it had followed the rules. The union's goal was to preempt the district from raising that exact issue after a strike had already started. Were that to happen, a judge could have shut down the strike for several days, killing its momentum and perhaps making union leaders look ineffectual.
UTLA is arguing that it has provided ample notice of its intent. The union publicly announced its Thursday strike date on Dec. 19.
The district, however, asserts the union provided no direct written notice until Jan. 3, and that even that notice might be deficient. If this argument holds up, a strike could be delayed as much as 10 days.
On Tuesday morning Supervising Judge Samantha P. Jessner did not address the competing claims. Instead, she took issue with the union failing to file its request for a hearing through a new electronic system by 10 a.m. the previous day. Consideration of the matter would have to wait, she ruled.
The union did claim one legal victory. The state's Public Employment Relations Board declined the school district's request to block a strike.
L.A. Unified students came back from winter break on Monday. That day, negotiating teams from the teachers union and the district met to try to avert a strike.
That last-ditch bargaining effort fell short, although the two sides agreed to meet again Wednesday morning.
The negotiations on Monday included new proposals from each side and a newly assertive cheerleader, L.A. Mayor Eric Garcetti, who was involved in separate phone conferences with both of them.
"Yesterday was really a very positive sign that they're at the table," Garcetti said Tuesday. "An agreement won't get finalized in the street or in a press release but in face-to-face conversations."
The school district team, led by Beutner, said it upped its previous offer by $75 million to add staff to schools and decrease class sizes. The district did not change its wage proposal. It has offered teachers a 6% raise spread over the first two years of a three-year contract. The union wants a 6.5% raise that would take effect all at once and a year sooner.
UTLA has pressed for "fully staffed" campuses, framing its activism as a fight for the future of public education.
On its side, the union removed a demand to give teachers more control over standardized testing and budget decisions at schools. The union also dropped its demand to have a say on when the district starts a new magnet program.
"Both sides made serious offers," Garcetti said. Beutner showed the seriousness of his commitment to issues important to the union and the union took real steps to narrow its demands "to focus on the issues we all agree on: smaller class sizes, more support staff, decent pay and improving existing schools instead of opening new ones."
Garcetti's last point referred to the growing presence of privately run charter schools, which are mostly non-union and compete with L.A. Unified for students. The union wants a moratorium on new charters and has accused charter backers of wanting to dismantle traditional public education. Garcetti carefully avoided criticizing charters by name or targeting charters that already exist.
Beutner has offered to create a committee to examine issues raised by charters. So far, that has not been nearly enough for Alex Caputo-Pearl, president of the teachers union.
Both leaders have stuck to their messages. Caputo-Pearl said the union would strike, if necessary, to improve students' educations. Beutner said a strike would harm students and families. Some of the union's proposals, while worthy, said Beutner, would immediately push the school district into insolvency.
Twitter: @howardblume
---
The stories shaping California
Get up to speed with our Essential California newsletter, sent six days a week.
You may occasionally receive promotional content from the Los Angeles Times.