UC President Napolitano calls for guaranteed admission of all qualified community college students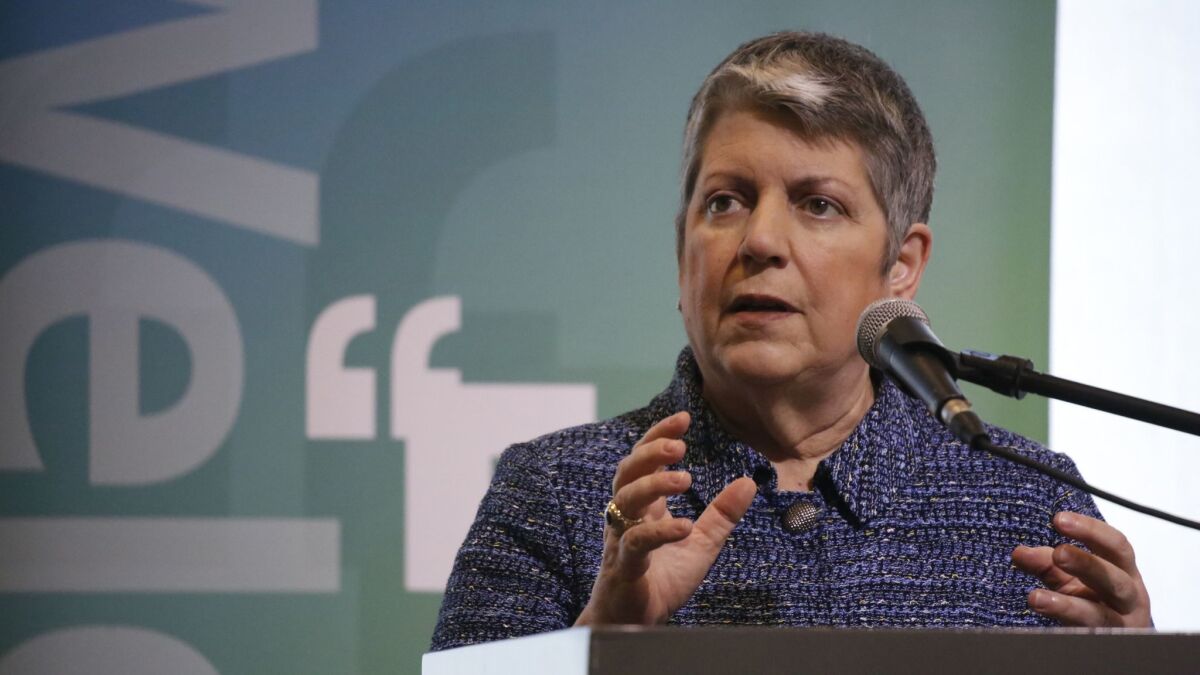 University of California President Janet Napolitano said Monday that the public university system should open its doors more widely by guaranteeing admission to all qualified state community college students.
She said she also has asked campus chancellors to work toward raising the four-year graduation rate to 70% from the current 64%. Getting more students to graduate more quickly, she said, would make room to enroll an additional 32,000 undergraduates — the equivalent of another UC campus — by 2030.
"This would be a major leap for the University of California," Napolitano said at a forum sponsored by Town Hall Los Angeles marking the 150th anniversary of the UC system. "Knowing how transformative a UC education can be — for the individual, for the society at large — it's incumbent upon us to help more Californians become part of the opportunity story" of the UC.
The UC system is widely regarded as the nation's top public research university system, with 270,000 students at 10 campuses, five medical centers and three national laboratories.
In recent years, Gov. Jerry Brown and the Legislature have pressured UC campuses to increase enrollment of California residents and transfer students. Brown is withholding $50 million in state funding until UC meets several demands, including enrolling one transfer student for every two freshmen not only systemwide but also at eight of the nine undergraduate campuses. UC Santa Cruz and UC Riverside have yet to meet the ratio.
Some UC campuses already offer an admission guarantee to transfer applicants from community colleges. Pasadena City College, for instance, has reached agreements with UC campuses in Davis, Irvine, Merced, Riverside, Santa Barbara and Santa Cruz to guarantee admission for its students who take prescribed courses with a minimum GPA — generally ranging from 2.8 at Merced to 3.4 at Irvine, according to PCC's website.
The UC Academic Senate also has developed a road map of courses needed to enter 21 popular majors at the UC — a move aimed in part at helping transfer applicants avoid wasting time and money on unnecessary classes. Overall, UC campuses have boosted the number of transfer students accepted by 6,000 between 2013 and 2017.
But, Napolitano said, the university can and should do more. She told the audience Monday that she hoped that an admission guarantee for all qualified students from all community colleges could be in place for fall 2019 after careful planning with the Academic Senate and community college officials "to make sure we get it right." Academic leaders, for instance, would need to set eligibility standards, including what type of courses potential transfer students would have to take and what grades they would need to get in them.
"We will not diminish UC's academic quality or our students' ability to succeed by forcing a one-size-fits-all educational model," Napolitano said.
Shane White, chairman of the UC Academic Senate, said any admission guarantee must be linked to academic preparation. "If we can incentivize and reward better preparation and better-qualified students, you bet it's a good idea," he said.
Community college students would not be guaranteed admission to a particular campus. To keep the number of transfer students manageable and in proper proportion to freshmen, White said, faculty leaders could adjust course requirements and minimum GPAs.
Napolitano said the state also must do its part to widen access for Californians by reinvesting in the university system. UC campuses have enrolled an additional 90,000 students since 2000, she said, but state funding has remained flat. As a result, officials say, UC per-student spending has declined by 31% between fall 2000 and fall 2017.
"The University of California is an institution worth investing in — and worth fighting for," Napolitano said. "UC is special — a daring public experiment that's become a priceless public good."
---
UPDATES:
7:17 p.m.: This article was updated with additional information and comments from University of California President Janet Napolitano.
This article was originally published at 1:30 p.m.
---
The stories shaping California
Get up to speed with our Essential California newsletter, sent six days a week.
You may occasionally receive promotional content from the Los Angeles Times.