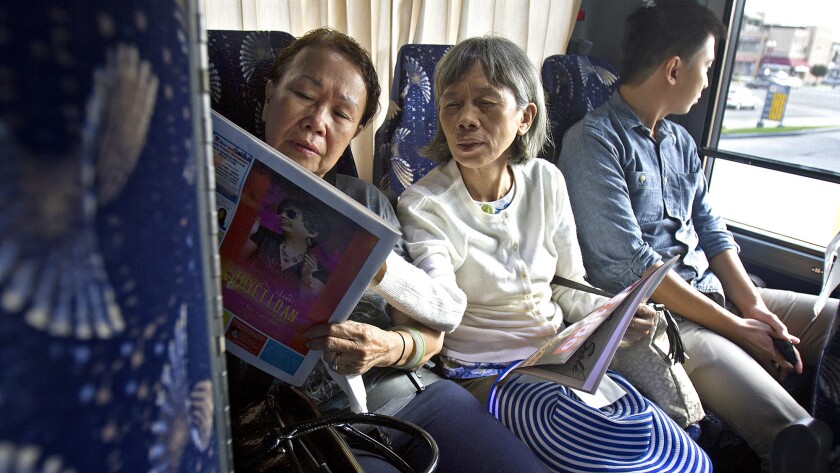 Just before he climbs aboard the shiny white bus, Tau Pham hands his satchel to the guys loading cargo. Quickly, they stuff it next to dragon fruit, car parts, homemade sticky rice and today's editions of the Vietnamese newspapers.
Pham thanks them and smooths imaginary wrinkles from the shirt tucked beneath his blazer. He's been taking the trip north for 13 years now, but he still likes to look sharp.
He settles into his spot in the second row. He always sits where there's a view.
"I like to see the miles pass by," Pham says, gazing out the window. "I've been on this route ever since they started with a van and just 12 seats."
For 17 years, the Xe Do Hoang bus line has faithfully shuttled the newly arrived between the nation's two largest Vietnamese American communities.
The bus pulls out of a grocery store parking lot in Little Saigon in Westminster each morning and chugs into San Jose by midafternoon, taking passengers back and forth to see family, visit favorite markets and celebrate holidays such as the Autumn Moon Festival.
Customers can make reservations if they like, but that doesn't get them a good seat. Those are first-come, first-served. The music that spills from the speakers is from "Paris by Night," the long-running and ever-popular Vietnamese variety show. And the price of a ticket — $40 each way — includes a banh mi sandwich and a bottle of water.
"They know all of our faces. I know their faces," Pham says of the crew.
And in a culture where people tend to show up when they want to show up, the punctuality of the Xe Do Hoang stands out.
"They get us where we need to go — they don't have delays," Pham adds.
Sure enough, right after 9 a.m. on an already warm Friday, the driver pulls out of the grocery store parking lot, past the flower vendors, a bakery and the restaurant selling broken rice and pork, 57 passengers heading north.
Pham grins. Soon, he will see his grandchildren, all eight of them, the reason for his monthly trip to San Jose. He used to live in San Diego but moved to Garden Grove a decade ago to be closer to the bus.
"It's worth it," he says. "I relax and life happens around me."
::
Linh Hoang Nguyen and his wife greet each of their customers as they board or leave the Xe Do Hoang, talking with nearly everyone: commuters, tourists, wanderers.
Nguyen stumbled onto the idea of connecting the two cities while waiting for a flight at John Wayne Airport. He was a driving instructor at the time, and also a frequent flier, visiting relatives in San Jose. He said he often found himself helping countrymen find their gate or the baggage carousels.
"There should be a service that brings them where they need to be — in an easier way," he told himself.
He used Greyhound as a business template, studying such things as safety measures and crowd control. He outfitted an old Chevrolet van for the first runs, saving money to invest in used buses.
He now has a fleet of 11 buses — including the spotless, air-conditioned 2014 model making its third journey today — and 15 drivers. He has also expanded, adding service to Sacramento, Oakland, San Francisco and Phoenix.
Nguyen, who fled Vietnam in a boat and lived in refugee camps in Singapore and then the Philippines, estimates his route between Orange County and San Jose carries about 1,000 passengers a week.
"People told me: 'Everyone has a car in America.Who will ride a bus?'" he says. "But in my mind, not everyone has a car, and those who do, not everyone wants to drive."
::
An hour into the trip, the men in the back of the bus are already snoring. Toward the front, several women chat about the price of seafood, comparing deals they heard on midnight radio.
For Hong Thi Le, 82, it's another trip north to visit relatives in the Bay Area. This time she's brought along a stack of photo albums she wants to show to relatives, dating to her days as a young mother in Vietnam.
"Here, look at me. This is before I got married and had children," she shares with another passenger. "And this is my husband. Don't you think he's handsome?"
She turns several pages, leafing through baby pictures of her grandson. "He won't even look at these now. He's embarrassed. But that's why I go to San Jose so much — I helped to raise him."
Though she could get there faster by plane, she wouldn't dream of it.
"I can talk to anyone on the bus. It's easy to meet new people," Le says. "I just don't feel comfortable on the airplane."
Because passengers such as Le speak little English, all of the Xe Do Hoang drivers speak Vietnamese.
Nga Hua, 58, emigrated from Vietnam three months ago and is taking her first trip on the bus, bound for San Jose, where her nephew is getting married. The last time she saw him, he was just a toddler.
Hua said it took her 11 years to get her paperwork approved so she could come to America and be reunited with her mother, now dozing at her side.
In the country of her birth, Hua stayed close to home. Here, she marvels at how freely and quickly people travel.
"It's something special that there's this bus connecting all of us together," she says.
::
Most of the customers are Vietnamese Americans. But more and more, there are Chinese, Koreans, Latinos and a sprinkling of whites who catch wind of the bus and its cheap direct route across the state.
"I tell my classmates. They tell their classmates," says Kevin Do, a junior at UC Riverside who takes the bus from his home in the Bay Area suburb of Dublin back to the campus.
Anthony Atienza, 31, juggles three jobs as a pharmacy technician, a cook and a caregiver to mentally ill patients. The Filipino man from Anaheim explains he can't afford to fly. Taking the bus, he says, "lets me visit with 25 relatives" this weekend at his goddaughter's birthday party in the Bay Area.
Next to him, two Vietnamese tourists from Hawaii are on their way to a reunion in San Jose, and behind them a pop singer wearing dark shades says he wishes the music wasn't so loud. He wants to meditate.
When the bus pulls into the Saigon Business Center in San Jose, the driver takes the arms of older passengers and helps them down the steps. A merchant runs from the cluster of shops and claims a box from the storage bay; another carts off the shipment of apples he's ordered.
Until he became a Xe Do Hoang driver, Vu Nguyen was a long-distance trucker, piloting an 18-wheeler from California to New York.
"I prefer this pace," he says, waving farewell to Pham, now waiting to be picked up by one of his grandchildren.
::
On the road back to Orange County, the early morning fog still hangs in the air as the bus rolls through the Central Valley. Two rows behind the driver, a young man and his uncle study a crossword puzzle, using it as a teaching guide.
"See here — jam," the younger one says. "This is more than a type of food. It's when you get stuck, like in traffic."
Jackie Dang, an accountant from San Jose, sits cuddling her 3-year-old son, who's sporting a Teenage Mutant Ninja Turtle T-shirt and staring into an iPad. "He's very shy," she says. "He's thinking. We're both thinking of what's to come."
She's headed to Fountain Valley, a sleepy suburban community on the edge of Little Saigon, to visit her father, recently diagnosed with Stage 4 stomach cancer. He's been given less than two months to live.
At first Dang turned to an airline, but the last-minute flights would have cost her $900. She found the Xe Do Hoang instead.
"Our plan is to go see him every weekend," she says. "How else could we get there for emergencies?"
Twitter: @newsterrier
---